Golf News
Faces of the NCGA: Justin Suh
March 10, 2023 / by NCGA Staff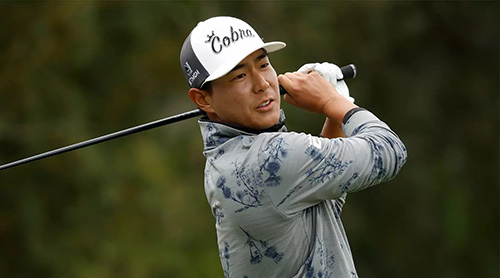 By Garrett Johnston
We could see he was on his way. As a junior competing on the Junior Tour of Northern California, San Jose native Justin Suh twice earned JTNC Boys' Player of the Year honors.
He remains the only Boys' player to be honored twice. Later, while at USC, he was the No.1 ranked amateur on the planet.
This year, he's making his debut as a full-fledged PGA Tour member after earning 2022 Player of the Year honors on the Korn Ferry Tour.
In his last few starts on the PGA Tour, Suh has proven he belongs. He's had a T-5 at the Honda Classic, a T-20 at the Farmers Insurance and a T-24 at Bay Hill.
Recently, NCGA Golf correspondent Garrett Johnston caught up with Suh to talk some things present, past and future.

You've been playing well lately, why is that? What did you takeaway from having the 36-hole lead at Honda and finishing T5?

JS: I liked being in that position. I learned a lot from it. I also liked not having to think too much about mechanics under pressure.
It was fun to see it all click together during an event.

What have you been working on recently with your game?

JS: It's just making sure that things are in the right place. Obviously over the course of multiple tournaments you develop habits. I think it's important to assess what those habits are and correct them as fast as you can and as efficiently as you can. For me, that is the key in how you play throughout a season.

How much did the NCGA and Junior Tour of Northern California help you develop into the player you have become?

JS: NCGA was a big part of my junior career. We got to play a lot of really good courses and got to play with a lot of good players too. I grew up playing with Bryson. Grew up playing with multiple golfers that came out of Northern California. Now I'm close with Maverick McNealy, Joseph Bramlett and they're all out here. So my takeaways was being around good competition and playing at high level golf courses is what makes junior golf fun and exciting.

So you are close with other NorCal guys Joseph Bramlett and Maverick McNealy. What do you guys do together?

JS: Well, we all live in Vegas so we definitely practice together a bunch. I wouldn't say we hang out too much outside of the golf course but when we're on the golf course for the majority of the day so that's when we see each other and hang out and play matches and stick together on the road. I'm close to a lot of other Vegas guys as well like Kurt Kitayama and David Lipsky as well.

Who's the bigger sore loser in a match one on one between Bramlett and Mav?

JS: Probably Joseph. He hates losing. He's definitely uber competitive. But we're all very competitive guys out there when we play so it's a good match. We get friendly but also competitive out there. You want to stay away from him after a bad round (laughs), he's definitely got some intensity about him, but that's why he plays so well and that's why he's such a good golfer -because he carries that intensity into the golf course.


In 2019 you started consistently playing in PGA Tour events on sponsor's exemptions, now you're back on the Florida Swing at some of those same events. How do you feel now as you return?

JS: In 2019, the Arnold Plamer Invitational was probably my first Tour event ever. That was the first tournament that I played, and it was as an amateur. It was definitely a hard test because this is not an easy golf course, so it was humbling. I definitely knew I needed to get better in comparison to the other guys I played with. To be here as a professional and back here a second time is a cool feeling because there's rarely any courses like as a rookie where you are familiar with golf courses and to be familiar with this golf course is definitely an advantage.


Getting the KFT Player of the Year, what does it mean to you?

JS: Man, it was very special. It was out of nowhere. They surprised me. I was on the range and they (PGA Tour) just asked me to do an interview. Next thing I know, Bramlett came out with the trophy after I was watching the video with my sister. They definitely got me. I did not expect it coming, but to earn that reward after a long season on the Korn Kerry Tour it's just so special.

That KFT title gets you into the U.S. Open, what does that mean to you?

JS: Yes, it got me into The Players and the US Open. It's super cool. You grow up watching these events. I believe this U.S. Open will be my third U.S. Open. Oakmont in 2016 was my first and I loved playing at Torrey Pines two years ago. To earn a spot in those events, it's very gratifying, it's where you want to be with the best players in the world. To get in there through winning the Korn Ferry season is just super gratifying.


How excited are you to come back to California to play in the U.S. Open?

JS: I played it a handful of times when I was at USC, it wasn't our main course but it was a fun course. I'd be excited to see what the conditions are like that week. They have some of the toughest green complexes that I've ever played on. It's definitely going to be a hard test. Just to be back in LA and to have some support from the California people is always fun.


We noticed you are using the same putter you did as a junior. What's the story with that?

JS: Yes, it's from freshman year of high school. It's the same putter I've had. I'm just not a fan of changing things, so I just keep things as consistent as I can and I've just had that putter for a while and I feel really good with speed and I felt like that just sort of has come with not changing too many variables and to have the same putter and the same feel it just keeps things really consistent.


What are your goals for the rest of the season?

JS: I would say my goals are to be constantly improving, progressing in tournaments. I'm not one of those guys who looks forward to playing in certain events-I just think that playing golf in general is pretty cool so I don't really have any favorites or anything like that. I'm just pretty focused on just getting better each and every day in my own craft, so that's what I'm pretty excited for. Yeah, I'm pretty easy to please (laughs), I just love the game. I'm not one of those guys who has all the big dates memorized from the past. My knowledge of golf history sucks. I never really watched a ton of it. I don't follow it too closely, I just like to play, that's just how I am.


###

Garrett Johnston, a former Northern California resident, is a golf journalist who's covered over 30 major championships. You can follow him on Twitter @JohnstonGarrett and he hosts the Beyond the Clubhouse Podcast with players, caddies, and broadcasters and you can listen to it here. The most recent episode is with Justin Rose and former Cal star Collin Morikawa.

‎Beyond the Clubhouse on Apple Podcasts