Golf News
2022 JTNC Fall Series VIII Championship-Laguna Seca
October 10, 2022 / by Jerry Stewart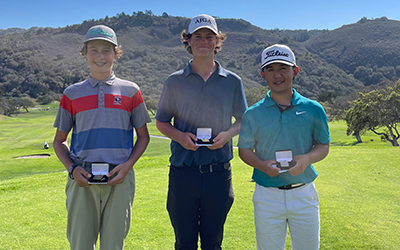 Junior Golf Tour of Northern California Crowns Winners at Fall Series VIII Championship at Laguna Seca Golf Ranch in Montere
PEBBLE BEACH, Calif. (October 10, 2022) –The 2022-2023 Junior Tour of Northern California (JTNC) crowned champions Sunday at the Fall Series VIII Championship at Laguna Seca Golf Ranch in Monterey.
Ben Friedman shot 7-under par 135 and defeated Jaden Dumdumaya in a playoff and Janna Andaya shot 5-over par 147 and defeated Asterisk Talley in a playoff to win their respective divisions at the Fall Series VIII Championship at par-71 Laguna Seca GR.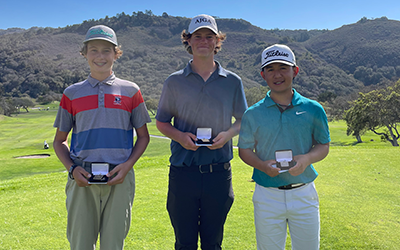 Friedman notched his first win of the 2022-23 season in dramatic fashion, knocking off 2020-21 Player of the Year Jaden Dumdumaya. During regulation Friedman was solid, posting rounds of 67-68. In Saturday's opener he'd card five birdies and just one bogey. A day later, he had nine birdies but also a double-bogey on the 18th that let Dumdumaya catch him.
Dumdumaya in the second round had a 67 with five birdies and just one bogey. He'd catch Friedman thanks to a back nine 32.
Ayden Fynaut nearly got into the playoff, finishing at 136 after a final round 66 that included seven birdies and just two bogeys.
Three players—Christopher Bettencourt, Austin Wang and Trenton Stuart—finished T-4 at 142.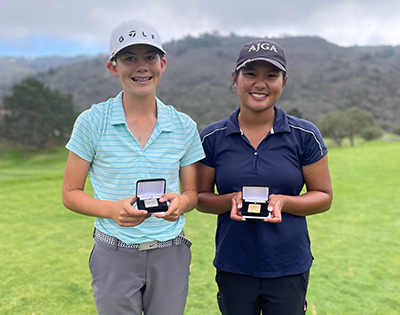 In the Girls' Championship, Andaya also won a thriller, defeating Talley, the defending Girls' Player of the Year, in a sudden-death playoff.
During regulation, Andaya was clutch. On Sunday, she'd post a 71 with four birdies to catch Talley. On Saturday, Andaya posted a 76.
Talley, who opened with a 75, carded a second round 72 featuring three birdies. The biggest came on the 18th, which tied her with Andaya.
Cathy Zhang, who was looking for her fourth straight win, shot a final round 76 to place third at 150. Claire Zhong was fourth at 153. Ellen Jun and Penny Chai came in T-5 at 155.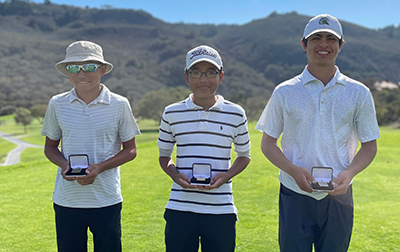 In the Boys' First Flight Championship, Brandon Pantaleon shot a final round 74 to come in at 155 and defeat runner-up Pierce Gallegos by two shots. Gallegos had a final round 75.
Three players—Alex Chou, Anav Madan and Aiden Chuah—finished T-3 at 158. Chou was awarded third place following a card-off.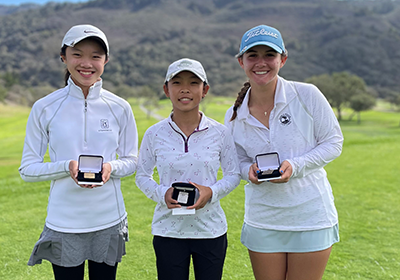 In the Girls' First Flight Championship, Hayley Fong had a final round 70 to come in at 146 and defeat runner-up Melody Chen by 29 shots. Chen had a final round 85.
Toni McIntire was third at 189, with Vera Cho placing fourth at 190. Parker Parry was fifth at 199.
The next event on the JTNC calendar is the Fall Series IX Championship, to be held Oct. 15-16 at Poppy Ridge Golf Course in Livermore.