November 2, 2020
Watching the Growth of a Champion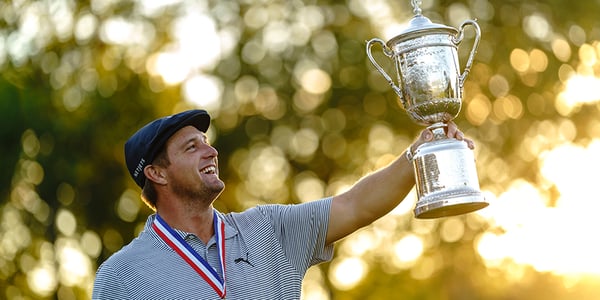 The first time Patrick Parrish, a Monterey Peninsula PGA coach at the Club at Pasadera saw 13-year-old Bryson DeChambeau, he knew there was something special in him. In 2007, Parrish scouted for junior players all over Northern California to fill his NCGA Jr. All Star Team. DeChambeau was one of the junior players Parrish handpicked for the team. The team went on to win multiple tournaments including both 2007 and 2008 Pacific Southwest Cup and the 2008 Canadian Friendship Cup.
Parrish grew up learning under the tutelage of the legendary Ben Doyle who taught the book"The Golfing Machine". While staying with Parrish, DeChambeau would bombard him with questions about the book and other physics questions. DeChambeau had an extremely inquiring mind at a very early age. It was the beginning of the incredible journey. Parrish tells his story here:
I first met Bryson in the summer of 2007 when I recruited him to be part of my NCGA Junior All-Star Team. He was a skinny 13- year-old with clean good looks that teenage girls giggle over. I had known his father, Jon, through Northern California golf where he had excelled as a player in his own right.
Bryson and his parents (mostly his father, Jon) were welcomed to stay at our house whenever Bryson had a tournament in the area. Jon and I became good friends. Jon would ask me periodically to look at Bryson's swing at Poppy Hills Golf Course, where I was the director of instruction and group sales. Of course, Bryson's main coach was Mike Schy who lived conveniently near them in Clovis. But I was flattered that Jon trusted my teaching as well. Mike and I grew up playing junior golf together, and we both learned under the tutelage of the legendary Ben Doyle who taught Homer Kelly's book called "The Golfing Machine" at Quail Lodge. Ben had created quite a "culture" of learning at Quail Lodge with players coming from all over the world (PGA Players and amateurs alike) to seek his knowledge of the golf swing. So, Mike and my teaching were very similar. Mike and I were two of "Ben's Boys" spreading good faith.
Based on geometry and physics, "The Golfing Machine" broke the golf swing down into 24 components with 3 to 15 variations in each of the 24 components. There were 3 zones and 12 sections of the golf swing. It was the instructor's responsibility to figure the students' compatible variations that fit their swing. Ben coined the term the "3's" of G.O.L.F. (Geometrically Oriented Linear Force) on a sheet of paper that would later become the basis for his 6' X 10' vinyl golf mat—"Ben's Facts & Illusions"
Bryson had an extremely inquiring mind at a very early age. Mike had given Bryson "The Golfing Machine", and he devoured it. Even at the age of14, he was already experimenting with the idea of "The Zero Shift" which is one of the variations for the 7th component (Plane Angle-Variation.) Bryson could already visualize that zeroing out the shift would make him more consistent. Not long after, Mike and Bryson were modifying Nike irons' mass and length that would become the basis of a single length iron. At night Bryson would bombard me with questions about "The Golfing Machine" and other physics questions. He already was starting to memorize the book along with memorizing the 24 components. And he was reading the putting documents that would be the basis of The Art and Science of Reading Greens and Computing Break written by H.A. Templeton. He was so excited about these documents that he loaned me copies to read.
He had incredible physical energy along with a mind that had to be constantly engaged. I had a Zoom board that he would love to jump on testing his balance swerving back and forth fervently something like a cross between a skateboarder and a surfer, which would evolve into his love for slack lines. When things really heated up, I would throw him his rubrics cube just so I could take a break from his whirlwind of curiosity. This rubrics cube was my savior in airports, on flights and shared hotel rooms when I was his chaperone. I knew Bryson was different, one of those very special individuals that had a constant, insatiable craving for knowledge and would settle for nothing less. Many would report his outbursts of anger on the course, which I never personally witnessed. I just knew that Bryson did not direct anger at anyone. He was yelling at himself to focus and wanted to know the why. He would ask me for our large stainless steel salad bowl, so he could fill it with water and salt to test if his golf balls were uniform in their balance before a tournament.
At the 2018 AT&T Pebble Beach Pro-Am, I was fortunate to walk alongside his parents again and reminisce while we watched Bryson compete. I wore a big hat and sunglasses trying to play incognito. On number 14 fairway at Pebble Beach, Bryson spotted me and came over, gave me a big hug and said, "Thanks for everything, Coach!" What a moment for me! It brought tears to my eyes in front of my good friend and member of The Club at Pasadera where I instruct, David Moret. All Bryson's quirkiness was well worth it. He's actually a very caring person. That sometimes gets lost in his intensity and dedication for excellence in himself. I trust when he gets a little more settled into his new position that he will do a lot for the game and for others.
In 2006, I came up with the idea to have an NCGA Junior All-Star Team that would travel and compete against other junior golf associations in the country. When I approached and expressed this idea to Admiral David Bill (then NCGA CEO), "The Admiral" loved the idea and quickly supported it with a $5,000 budget to be used toward uniforms, equipment, and travel expenses for those families who needed financial assistance. At the time, NIKE sponsored me, so I was able to purchase items (team uniforms and golf bags) at a discount.
I always had a pretty good pulse on Northern California junior golfers because I loved being a junior golfer and because I instructed so many. I would follow the leaderboards, and I soon had an incredible line-up of northern California talent in all the age groups (15-17, 13-14, 12-13 and 10-11) for boys and girls with two player teams in each. I quickly recruited Bryson along with others to form a complete team. I never imagined that our NCGA Team would be part of the development of four All-Americans, two USGA amateur champions, a US Open winner, PGA winners and the youngest winner of the Symetra Tour.
Bryson won seven times on the PGA Tour including one major, the 2020 U.S. Open. As an amateur, DeChambeau became the fifth player in history to win both the NCAA Individual Championship and the U.S. Amateur in the same year. With his U.S. Open victory, he became the third player to have won those three championships, after Jack Nickalus and Tiger Woods, and the sixth player to win both the U.S. Amateur and U.S. Open.
Cameron Champ (2 Time PGA Tour winner; 2018 Sanderson Farms, 2019 Safeway Open) and Hannah O'Sullivan (seen far left in photo) won the 2015 Gateway Classic making her the youngest winner in the history of the Symetra Tour. Later winner of the 2015 U.S. Women's Amateurr, in May 2016, O'Sullivan became the top female golfer in the World Amateur Golf Ranking.
There too was Justin Suh (two-time PING All-American first-team selection (2018-19) and a four-time All-American overall, three-time All-Pac-12 First Team selection and the 2018 Pac-12 Player of the Year. He is USC's career record holder in rounds in the 60s (64) and the season record holder in stroke average (68.73) and wins (five), both coming in 2018.