NCGA
To Club Fit or Not To Club Fit - That is the Question
November 10, 2023 / by Emily Van Buskirk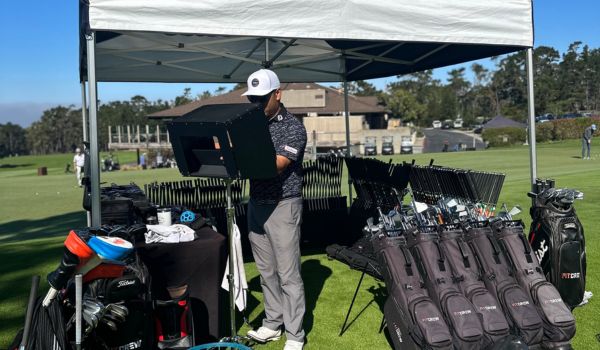 Golf is a complicated sport. Some days you feel like you could join the tour, any tour. Other days you want to give away your clubs for good. The roller coaster of emotion you experience every time you step foot on a course can be bolstered or hindered by a myriad of factors - skill level, course difficulty, playing partners, weather, to name a few.
Some things are out of your control. But other things can be accounted for - practice, clinics and more. Dedicating time and energy to your golf game should lead to improvement and boost your confidence. Belief in your game is something that can't be purchased at a Golf Shop (liquid courage from the drink cart might be the one exception to this rule). But there are a few ways to spring for some swagger.
What is a club fitting?
Some might roll your eyes at this question, but many would be surprised by the number of people who don't understand what club fittings are or what they can do for your game. A club fitting is an appointment, usually out on a range or indoor on a golf mat and simulator, where a club fitter will first observe your swing with your current set of clubs. The session often includes recording and tracking your swing with a launch monitor, such as a Trackman, which measures a variety of swing metrics such as your launch speed, club head speed, ball launch angle, and ball flight. Using these metrics, a club fitter can then recommend a combination of different golf club shafts, heads, and grips to create your custom fit.
Who are club fittings for?
We are going to let the experts handle this one.
"It's real easy - anyone who says club fittings are not for them, is not a golfer," said Michael Collins, a senior golf analyst at ESPN. "Simple as that."
Collins, known in the golf world as ESPN Caddie, spoke with us about the importance of club fittings. And with 10 years of professional golf caddying under his Nike Woven Stretch Belt, his words carry some weight.
"Here's the thing - everyone should get fitted for clubs - everybody," Collins told us. "Unless you are trying golf for the very first time - you don't get fitted to go to Top Golf, that would be the only time I would say fittings are not appropriate. But if you are going to play golf on a regular basis even if it's only once a month or once every two months - if you really enjoy the game and want to play you gotta get fitted because they will fit golf clubs to your swing."
Where do I go for a club fitting?
Each manufacturer (like Titleist), private club fitting companies (like Club Champion), pros on staff at golf course shops, "big-box" stores such as Golf Mart or PGA Superstore offer club fittings. All are good options to have your swing evaluated and fitted through a custom club fitting experience.
"It does add almost a sense of comfort and real confidence in the equipment, " explained a Titleist club fitter we spoke with. "I'm able to help them take a look at the data with Trackman and explain why something is better or suggest what might feel better for them, that kind of thing. It's just trying to instill confidence."
A brand-specific fitting is especially beneficial to those who prefer certain labels.
"As a Titleist fitter, I'm an expert in Titleist products but if you go to some of these third party fitters, they are specialized in fitting a lot of brands and that's totally fine but sometimes there might be a question that they may not know the answer too because they haven't gotten down and deep into the product as we have."
What can I expect in a club fitting?
Now that we have explained why a club fitting is beneficial, let's break down what the session actually looks like.
Step 1: Research
Decide what you need in your bag and then choose a place to have a club fitting. One option is to search or call your local course(s) to see if they have an upcoming "Demo Day" or something similar. A demo day is where multiple merchandisers come to one location to allow in-market golfers to shop and demo on real grass. Another option is to visit a golf store to see the clubs in person. Here you should be able to swing a few, keeping in mind that you might be indoors and hitting off a mat.
Step 2: Book
Once you decide on a brand, store, demo day, or similar, you'll want to book ahead of time. Expect a club fitting appointment to last anywhere from an hour to two hours, depending on how many types of clubs you're looking for. You might have to put down a deposit to ensure your fitting appointment, industry standard is to have that deposit apply to your purchase, but each vendor may have a different policy.
Step 3: Arrival
Be sure to bring any of your current clubs with you, along with your usual golf gear like the shoes and glove you use while playing. It might also be helpful to talk to your fitter about what type of golf ball you prefer playing with - this could help guide their recommendations. Be prepared to warm-up and swing a few while the club fitter sets up their launch monitor.
Step 4: During
Don't be nervous! The club fitters are there to guide you with their expertise, they're not there to judge your swing or to give you tips. They might recommend something like how high to tee up a driver based on the height of the club face so keep an open mind. And ask questions! See if you can demo the club(s) for a few holes, or even borrow for a set amount of time. Ask about how the launch monitor metrics correlate to their recommendations on equipment. Try, try, and try again! Your fitter will change out shaft stiffness, grips, and heads throughout the process. Give your honest feedback about what feels good with your swing. If a grip they pair you with is too (soft, hard, big, small, etc.) speak up! Try not to make any on-the-fly adjustments to your swing, keep your swing consistent and natural to the way you play.
Step 5: After
After your appointment, the club fitter will recommend clubs for your needs. If you want to order those specs, be prepared to purchase them that same day. Pricing varies greatly depending on what you choose and which brand and type of clubs you decide to purchase. Don't forget to get your club fitter's contact information, for the next step!
Step 6: Purchase and Use
If you decide to purchase, know that they might have to order your clubs to their specs, which depending on brand, stock levels, and other factors, could take multiple weeks. Upon pick-up, give the new clubs a few rounds. If needed, contact your fitter again if you need any adjustments. For instance, a different weight setting on an adjustable-weight driver head. Keep the line of communication open, the goal is to get the best equipment for your swing and game.
We've provided you with all the intel, now go forth and conquer your golf game!