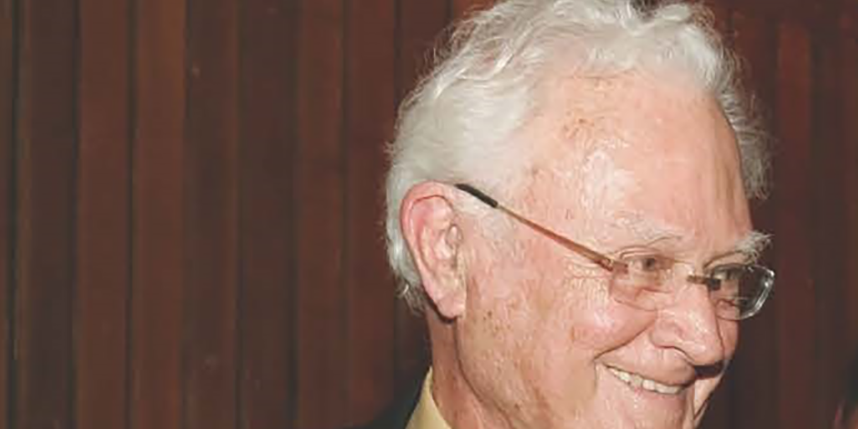 The NCGA mourns the loss of Past President Frank Brunk.
Benjamin Franklin "Frank" Brunk, 95, passed away peacefully at home in Walnut Creek on December 21, 2021.
Frank was born September 14th, 1926 to Esther and Frank Brunk, Sr. in Berkeley, California. He spent the first eleven years of his life in Mexico on his grandfather and father's 10,000-acre rice and wheat farm. Frank graduated high school in Willows, California where the family had moved after leaving Mexico.
Frank's dream of attending UC Berkeley came true after having served in the Navy for two years. In 1946 Frank returned to Cal, joined Alpha Delta Phi fraternity and played football initially on the Rambler team before being promoted to varsity. His lifelong athletic skills helped him become something of a legend for his 102-yard kickoff return against USC in 1949 leading Cal to the Rose Bowl in 1950. Frank's coach was the legendary Lynn O. "Pappy" Waldorf. Frank was one of a small group of former players who founded Pappy's Boys, an organization dedicated to student athletes pursuing excellence in academics, athletics, and life.
Following college, Frank worked in the automobile industry, going into business with his father, having founded Brunk Leasing Company in Oakland, California. He was a trusted professional and dedicated community member. Frank was a long time Rotarian, President of Orinda Country Club, President of Northern California Golf Association, and Chairman of Cal Golf Committee.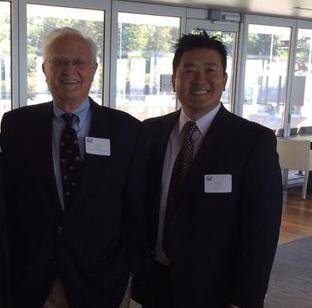 Playing golf since age 12, Frank always said that it was a sport for life. One of Frank's proudest moments was the honor of receiving the first ever Cal Athletics Hall of Fame Service award in 2009 for his dedication to Cal Golf. In 1979, Cal dropped golf as an NCAA sport. Together with Head Coach Steve Desimone, Frank has spent 40 years advocating for reinstatement (accomplished, 1982), fundraising over $30 million for operating funds, and establishing an endowment. They brought the program from NCAA extinction to the pinnacle of college golf, winning the 2004 NCAA championship. Today, the Cal Men's Golf program stands nearly fully endowed at just over $16 million.
Our beloved husband, father, grandfather, great grandfather, uncle, and friend to many was the greatest example of integrity, generosity, humility, kindness, and love.
Frank was predeceased by his father, Benjamin Franklin Brunk Sr, mother, Esther Norton Brunk, and brother, James Donald Brunk.
A celebration of Frank's life will take place at a time in the very near future when we can gather to share stories and hugs.
Donations may be made to the Frank Brunk Golf Scholarship.
Make checks payable to:
UC Berkeley Foundation - memo note: Frank Brunk Golf Scholarship
Mail checks to:
Donor & Gift Services, University of California, Berkeley, 1995 University Ave, Suite 400, Berkeley, CA 94704-1070
Brunk, who served as NCGA president in 1991, was the recipient of the first Hall of Fame Service Award at Cal-Berkeley, an honor that recognizes a former student-athlete, coach, administrator or friend of Cal Athletics who has made an outstanding long-term contribution to ideals of the Athletic Department.
The award is presented to a deserving individual for demonstrating exemplary leadership and setting a standard for excellence in enhancing the Cal student-athlete experience. A three-year letterman for the Golden Bears football team from 1947-49, Brunk (seen in photo with Cal men's coach Walter Chun) once returned a kickoff 102 yards for a touchdown against USC that helped secure Cal's spot in the 1950 Rose Bowl.
However, his biggest impact on Cal Athletics may be through his three decades of work as chair of the Cal Men's Golf Committee. In 1979, he led an effort to reestablish men's golf as a varsity sport at the University – a vision that came true in 1982 – and he was a key factor in creating the Women's Golf Committee. In addition, Brunk was instrumental in a fundraising effort to build a state-of the art practice facility for both programs that opened at Metropolitan Golf Links in Oakland in 2007.