May 20, 2022
The NCGA Mourns the Loss of Nancy Gapinski
Nancy Gapinski's interest in golf began at the age of 12 when she would sneak onto the Presidio Golf Course in San Francisco to hit balls on the fairways. After being caught and chased off the course, she took a break from the game until her dad began teaching her when she was in high school. She married Larry Gapinski in 1946 and took another break from golf to raise their children, but several years later began playing again.
Nancy, born on April 23, 1926, was a Course Rater for the Pacific Women's Golf Association from 1971 until 2000 and for the Women's Golf Association of Northern California from 1982 until 2000. At the time, she began, Course Raters used a wheel rolled on the ground to measure distances, but laser technology became available in the early 1990's. From 1992-2005, Larry and Nancy visited many courses in Northern California getting precise laser measurements for Course Raters for PWGA and WGANC using that latest technology.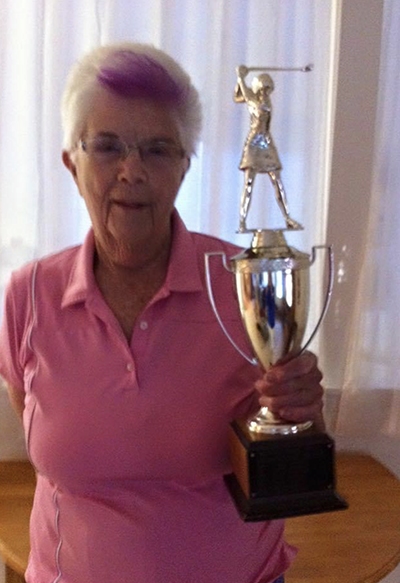 Nancy, who passed away April 26, was appointed to the California Women's Amateur Championship by Helen Lengfeld in 1980 and continued until 2007. In 1998, she was appointed to the USGA Regional Affairs Committee. She served until 2006.
In 1994, Nancy joined the Women's Golf Association of Northern California Board of Directors, and in 1997 she was elected President of the Board. During her time on the Board, the idea of establishing a formally trained WGANC Rules Committee had been discussed, but never finalized. It was when she was President that the idea finally came to fruition. The first WGANC Rules Committee was established in 1997 and in action in 2000. Interested Past Directors formed the new committee, and the training of the new officials was coordinated with the NCGA and USGA. Nancy was one of the initial members.
Nancy spent most of her adult life supporting junior's and women's golf. For years, she gave rules seminars for high schools as well as women's golf groups. She also officiated at High School, Collegiate and WGANC Tournaments. In 2004 she was recognized as the WGANC Volunteer of the Year and in 2009 she received the Helen Lengfeld Award from the California Women's Amateur Championship Committee.
In addition to her volunteering, Nancy made time for her own golf game. She was Champion of the Women's North Bay Golf Association nine times, Women's Club Champion at San Geronimo Golf Course nine time in a row, and the Marin Independent Journal's Champion of Champions three years. At 90 years young, Nancy won the Nine Hole Championship at McGinnis Golf Course in San Rafael.
Nancy's love for the game of golf and her contributions will benefit and be appreciated for many years. We will all miss her.