April 1, 2022
Spirit of the Game: Lorena Ochoa Headed for LPGA Hall
The Ladies Professional Golf Association (LPGA) and the LPGA Hall of Fame Committee (formerly known as the Veterans Committee) recently announced that the LPGA Hall of Fame has modified its entry requirements. The most significant modification includes lifting the 10-year playing requirement to enter the Hall of Fame, which makes two-time major champion Lorena Ochoa eligible for induction. Ochoa earned 37 Hall of Fame points in her eight-year playing career before retiring in 2010.
"The Hall of Fame Committee wanted to understand why the 10-year rule was originally instituted, so we talked to the other Hall of Famers about the reasoning," said Beth Daniel, an LPGA Hall of Famer and member of the LPGA Hall of Fame Committee. "If you make the Hall of Fame in less than 10 years, more power to you. We shouldn't keep you out of the Hall of Fame for that reason."
The Committee also elected to induct under the Honorary Category the remaining eight of the LPGA's 13 Founders not already enshrined in the Hall of Fame, including Shirley Spork, who was monumental in creating what is now the LPGA Professionals organization.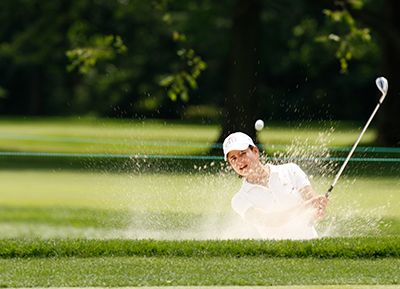 Ochoa played on the LPGA Tour from 2003 to 2010, winning 27 LPGA Tour titles during her career. Her victories include two major championships, the 2007 AIG Women's Open and the 2008 Chevron Championship. Along with earning Louise Suggs Rolex Rookie of the Year honors in 2003, Ochoa was a four-time Rolex Player of the Year (2006-2009) and four-time Vare Trophy recipient (2006-2009). During her time on Tour, Ochoa was No. 1 in the Rolex Women's World Golf Rankings for 158 weeks (April 23, 2007, to May 2, 2010), which is the record for most total and most consecutive weeks spent at No. 1. She received the news of her induction from 48-time LPGA Tour winner Nancy Lopez, a 1987 inductee into the LPGA Hall of Fame.
"It was very special to receive Nancy's call. She is a person I admire a lot," said Ochoa, who was inducted into the World Golf Hall of Fame in 2017. "When the call came in, I was in my backyard. It started as a casual conversation, how is my family, my children. Then she said she has good news to share. My first thought was something related to my foundation. I could not guess. When she told me I was taken aback, and I was very moved, never imagined. I walked around the garden several times and laughed to myself for several minutes. I composed myself from the excitement, then drove off to pick up my children from school. After that, I called my parents, and my father was very happy and surprised also. It's an honor to receive this recognition. It was unexpected and very special to me".