Golf
Spirit of the Game: Babe Zaharias
December 21, 2021 / by Jerry Stewart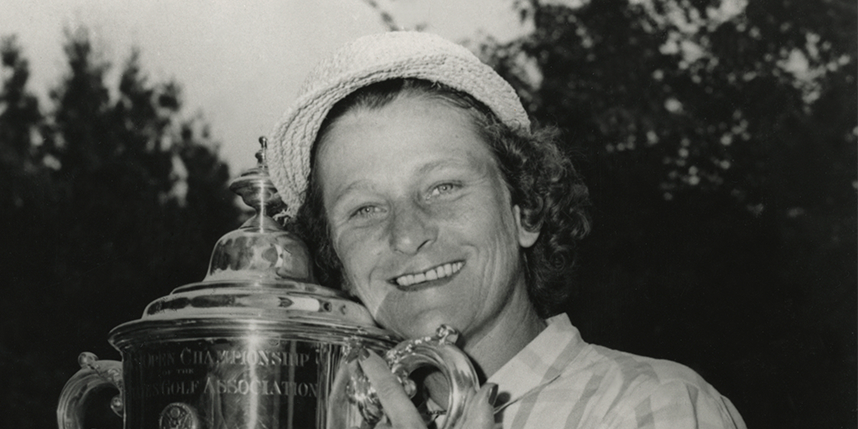 Olympic gold medal winner in track and field. All-American basketball player in college. Champion golfer. If there was a Jim Thorpe among women athletes, it was Mildred "Babe" Didrikson Zaharias. As a professional golfer, she won 31 tournaments, including three U.S. Women's Opens, and helped found the Ladies Professional Golf Association. "Babe changed the game of golf for women," said Patty Berg.
Didrikson didn't even take up golf seriously until she was 21. She was introduced to the game by Grantland Rice in Los Angeles during the 1932 Olympics. Somewhere in between winning gold medals in the javelin and hurdles-she might have won the high jump, too, had she not been disqualified-Didrikson joined Rice and three other sportswriters for a round of golf at Brentwood C.C. According to Rice, the Babe shot 91 that day and regularly hit drives measuring 250 yards.
The following year, while she was touring the country with the House of David baseball team, Didrikson traveled back to Los Angeles and took golf lessons from pro Stan Kertes at Brentwood. Two years later, she won the Texas Women's Amateur Championship with an eagle on the 34th hole. The United States Golf Association ruled the following day that as a professional athlete Didrikson could no longer compete in amateur events.
This led Didrikson to go on exhibition tours and to celebrity pro-ams. In 1938, during a tournament in California, she was paired with a professional wrestler named George Zaharias. They married later that year, and with Zaharias supporting his wife and managing her career, the Babe applied for amateur reinstatement. The USGA granted her wish in 1943, and immediately after World War II Zaharias went on a tear that included the U.S. Women's Amateur in 1946 and the British Women's Amateur in 1947. Published reports had her winning 16 consecutive tournaments, and this led her to turn professional, sign with sports promoter Fred Corcoran and, along with Berg, help form the LPGA Tour. As a professional, Zaharias was just as dominant, winning 31 of the 128 events in which she played from 1948-1953. Asked what the secret of her success was, Zaharias would usually answer with her favorite expression. "Aw," she'd say, "I just loosen my girdle and take a whack at it."
Zaharias' last seven wins, including the 1954 Women's Open, came after she was diagnosed with cancer and had a colostomy. The Women's Open victory, by 12 strokes over Betty Hicks at Salem (Mass.) C.C., was one of the five victories that year. The pain returned in 1955, and although she won twice that year, it wasn't long before Babe Zaharias was gone. She died Sept. 27, 1956, at the age of 45. Berg called her "the most physically talented woman I've ever seen," and that statement applied not only to golf, but to the rest of the sports Babe Didrikson Zaharias mastered. These included bowling, tennis and, if card games count, those too. In her autobiography, This Life I've Led, Zaharias wrote, "All my life, I've had the urge to do things better than anyone else." She may have been the greatest woman athlete in history.