February 1, 2022
NorCal Native Cameron Champ Gives Back at AT&T Pro-Am
PGA Tour member and NorCal native Cameron Champ continues to give back.
On Tuesday, as part of AT&T Pebble Beach Pro-Am week, Champ, who hails from Sacramento, showed his support of First Tee by hosting a clinic at Monterey Pines Golf Course for kids from First Tee-Monterey County in nearby Salinas.
Joining Champ was AT&T Pro-Am celebrity and rapper ScHoolboy Q.
One of just a few African-Americans on the PGA Tour, Champ, 26, has been a huge proponent of diversity, equity and inclusion in golf. His foundation, the Cameron Champ Foundation, Chevron and the Monterey Peninsula Foundation pledged $100,000 towards First Tee of Monterey County.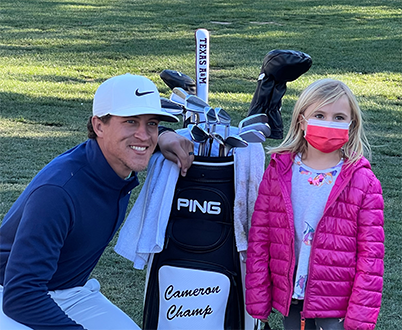 "First Tee gives kids a platform. A place to play," said Champ, a three-time winner on the PGA Tour. "It's very important to me. I grew up in it."
At the age of 8, Champ, whose last win came at the 2021 3M Open, played in events against 13-year-olds. Not surprisingly, he more than once walked away as the winner.
Later, Champ was a participant in the 2012 PURE Insurance Championship Impacting First Tee at Pebble Beach.
Champ and ScHoolboy Q entertained and coached a group of about 75 primarily African American youth during the clinic. ScHoolboy Q is from South Central Los Angeles.
In 2020, Champ donated $40,000 to Prairie View A&M, a historically black college in Texas. The funds helped support two scholarships which are named after Champ's grandfather Mack, who introduced Champ to the game.
"We are so grateful to be part of this spectacular event," said Nick Nelson, CEO of First Tee – Monterey County. "Since 2004, First Tee has positively impacted the lives of over 100,000 young people in Salinas, King City, Greenfield, Gonzales and Castroville. In schools where First Tee conducts programming, state testing scores in math and English have risen and absenteeism has dropped."