April 13, 2022
NCGA Clubs: Harding Park Women's Golf Club
By Lily Achatz
I was 12 years old the first time I picked up a golf club. My father took us kids to a public golf range in San Rafael. I had a lot of fun but I do remember that my sister and I were the only girls there. I really thought it was a sport solely for men and that you had to belong to a club to play. I did not return to golf until decades later when I would accompany male friends on the course. I loved it but was never consistent. I wasn't comfortable as a female to show up at a golf course alone if they weren't available.

During Covid, I mustered up the courage and just showed up at my local course. I booked lessons at the Presidio Golf Course and learned that they had a women's club. I felt comfort in knowing there were other women and joined their club immediately. I met amazing women of all ages and backgrounds—some were beginners and others more experienced. We shared tips, techniques, tee-times, our passion for golf (and maybe a martini or two). I learned from this sisterly group where and how to buy equipment, tips for discounted tee times and most importantly, how there were so many women just like me looking for community. Some shared that they would often play alone to avoid a competitive male dynamic and we all bonded around the fact that we simply wanted to meet more women we could play with.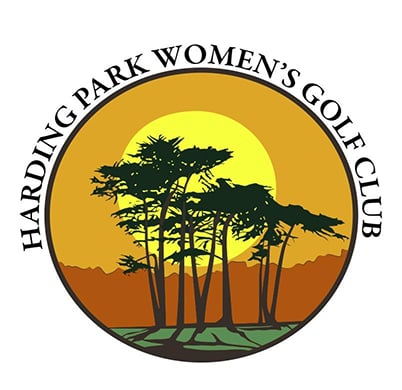 Feeling energized, I mapped out the local courses and put together a wishlist of where I would play when I became proficient. TPC Harding Park was at the top of the list. I was drawn to their rich history and had watched their PGA tournaments on TV. I shared this list with my women's group and was immediately invited to play at Harding Park with them. I was touched that two very experienced players would include me and a friend who was also a novice. They showed us the way around a difficult course and made us feel comfortable by teaching us course etiquette; what clubs we might use; and the meaning of 'pace of play'. I felt empowered as I walked the same hallowed course that Tiger Woods and Michele Wie have played countless times. It was during this first round that I learned that there used to be a Harding Park Women's Golf Club. It was disbanded decades ago even though many women today love playing Harding and want their own club. I began to look into how it could be reinstated after discovering that many women at Harding as well as surrounding golf courses were also very interested in joining this club.

By chance I met Tom Smith, the General Manager of TPC Harding Park, while attending my very first LPGA event, the MEDIHEAL tournament at Lake Merced Golf Club. We began a conversation about women's golf fashion. I shared my fashion background with him as well as my vision for a golf collection. He mentioned that it reminded him of some of the clothes he saw in a Harding Park Women's Golf Club Scrapbook from 1936. He pulled up some images on his cellphone. They were remarkable and portrayed a strong group of female golfers. I offered to upload them online so I could share the images with other women. I also mentioned that there were many women interested in reinstating the club. We met a few weeks later and he was incredibly supportive. For months, he devoted hours of his time into making the club come to fruition. He taught me about the golf industry, clubs, and made key introductions.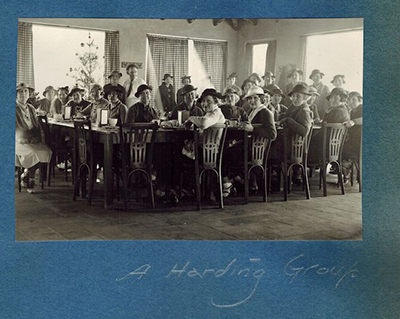 One key introduction he made was to Lyn Nelson, Director of Golf Development and Property at San Francisco Recreation & Parks / Mayor's Women's Golf Council Chair. Lyn took me under her wing and began teaching me everything about golf from how golf clubs are formed to golf architecture and even golf lessons. She encouraged and supported me throughout the whole process of forming the club. She also made important introductions. It was Lyn who gave me the confidence to start the club as the President.

The Harding Park Women's Golf Club Board was founded and included the women from my first foursome at Harding Park and Lyn Nelson. We are a diverse group of women from all levels, ages and backgrounds. The rich diversity across category has become our mission statement.

Harding Park Women's Golf Club aims to introduce and promote golf by providing an inclusive and friendly community to all members. We create a social environment that fosters friendships on and off the course. We support all levels from absolute beginners to competitive athletes.

HPWGC became an official club with the NCGA on December 6, 2021 and opened club memberships on February 20, 2022. Overnight, we grew to 50 members - with 20% new golfers. We have women from all ages 20s, 30s, 40s, 50s, 60s, 70s and even an 80 year old; working women, retired women, and college students. More than 80% of our members have multiple women's golf club memberships (public and private). We are still growing and expected to reach over 100 members by the end of the year. I have received so many messages already from women who are so thrilled that the club has been formed. One of our board members claimed that she was so lonely and so happy to have found a community of women. She asserts that our club changed her life. This community has also changed my life.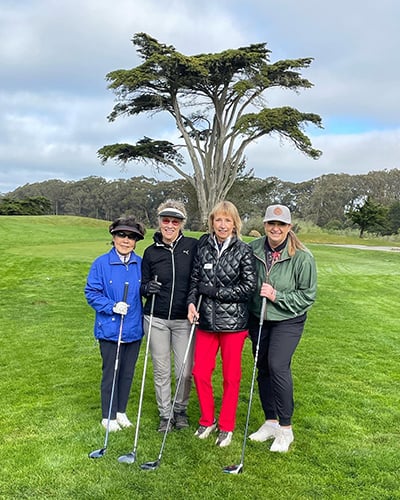 What is unique about HPWGC is that we are creating events and tournaments with new ideas for all levels. We will offer educational clinics to teach new golfers on our 9 Hole Fleming course, hold online happy hour Q&As, and showcase different golf pros using the Toptracer range. For the more experienced and competitive golfers, we plan to have more innovative events involving Fore Caddies, Team play and the opportunity to participate in our Toptracer league. I also want to share what I experienced with my golf sisters - what apps to download for tee-times, tee-time deals, shopping trips (where to buy clubs, clothes, accessories), golf fittings and more. HPWGC has already created allyship with five other women's golf clubs in the area and will collaborate with them online and on course. We will support girls (and boys) through organizations like First Tee and US Kids. Our vision is to create community across all women golfers in Northern California, long-term vision is globally.

I am so grateful to the NCGA, Tom Smith and Lyn Nelson for helping us create a space of our own at Harding Park where women feel included and that they have somewhere they belong. I want to grow women's golf and expand opportunities for women that my 12-year-old self did not see. I hope for this to be a template for all golf courses in the future.