NCGA
NCGA Alum Chase Sienkiewicz Gets First PGA Tour Start in Napa
September 14, 2023 / by NCGA Staff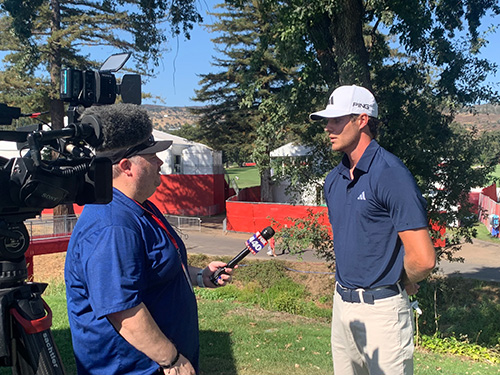 By Nick Lozito
When Grant Leppek returned from college one summer, his best friend growing up was a whole new golfer. Chase Sienkiewicz had shot up to 6-foot-5 and was smashing 350-yard drives.
"And ever since then he's had my number," said Leppek, a Rocklin native, who will caddie for Sienkiewicz, a Sacramento native, in his first PGA Tour event this week at the Fortinet Championship in Napa. "It's awesome to see him grow up and become this player."
Sienkiewicz, an All-Pac 12 Second Team selection as a junior and senior at the University of Arizona, learned of his sponsor's exemption last week while preparing for a Canadian Tour event in Calgary, Alberta. The 23-year-old former NCGA competitor, who grew up competing on the Junior Tour of Northern California, changed flights and called Leppek, who after college golf at Chico State is now working for his father at Central Valley Engineering and Asphalt.
"I was under his shadow, let's just say, because he was a great golfer," Sienkiewski said of the friend he grew up playing with at Catta Verdera Country Club in Lincoln. "And he still is. He's someone I trust on the golf course. Someone I play with. Someone I love to spend time with."
Sienkiewicz played four years of basketball and golf at Jesuit High School in Sacramento, graduating in 2019. "One of the highlights of my whole life," is how he describes high school. "The people there, the connections I made, the school itself was unbelievable. I was so blessed to go there and I'm so blessed to be competing in my first PGA Tour event here." Leppek, who is a year older and attended Rocklin High, said the friends were "neck-and-neck" on the course growing up. That was before Sienkiewicz became one of the longest hitters in college golf.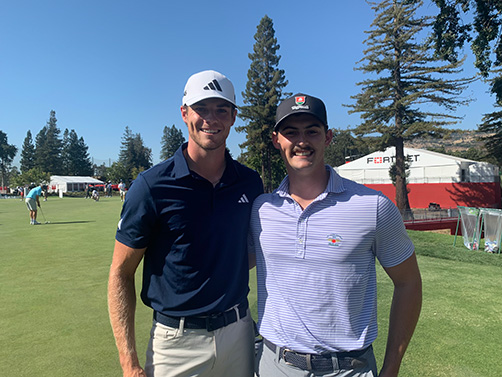 The pals grew up playing with Sacramento native Cameron Champ, a three-time PGA Tour winner (including in 2019 at Silverado) and one of the longest hitters around (Champ averaged a Tour-best 321 yards off the tee in 2022). When asked how Sienkiewicz's distance stacks up, Leppek looks into the distance and lets out a sigh, as if to say "Where do I start?" Or, perhaps, where will it land? "He was carrying stock balls on the range 330, 340 yards," the caddie said.
The friends know Silverado Country Club well, having each played about a dozen times in their youth and Sienkiewicz as a college freshman in the Grapevine Amateur. "It's trickier, firmer and faster," Leppek said of the set up for this first tournament of the PGA Tour's fall schedule. They share a swing coach, Phil Dawson, who also made the trip to Napa this week.
Sienkiewicz is grouped with 23-year-old Devon Bling, a Southern California native and UCLA alum; and 25-year-old Blake Hathcoat, a Fresno native and Saint Mary's College of Moraga alum also making his first PGA Tour start. The group tees off at 2:17 p.m. off the 10th tee Thursday and at 9:07 a.m. off the first tee Friday.
Sienkiewicz had a scoring average of 71.4 over four seasons at Arizona, which trails only Chris Nallen (71.19) for lowest in school history. Sienkiewicz was runner-up at three events in college and helped Arizona to a Pac-12 team title as a sophomore. Since graduating in the spring with a degree in business marketing, Sienkiewicz has played 10 events on the Canadian Tour. He finished top-10 in two of his first three, but has missed the cut in three of his last five. He tied for 56th at last week's Fortinet Cup Championship, bringing his season earnings to $17,040.
Leppek is "thrilled" to caddie in Napa, even on such short notice. "I called my dad and manager," he said. "It was one of those, 'This is happening' calls rather than asking for permission."
Sienkiewicz's parents weren't as flexible.
While Sienkiewicz prepared Wednesday for his first PGA Tour start, seven days after learning he was in the event, his parents were flying to Germany to celebrate 30 years of marriage. "A lot of things happened for that trip to happen," Sienkiewicz understands. "They're just praying this isn't my last (PGA Tour start)." Leppek's parents are vacationing in Hawaii, and might be in Napa for the weekend, should the friends make the cut.
"My family and the Leppeks are tighter than hell," Sienkiewicz said. "And we just grew up playing golf together, pushing each other every day, practicing together every day. One thing led to another and now we're here. It's kind of full circle, coming back to Silverado.
"It's been a whirlwind of a week," Sienkiewicz told Sacramento television reporter Sean Cunningham on Wednesday. "I have to put my head down and play the game I love. I know I can play with the best players in the world, because that's how I see myself in the mirror."