Faces of the NCGA: Melissa Spencer and Her Self-Designed Golf Outfits
August 26, 2021 / by Caroline O'Brien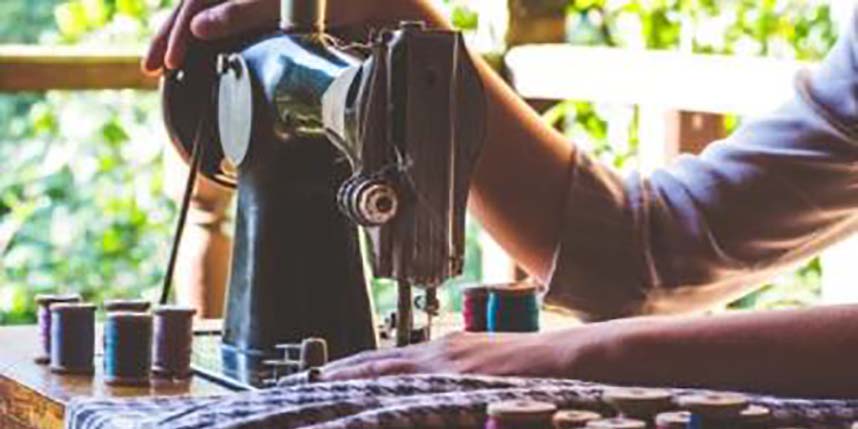 We know there are many of our players who have talents beyond their golf ability, but Melissa Spencer stands out from the crowd with her self-designed and crafted golf outfits. We caught up with Melissa at a recent tournament where she was wearing a golf outfit that she designed and sewed herself.
What inspired you to create your own golf outfits? I started sewing during COVID, first it was sewing masks for my family, my doctor and nurse friends. Then some drapes for my bedroom. One day I was looking online and thought I'd try to make a shirt, and that started me down the rabbit hole. I made that shirt and then started looking for other patterns. A year and a half later I have 4 new machines (2 sewing machines, including a beautiful vintage 1966 Singer, a serger and an overstitch machine), a ton of fabric and lots of patterns. Once I started golfing again during the pandemic I would look at other ladies' cute outfits and think that I could make that myself. I would also go to pro shops or golf stores for ideas and then turn those ideas into outfits for myself. I haven't bought any clothing in over two years.
When did you start to design your own clothing? Most of the clothes that I make are from patterns that I buy or download online. I have taken a golf shirt that I liked and fit well and made a pattern from it by tracing the shirt to get the size, and then just figured out how to sew it together. I have also taken someone else's pattern and hacked it to be like an outfit that I have seen and wanted to duplicate.
Do you sew just golf clothing, or do you sew all your own clothes? I sew everything from my undergarments, pajamas, jog bras, golf outfits, dresses, jackets, I have made it all.
When did you first learn how to sew? I first learned in middle school. The school I attended had a semester of home economics where we learned to cook and to sew. After the home economics class, I've been self-taught. It is amazing these days with YouTube and the internet what you can learn. I am involved in a few Facebook groups, and I have a weekly zoom call with 4 other ladies where we sew together, share what we've recently made and can get help with fit issues. We've also become friends. Over the years I have made everything from curtains to bean bags, lots of Halloween costumes, and all my daughter's princess dresses when she was little.
How do you come up with the designs? Sometimes I will find a fabric that I love and look for a pattern that I think will go well with it, sometimes I find a pattern and look for material to match. I look at pictures I have taken or saved of things I like and try to duplicate it.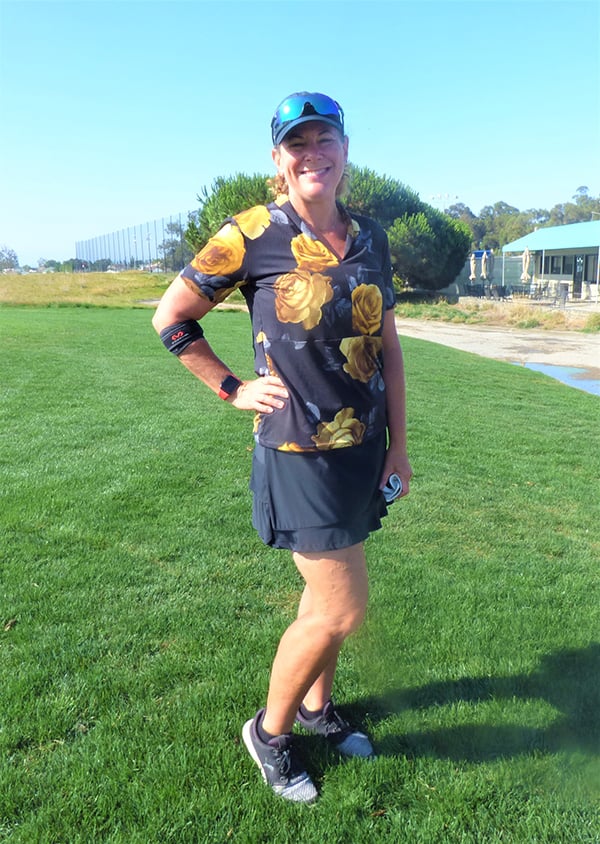 Are you inspired by any particular golf clothing brand or style? I have a great pair of Joe Fit shorts that I really want to duplicate, I love the stretch of the material and the topstitching on it. I normally lean towards simple designs.
Where do you source your fabric? That is an interesting question, it depends on the fabric I am looking for. I have had some trial and error when it comes to buying fabric because most of the time, I am buying online so I don't get to actually feel the fabric or see it to get a feel for the real colors. I have started to find a couple of places that I have found to have good quality fabric online. If I need something that day, I have two local fabric stores that are more for quilting fabric rather than knits for clothing, and there is a local Beverly fabric that I will go and get supplies.
What do you need to consider when you are choosing fabric for golf clothing? It depends on if it is for summer or winter, and if it is for a top or pants. The weight of the fabric and the stretch are important for either, and how good the recovery of the fabric is, if it doesn't have good recovery and you are making pants, they will be stretched out by the end of the round. Breathable lightweight fabric with SPF is what I have been looking for with my tops, and a medium-weight material with a little stretch for my pants.
What have you learned about the process since you began? I think the biggest thing that I have learned is about my body, what looks good for me and what changes I think I'll need based on my body type. I have learned to slow down, going fast always leads to mistakes. I have learned that seam ripping (undo for sewing) on black material with black thread is not fun.
How long does it take you from design stage to wearing your new outfit on the course? Sometimes it takes a while to figure out what I want. If I have a new pattern or idea, it might take as little as a couple of hours to cut the fabric and sew it if I have the pattern cut out already. If I have to print a new pattern and tape it together, that process can take an hour or more by itself. If it is a new pattern or idea then sometimes, I get lucky and the first make (the muslin or toile- a type of practice garment that is made with cheaper fabric as a trial) is wearable, but often I make it, and it needs adjusting. The shirt you took my picture of, I had just made a muslin of it a few days before. After a golf round, I went home and cut and tweaked the pattern to fit based on the muslin, and was able to adjust, cut and sew that top in about 2 hours.
What advice would you give a would-be seamstress about making her own golf clothing? I'd say go for it, have fun. Look online, there are so many sewists out there that are making videos of how to sew, how to use a machine, what different types of material are, and what is best for what you are wanting to make. it is great. There are many pattern companies out there that do sew-a-longs, they will take you step by step through making the entire pattern from cutting out the pattern and the material to sewing it all the way through. Don't be afraid to cut and sew, if you make a mistake then you learn from it. Buy cheap fabric and experiment with that before cutting into more expensive material. Go to a second-hand shop and buy larger-sized shirts or pants and use that material to make your outfit. Buy sheet sets and use those as your practice material. Measure your body accurately, you might not like what the number is, but if you aren't honest then what you make won't fit.
Any other information that might be interesting to readers about the process? Even if you don't want to sew all your own clothing, it is great to understand your body type and what will fit you well. It took me years to understand I have a long torso, which is why one-piece bathing suits never fit me correctly.
Do you take orders? Haha, not too often. I think I'd prefer to just make clothing for myself and my family. It starts to get nerve wracking and stressful when you are making things for other people.
Thanks, Melissa, for sharing your story – you have inspired some of us to dust off those sewing machines!
If you have an interesting hobby that you would like to share – we'd love to hear from you. Please contract Caroline O'Brien at cobrien@ncga.org.