August 26, 2022
WGANC Legacy Stroke Play
August 30, 2022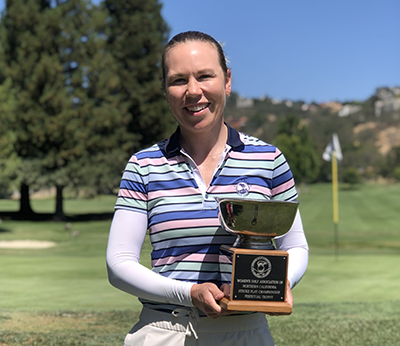 Orinda resident Lauren Gebauer rolled to a win at the annual WGANC Legacy Stroke Play Championship at Contra Costa Country Club
Gebauer, a former walk-on at University of Notre Dame, shot a second round 2-over 76 to come in at even-par 146. Finishing as runner-up at 155 was 2020 NCGA Senior Women's Player of the Year Itsuko Moridaira following a second round 74. NCGA Hall of Famer Lynne Cowan finished third at 158 after an 80.
Gebauer, a practicing dermatologist, tallied eight birdies over her 36 holes.
August 29, 2022
Lauren Gebauer took the early lead in the Overall Division, carding a 2-under par 70 that included five birdies and just three bogeys.
Lynne Cowan and Joy Robinson are both tied for second at 78.
The Stroke Play Championship began as The 54-hole Champion of Champions in 1953. In 1997 it was separated into two championships. The Champion of Champions and the 54-hole Stroke Play Championship. The Stroke Play Championship went from a 54-hole tournament to a 36-hole tournament in 2019.