August 1, 2022
PWGA Legacy Open
August 3, 2022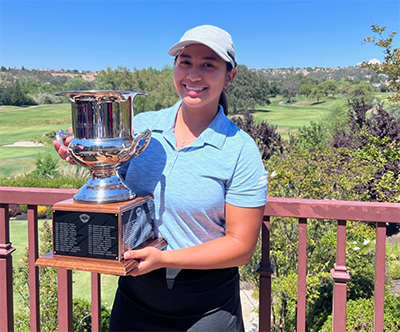 Lorenz Kayla Nocum has said that Tiger Woods is her sports hero. At the PWGA Legacy Open, Nocum had a Woods-like performance.
A senior at the University of Nevada-Reno, Nocum cruised to an 11-shot victory at Whitney Oaks Golf Course, carding rounds of 73-75 to come in with a total of 6-over 148. Second place went to Donna Basil at 159.
Originally from the Philippines, Nocum came to the U.S. after receiving a golf scholarship from UNR. She is still adapting to the differences of living in the States. For one, she is mostly on her own, albeit her mom was there to celebrate her big victory.
"I have had everything handed to me in the Philippines and being here I live alone and I realized I didn't know a lot of things and now that I'm here I learn more and the whole being an independent thing is really something I didn't think I would do at an early age," Nocum said. "I know 20 isn't young for Americans, but for us, people live with their parents until they're about to get married."
In her sophomore season (2020-21), Nocum was a Women's Golf Coaches Association (WGCA) All-American Scholar.
The PWGA Open began as the PWGA Championship in 1953. The championship is a two-day 36-hole tournament held in a variety of Northern California locations annually.