July 18, 2022
2022 Pacific Coast Amateur
July 22, 2022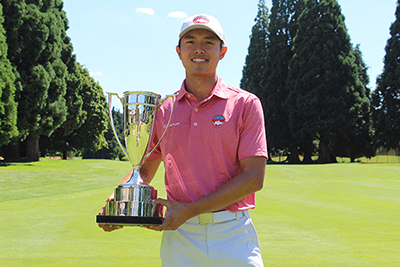 James Leow of Singapore shot rounds of 69-67-65-68 to win the 55th Pacific Coast Amateur Championship, hosted this week at Columbia Edgewater Country Club in Portland, Ore.

"I'm really excited to get the win," said Leow, "it's been a while, I've been competing and my golf has been a little up-and-down, but it's always good to play some good golf down the stretch of the week."

Leow entered the day in a tie for first place with Caleb Surratt of Knoxville, Ten., and the two were paired together in the final round along with Sam Choi of Albuquerque, N.M.

Leow and Surratt were neck and neck the entire final round, both players got around the front nine in even par and they stood on the tenth tee tied for the lead. They both made birdie on 10, Leow made birdie on 11, and then Surratt tied it back up with a birdie on 12. They matched pars on 13 and then both birdied No. 14.

On the 15th hole, Surratt made bogey while Leow made par to take a one-shot lead. Then on the 16th hole, Leow gave it right back with a bogey of his own, and the two players were tied again.

On the par-4 17th hole, both players hit the green in regulation. Leow got in for par while Surratt made bogey. This gave Leow a one-up advantage with one to play over Surratt and Sam Choi, who birdied the 17th to climb back in it.

After a perfect tee shot on the par-4 18th, Leow stuck his second shot to four feet and he drained the birdie putt for the win to finish at 15-under for the championship.

"I didn't check my phone, but I had a rough idea of where I was at and where the other two (Surratt and Choi) were at," said Leow. "Down the stretch it was really tight with Sam making a comeback and Caleb chasing after me too, it was a great match and I had so much fun out there."
July 21, 2022
Caleb Surratt of Knoxville, Ten. and James Leow of Singapore will take a share of the lead heading into tomorrow's final round of the 55th Pacific Coast Amateur Championship, hosted this week at Columbia Edgewater Country Club in Portland, Ore.

Surratt, who entered the day three shots back of round-three leader William Paysse of Temple, Tex., tied the Men's competitive course record at Columbia Edgewater with a 7-under 64 in today's round.

"It was a good day out there," said Surratt, "I had some fun, put my head down and just focused on what I could control."

"I had to overcome some adversity out there, which helped me stay focused. I missed a one foot putt and I had a three putt, and they honestly helped me not lose track of what I was trying to do."

Surratt, a junior, is the No. 29-ranked amateur in the world (WAGR). This fall he'll begin his freshman season on the University of Tennessee men's golf team. Surratt is currently leading the Elite Amateur Cup race after five weeks, something he is well aware of and something that played a factor into his decision to play in this championship.

James Leow, who entered the day two shots back, fired a 65 in today's third round to earn a share of the lead and secure a spot in the final pairing tomorrow.

"I hit a lot of good approach shots and I made a lot of putts today, which is crucial out here," said Leow.
The NCGA's low player, Sam Sommerhauser, shot a 72 and is now T-7, six shots off the lead.
July 20, 2022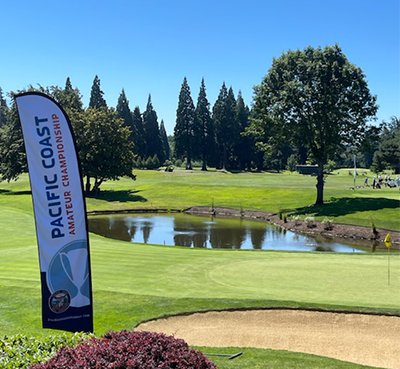 Texas A&M's William Paysse is the new leader at the Pacific Coast Amateur, following his second straight round of 4-under 67 on the Columbia Edgewater Course.
Paysse is now at a two-day total of 8-under 134, good enough for a one-shot lead over Max Herendeen of Washington and the NCGA's Sam Sommerhauser. Sommerhauser, the defending NCGA Amateur champion, moved to a total of 135 with a solid second round 66 that included six birdies and just one bogey.
Ryan Burnett, who's also representing the NCGA and was the first round leader at 66, slipped into a tie for seventh after carding a 71.
With two rounds still left, a lot could change. Past champions of the event include Isaiah Salinda (2018), Will Zalatois (2016) and jason Gore (1997).
In the Morse Cup competition, the NCGA rolled to a six-shot victory over the field. Team NCGA, represented by Sommerhauser, Burnett and Brian Stark, had a final round 5-under 137 to finish at 12-under 272.
Second place went to Colorado GA at 278.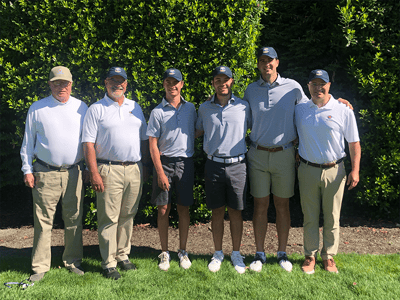 July 19, 2022
NCGA member Ryan Burnett is atop the leaderboard after day one of the annual Pacific Coast Amateur Championship at Columbia Edgewater Country Club in Oregon.
Burnett, a senior last season at University of North Carolina, posted a solid 5-under 66 that included six birdies and a bogey. On the back-nine, Burnett was on fire---posting a bogey-free 31.
Four players are at 67 including Jiri Zuska, who hails from Czechoslovakia. Zuska was at a total of 6-under before a pair of late bogeys.
The championship runs through Friday.
In the Morse Cup team competition Best two scores out of three), the NCGA vaulted to the top of the leaderboard with an opening day score of 7-under 135. Representing the NCGA are Burnett (66), Sam Sommerhauser (69) and Brian Stark (74).
The Idaho GA is alone in second place at 140.
The Pacific Coast Amateur is one of seven premier amateur championships that make up the Elite Amateur Golf Series (EAGS), in which players earn World Amateur Golf Ranking (WAGR) points and compete for the Elite Amateur Cup, with top finishers earning exemptions into USGA Championships, as well as PGA TOUR and Korn Ferry Tour events.
Recent Pac Coast champions include Will Zalatoris (2016), Doug Ghim (2017), Isaiah Salinda (2018), Quade Cummins (2019) and Devon Bling (2021). Other past champions that went on to have success on the PGA TOUR include Aaron Wise, Andrew Putnam, Jason Gore, Billy Mayfair and Ben Crane, among others. Zalatoris and Wise are currently in the top-40 on the PGA TOUR's FedExCup Standings.
The championship routinely attracts the top amateur golfers from around the world. It remains the West Coast's elite-level event that is circled on all amateur golf calendars in North America and around the globe. This year's championship includes players from 10 different countries and Puerto Rico.