June 22, 2022
2022 NCGA Women's and Senior Women's Amateur
June 29, 2022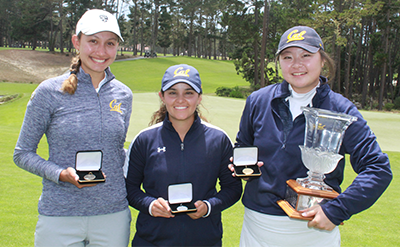 The last few months have been a whirlwind for Rocklin resident Kaylyn Noh.
Back in May, Noh won the Big West individual title and was named Big West Player of the Year. Then, she decided to return closer to home, transferring to Cal-Berkeley.
While she has yet to tee it up for the Bears, she's already left an impression on some of her new teammates.
On Wednesday, Noh carded a final round 1-under 70 to win the annual NCGA Women's Amateur Championship at Poppy Hills. Altogether, five Cal players would make the cut in the championship, including runner-up Cristina Ochoa and third place finisher Annika Borrelli.
"This is really my first tournament in about two months. I was just coming out, trying to remind myself to be relaxed and take what I could from the course," said Noh, who finished with a 54-hole total of 2-under 211.
For Noh, the key moment came on the par-5 10th. Holding a tight one-shot lead over Ochoa, Noh knocked her second shot---a 6-iron from 165 yards out--onto the green. She'd proceed to sink her 24-foot putt for eagle, while Ochoa made par, to take a two-shot lead.
Noh would open the door a bit later with a tough double-bogey on the par-4 14th, but bounced back by playing her final four holes at 1-under for a three-shot victory.
Ochoa finished with a 70 to come in at 214. Borrelli, who was the defending champion, had a final round 72 to finish at 216.
"This is a big event. Last year Annika won it, and I get to follow in her shoes and now play with her as a teammate so it's all very exciting" said Noh, who was rooted on by her mom, Judy, and dad, Kevin. "It didn't feel like we were playing against one another. It was more like just being out and having fun.
Senior Championship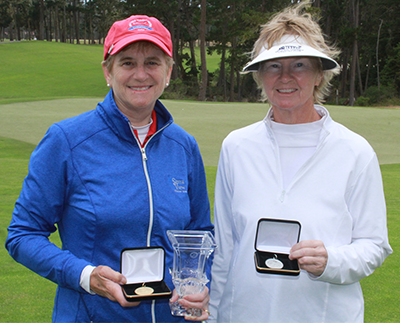 l
NCGA Hall of Famer Lynne Cowan extended her own record.
Cowan, 59, made it five NCGA Senior Women's Amateur titles, winning the event by seven shots. The Sierra View CC member carded a final-round 2-over 73 to come in with a 54-hole total of 5-over 218.
"I was pretty steady," said Cowan, who was playing with a new set of irons. "I didn't make many mistakes."
Cowan was most proficient with her putter. She'd only three-putt once over the championship.
"I putted really well. I was just seeing the lines," Cowan said.
Prior to her win at Poppy Hills, Cowan showed that she was returning to form. Last week at Sierra View, she won the club championship there by defeating friend Karen Garcia. Cowan's run there included a streak of four birdies over her last five holes.
Defending champion Tina Barker finished second at 225 after a final round 72. Fellow NCGA Hall of Famer Sally Krueger was third at 231.
June 28, 2022
Madison Pineda will take a slim one-shot lead into Wednesday's final round of this week's NCGA Women's Amateur at Poppy Hills.
On Tuesday, Pineda, a sophomore at Lehigh University, carded a second round 2-under 69 to get to a total of 2-under 140. A former member of the Junior Tour of Northern California, her round included two bogeys and four birdies, all of which came on the back-nine.
Just a shot back is Kaylyn Noh. A sophomore at Cal Poly-SLO, Noh carded a 70 that featured three birdies and two bogeys.
Cristina Ochoa and Annika Borrelli, the defending champion, are both in the mix at 144 following rounds of 74 and 71, respectively. Borrelli is also the defending NCGA Women's Player of the Year.
First round leader Adora Liu, who opened with a 69, fell back to a 78 and is in sixth place.
The cutline (low 15 and ties) came at 13-over 155. The final round will take at Poppy Hills on Wednesday.
Senior Championship
NCGA Hall of Famer Lynne Cowan is a day away from adding to her own record.
Cowan, a member at Sierra View CC in Rocklin, carded a second round 1-over 72 to get to a total of 3-over 145. She'll enter Wednesday's final round holding a four-shot lead over Jennifer Douglas.
Cowan, who posted three birdies on the day, was solid on her back-nine, going 1-under with a birdie and eight pars. She has already won the Senior title a record four times (2014, '16, '17 and '19).
Douglas, who carded a second round 74, had four birdies over her round.
Karen Garcia, winner of the 2015 U.S. Senior Women's Amateur, is in third place at 152 after a 77.
The cut (low 15 and ties) came at 25-over 167.
Photo Gallery Second Round Here
June 27, 2022
Newark resident Adora Liu is the one to catch after day one of the annual NCGA Women's Amateur Championship at Poppy Hills.
Liu, the 2021 Junior Tour of Northern California Player of the Year and a freshman-to-be at Cal, fired a 2-under 69 on a foggy and cold day. Her round included three birdies, a bogey and 15 pars.
In a tie for second at 70, just one behind the leader, are Cristina Ochoa and Caris Kim. Ochoa, originally from Bogota, Colombia, just wrapped up her freshman season for the Bears. Kim, who hails from Los Altos, will be a junior at Princeton this fall.
Kaylyn Noh and Madison Pineta are T-4 at 71. Defending champion Annika Borrelli of USF is T-7 after an opening 73.
The second round will be Tuesday, with the final round on Wednesday. Following Tuesday's round, a cut will be made with the low 15 and ties advancing to the final round.
Senior Championship
It's a crowded leaderboard after day one of the Senior Championship.
NCGA Hall of Famer Lynne Cowan and Deborah Robertson are tied at the top after matching rounds of 2-over 73.
Cowan, who already holds the record with four wins, is looking to add a fifth crown.
Four players--Jennifer Douglas, Karen Garcia, Marianne Towersey and Tina Barker--are T-3 at 75. Garcia won the 2015 U.S. Senior Women's Amateur. Barker, meanwhile, is the defending Senior champion.
Towersey, also an NCGA Hall of Famer, is a three-time winner of the event.