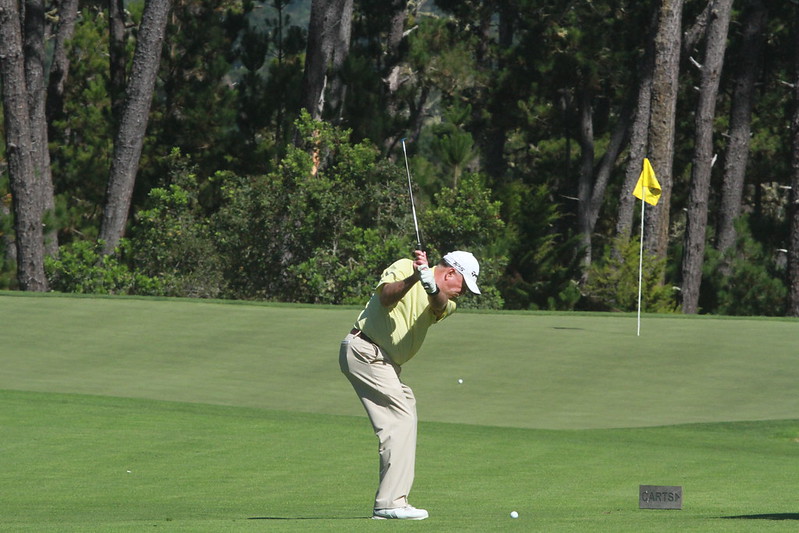 September 28, 2022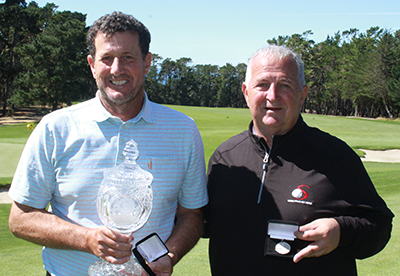 Despite being an avid surfer, Carlsbad resident Jim Plotkin opted not to catch any waves while visiting the Monterey Peninsula. For one, the water in NorCal is much colder than in SoCal. Another reason, as Plotkin said, was that NorCal waters feature more adult great white sharks.
At Poppy Hills, it was Plotkin who became the one to fear, as the 61-year-old e-Club Fresno member cruised to a three-shot win at the NCGA Senior Championship. A day after carding a 2-under 69 to take a three-shot lead, Plotkin posted a final round 73 to defeat runner-up Steve McPherson by three shots.
It's the first NCGA title for Plotkin, and marked his first victory since last year's SCGA Senior Match Play Championship.
"It feels great," said Plotkin, who finished the 54-hole event with a total of 1-under 212. "One of my goals this year was to win something like this."
Over his first two rounds, Plotkin, who owns and operates an employee testing business, carded 10 birdies. In the final round he only had one birdie but never made anything higher than a bogey. Over his 54 holes, he'd never pencil in anything higher than a bogey.
"Today was a little tougher, but I again hit a lot of greens," Plotkin said. "This course is tough. It's a privilege to win here. It's a real shotmaker's course. You can't spray it around."
McPherson came in second at 215 after his own 73. Randy Haag and Rich Gleghorn came in tied for third at 221 after rounds of 69 and 72, respectively. Haag would be awarded third place in a card-off. Haag's 69 vaulted him 26 spots up the leaderboard.
The third-place finish also sewed up NCGA Senior Player of the Year honors for Haag.
September 27,.2022
Maybe Jim Plotkin stopped by Asilomar Beach to catch some waves and relax. Whatever the case, he's in great shape at this week's NCGA Senior Championship at Poppy Hills.
Plotkin took over the lead in the event on Tuesday, posting a 2-under 69 to get to a two-day total of 3-under 139. An avid surfer from Carlsbad, Plotkin carded six birdies and four birdies on the day. On what was a wild front-nine, he'd post three birdies and three bogeys on the way to an even-par 36.
Alone in second place at 142 is Hemet's Steve McPherson after his second straight 71. McPherson, playing thanks to an exemption, is good friends with Plotkin, both hailing from Southern California.
In third place at 143 is another Steve, one who knows a thing or two about the course. Poppy Holding Inc. COO Steve Schroeder moved up to third after a second round 68. The 68, which was the low round of the day, catapulted Schroeder 20 spots up the leaderboard.
Lurking at six shots behind the leader is 2017 California Senior Amateur champ and two-time defending NCGA Senior Player of the Year Mark Morgan. Defending champ Corey West is at 149.
The cutline (low 30 and ties) came at 11-over 153.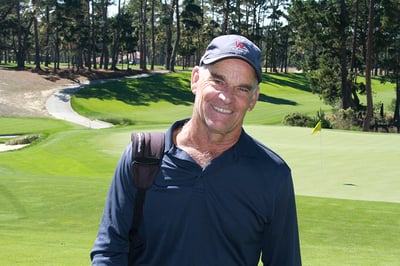 Robert Miller had the shot of the day, acing the 171-yard par-3 17th hole using a 6-iron.
September 26, 2002
Woodland resident John Rotteveel is the one to catch after opening day of the annual NCGA Senior Championship at Poppy Hills Golf Course.
On a gray skied Monday, Rotteveel shot a 2-under 69 that included five birdies and just three bogeys. It was on the tougher front-nine that Rotteveel did his best work, posting a bogey-free 3-under 33.
In a tie for second at 70 are Thomas Ansbro and Jim Plotkin. Another two players, Mark Morgan and Steve McPherson, are just two shots behind the leader after opening rounds of 71. Morgan is the NCGA's two-time defending Senior Men's Player of the Year.
Eight players are at 72 including Tony Padilla, Mike Stieler and Mike Staskus. Padilla won the event in 2017 after stunning Randy Haag by making a 70-foot eagle putt on the par-5 18th holes. Stieler, who recently turned 55 and is the new kid on the block, had six birdies but he'd also stumble with two bogeys, a double and a triple-bogey.
Following Tuesday's second round, a cut will be made with the low 30 individuals and ties advancing to Wednesday's final round.
First played in 1962, the NCGA Senior Championship is the association's premier event for players aged 55 and over. Hundreds of players at multiple sites around the region attempt to qualify for the championship each year. Traditionally, the final field has played 36 holes of stroke play at a different venue each year; however, beginning in 2009 the tournament has been played annually at Spyglass Hill. In 2016 it moved to Poppy Hills.
The tournament record was set in 2008 by Jeff Burda who beat the previous record by five strokes with a 135 at Saddle Creek GC. The low tournament score at Spyglass Hill GC was Michael Brannan's 142 in 2012, the only under-par 36-hole total since the tournament has been played there on annual basis. Jim McMurtrey has won the championship a record five times (1990, 1992, 1994, 1995 and 2000). Cornelius Bertolone (1963, 1964 and 1966), Jim Knoll (2011, 2014 and 2018) and Kai Thomsen (1988, 1989 and 1991) are tied with second most victories, each winning three times apiece.