July 8, 2022
2022 NCGA Junior Championship
July 12, 2022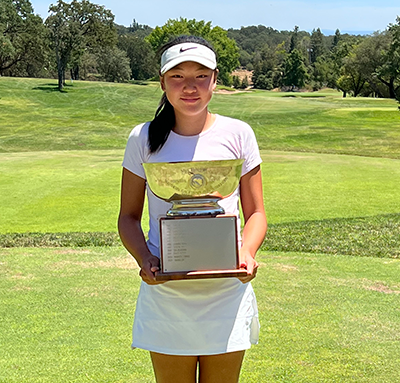 Lily Peng and Steven Rivera took home the NCGA's biggest junior prizes.
Peng shot an even-par 72 and Rivera carded a final round 70 to capture the Girls' and Boys' titles, respectively, at the NCGA Junior Championship on the South Course at Rancho Murieta.
Peng, who hails from San Ramon, rolled to a five-shot win thanks in part to a first-round 69 that included a front-nine 32 with four birdies. Having entered the final round tied with Christine Yu at 144, Peng was steady in the finale, penciling in 14 pars, two birdies and two bogeys.
Yu slipped into a tie for second with Darla May Dela Torre at 221 after a final round 77. Dela Torre had a final round 71, which earned her the second-place medal following a card-off with Yu.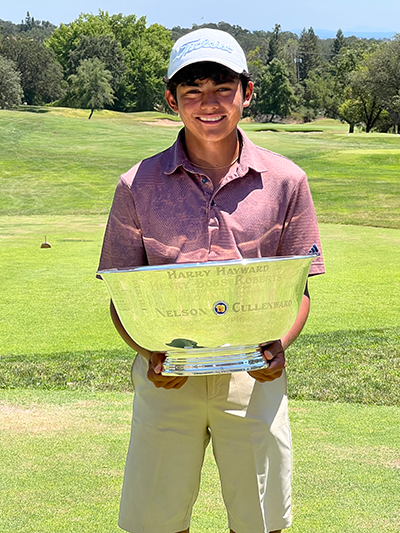 In the Boys' Championship, Rivera came in with a 54-hole total of 208, edging runner-up Joshua Wang by stroke. The two had entered the final round tied for the lead with Matthew Almajano.
The big difference for Rivera was a bogey-free back-nine 34 with two birdies. Wang, who had opened with a first-round 67, had made a birdie on the 17th in the final round to get within a stroke of forcing a playoff, but had to settle for a par on the closing 18th.
Almajano fell back into a tie for third at 210 with Matthew Shimizu following a 72. Shimizu, who earned third place via a card-off, made a charge with a championship-low 65 that featured eight birdies and a bogey. On his front nine, Shimizu had a tidy 31.
Rivera joins a list of former Boys' champions that includes Ken Venturi (1949) and Johnny Miller (1963). Peng joins former Girls' champs Dorothy Delasin (1998) and Yealimi Noh (2017).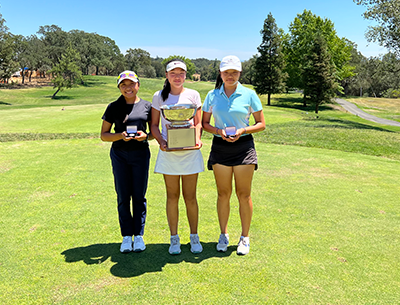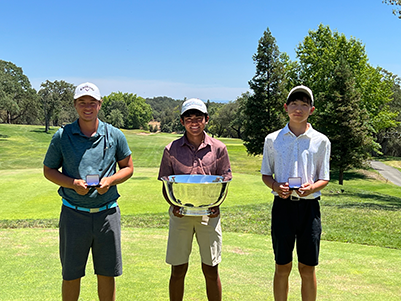 July 11, 2022
The leaderboard are jam-packed after day one of this year's NCGA Junior Championship on the South Course at Rancho Murieta CC.
In the Girls' Championship, Christine Yu of Folsom and San Ramon's Lily Peng are tied for first after the first 36 holes at even-par 144.
Yu had two rounds of 72, while Peng went 69-75. In shooting her 69, Peng posted four birdies on her way to a front-nine 32. Madalyn Lee is alone in third place at 4-over 148 following rounds of 71-77.
Over in the Boys' Championship, a trio of players--Matthew Almajano of Fremont, Steven Rivera of Fresno and Palo Alto resident Joshua Wang are all tied at the top with matching scores of 6-under 138.
Almajano shot a pair of 69s, while Wang went 67-71. Rivera posted rounds of 70-68. Wang in the first round carded six birdies to go against just one bogey. Zack Tarter is alone in fourth place at 141.
Play during the day was held with temperatures hovering near 100 degrees. Tuesday's final round will consist of 18 holes.
he NCGA Junior Championship began in 1930 and carries with it a rich history of young champions including eventual PGA Tour players. Notable winners include Ken Venturi in 1949, Bobby Clampett in 1976 and Joel Kribel in 1993. Johnny Miller triumphed at The Olympic Club in 1963 and when Todd Miller claimed the title at Orinda in 1996 they became the only father-son champions. Eddie Fry holds the most wins, after claiming victories in 1941, 1942 and 1943. In 1983 the championship changed from match play to 54-holes stroke play. Since the format changed, the only player to win back-to-back championships is 1998 and 1999 winner Tom Johnson. Patrick Nagle holds the scoring record of 13-under-par 203 set in 2002 at Brookside CC. The only players to win back-to-back tournaments since the girls' division began in 1982 are Jamille Jose (1988-1989) and Sabrina Iqbal (2015-2016). Haley Andreas holds the girls' championship record with three-under-par 143 at Spyglass Hill in 2009. With his Boys' win in 2016, Thomas Hutchison joined sister Samantha (2013) as a champion. The two are the only siblings to have won.