November 9, 2022
2022 California Senior Amateur Championship

Nov. 16, 2022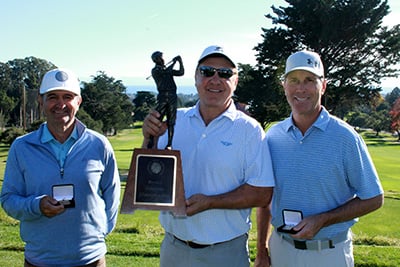 When Orinda resident Randy Haag won the 2021 California Senior Amateur, it was like closing the circle. Prior
to the victory, the NCGA Hall of Famer had won just about everything except a State Amateur.
Now, the 63-year-old Olympic Club member has two.
Haag carded a final round 3-over 73 and avoided catastrophe on the treacherous par-3 18th to hold off Scott Almquist and Tim Hogarth and win the 31st California Senior Amateur at Pasatiempo Golf Club by a stroke. He's the first repeat winner since Jeff Burda in 2009-10 and joins Burda and fellow NCGA Hall of Famer Jim McMurtey as the only players to go back-to-back.
"Last year's win and this year's win are so different. Last year was special because it was my first State title. To do it back-to-back, it's hard for me to believe," said Haag, who finished at 213 (72-68-73).
When Haag arrived at the 18th tee, he held a three-shot lead over Hogarth, who was playing in the same group, and was two ahead of Almquist, who was already in clubhouse at 214 after a 70. Haag's tee shot landed to the left side of the green, leaving him a lengthy birdie putt, while Hogarth knocked his tee shot to within 5 feet of the flagstick.
With the title on the line, Haag's birdie try skimmed past the cup and rolled down into a collection area. He'd take a deep breath and recollect himself, hitting his next putt to within a few feet of the pin, and would eventually make bogey. It was critical, as Hogarth applied extra pressure by making birdie.
"On 18 I couldn't figure out what club to hit. Out on this course, there are so many times that you find yourself trying to two-putt from 15 to 20 feet. That 18th green aged me three years there at the end," Haag said.
For Haag, the win capped a rollercoaster year. Back in the winter, he had two 6-inch screws inserted into a bum left ankle. At the time, his doctor told him he may be able to return to playing in April, but added "probably not very well." Haag would go on to capture his third NCGA Senior Player of the Year title.
"It hasn't been easy. My left foot moves a lot when I swing. So to compensate I'm timing my arms," Haag said.
For Hogarth, it was deja' vu all over again. At last year's championship, he also finished a stroke behind Haag.
Hogarth's chances began to fade after back-to-back bogeys on holes Nos. 15 and 16, the 16th being extremely painful after missing a short putt that would've tied Haag. On the 17th, Hogarth's approach shot hit a mound on the right side of the area of the green and bounded further right. He'd end up with a double-bogey.
"I made a bad swing, and then I ripped my third past the cup. Sooner or later, a lack of knowing what you are doing is going to catch up to you," said Hogarth, who was making his competitive debut at Pasatiempo. "In hindsight, I should've just played for a bogey."
The day started with Haag holding a one-shot lead over Hogarth and a two-shot lead over Jeff Wilson. Hogarth has won over 20 SCGA titles and in 1996 won the now-defunct U.S. Amateur Public Links. Wilson, meanwhile, in 2018 won the U.S. Senior Amateur and has been a USGA medalist nine times. Wilson fell back to a tie for fourth after a 76.
"I look up to Tim and Jeff so much. They're both national champions," Haag said. "I've never seen so much talent around the greens. "I was just trying to not make any mental mistakes."
Nov. 15, 2022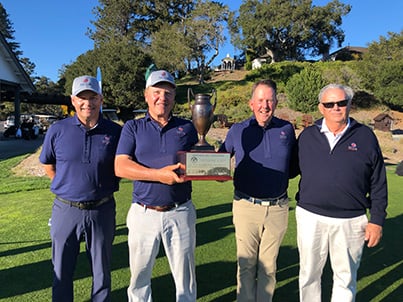 When Randy Haag won last year's California Senior Amateur, it was like a cherry top. Prior to the event, the NCGA Hall of Famer--while he'd won just about everything else--had never won a California Golf Association title.
Now Haag, a longtime member at The Olympic Club, has back-to-back titles in his sights.
On Tuesday, Haag climbed into the lead of this week's championship at par-70 Pasatiempo Golf Club thanks to a solid 2-under 68 that included four birdies and just two bogeys to move to a two-day total of 140. All four birdies came on the front nine to the tune of a 31.
The last player to repeat as a California Senior Amateur champion is Jeff Burda in 2009-10.
Haag, however, does have some serious pursuers. Just a stroke back at 141 is the SCGA's Tim Hogarth after a second round 69. Haag and Hogarth are the only players who have been able to crack par so far.
Another shot back at 142 after a second-round 69 is 2018 champ and seven-time USGA medalist Jeff Wilson. Scott Almquist is alone in fourth place at 144.
The cutline (low 30 and ties) to advance to Wednesday's final round came at 13-over 153.
In the North/South Challenge, which pits three of the NCGA's best players against three of the SCGA's best, the NCGA rolled to a 281-292 victory. Representing the NCGA were Haag, Wilson and Morgan (74). The SCGA was represented by Hogarth, Jim Plotkin (71) and Jeff Burda (74).
In Monday's first round, the NCGA took a 142-152 lead (best two scores out of three).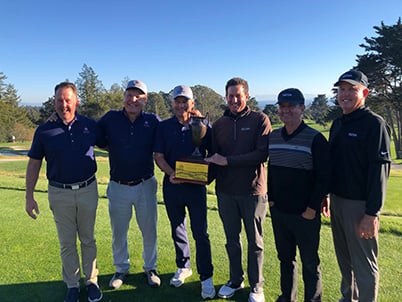 Nov. 14, 2022
So far, the winner is Pasatiempo Golf Club designer Dr. Alister MacKenzie.
Cold weather and the good doctor's greens made scoring a challenge in Monday's opening round of this week's annual California Senior Amateur Championship at Pasatiempo.
At the end of the first round, six players were tied for first--Scott Almquist, Mark Morgan, Greg Galasso, Jeff Wilson, Jeff Wysard and Craig Steinberg --with matching opening scores of 1-over 71. Morgan and Wilson are both former winners of the event, having captured the title in 2017 and 2018, respectively.
In what is a crowded leaderboard, another five players came in at 2-over 72 including defending champion Randy Haag and former SCGA champion Dan Sullivan.
Following Tuesday's second round, a cut will be made with the low 30 (and ties) advancing to Wednesday's final round.
In the North/South Challenge, which features three NCGA players taking on three players from the SCGA (best two scores out of three) the NCGA took a 10-shot lead, 142 -152. Representing the NCGA are Wilson, Morgan and Haag. The SCGA is being represented by Tim Hogarth (72), Jim Plotkin (80) and Jeff Burda (80).