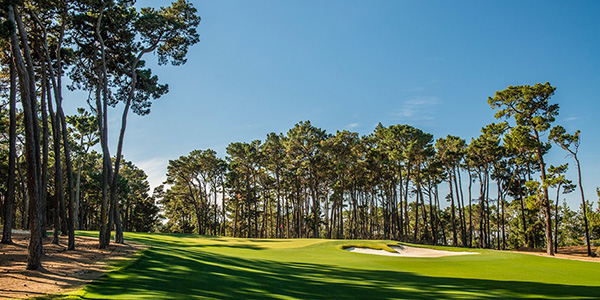 August 19, 2022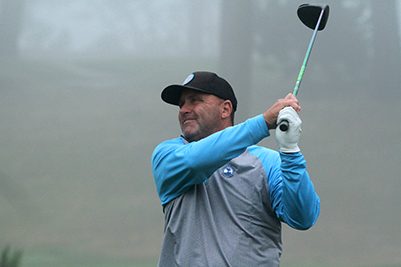 Bakersfield resident Scott Anderson had close calls before.
Two years ago he reached the quarterfinals of the NCGA Senior Amateur but then lost. In 2017, meanwhile, he made a charge before finishing tied for third at the California Senior Amateur at Pauma Valley Country Club.
Finally, the 59-year-old has an NCGA title he can call his own.
Anderson captured the Senior Amateur Match Play title, defeating runner-up Jeff Thomas, 4 and 3 in the 18-hole finale Friday at Spyglass Hill. While Anderson already had an NCGA title under his belt, it was a team title, that one coming when he and partner Mark Pavletich won the 2014 Mid-Amateur Four-Ball crown.
"It feels great. It's a long week. I made a lot of pars," Anderson said. "This is the biggest win I've ever had."
Anderson came up big when he had to. The No.16 seed started match play be eliminating No.1 seed and former two-time Randy Haag. A round later, he sent 2020 champion Rich Petit home.
Against Thomas, Anderson went to work early, building a 3-up lead through nine thanks to a front-nine score of even-par. At the same time, Thomas, the No.31 seed, went 4-over.
After making the turn, Anderson just kept on making pars. six to be exact. While Thomas got one hole back with a birdie, the onslaught was too much to overcome.
"It's just about staying focused and trying to make par and not making mistakes," said Anderson, who was making only his second appearance in the event. "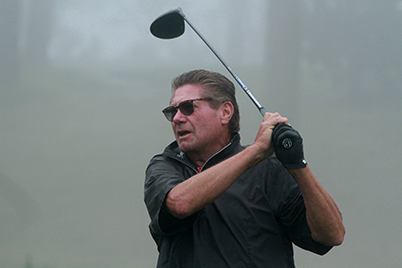 August 18, 2022
Either Jeff Thomas or Scott Anderson will be walking away with their first NCGA individual title.
Thomas, who hails from Costa Mesa, and Anderson, who resides in Bakersfield, will square off in the finals of this week's Senior Amateur Match Play Championship after the two moved thru Thursday's semifinals at Spyglass Hill.
Thomas, the No.31 seed, advanced with a 3 and 2 win over The Olympic Club member Mike Staskus. The match was tied through 12 holes before Thomas won holes Nos. 13, 15 and 16 with pars to seal Staskus' fate.
A big difference for Thomas was simply making par. On the back-nine, he made par on each of the seven holes played. Staskus, winner of the 2014 NCGA Senior Four-Ball Championship, on the other hand went 3-over with three bogeys.
Anderson, the No.16 seed, punched his ticket into Friday's 18-hole finale with a 2-up victory over No.13 Paul Rice. That match was nip and tuck almost the entire way. Tied through 16 holes, Anderson finally broke away with a pair of birdies on the 17th and closing 18th holes.
"It's been a great week, and today we got great weather," Anderson said. "But I'm also tired."
Fatigue could become a factor for Anderson. One of his daughters is ill at home in Bakersfield, and following Thursday's play he was planning to drive home to check in with her. He'd then drive back for Friday's round.
Anderson has one NCGA title already under his belt. winning the 2014 Mid-Amateur Four-Ball title with partner Mark Pavletich. A win tomorrow would mark his first NCGA title as an individual.

August 17, 2022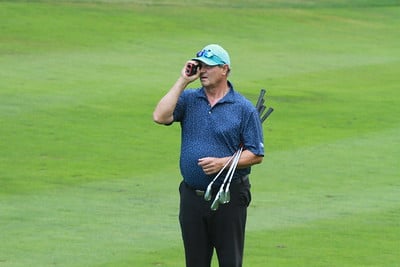 The Olympic Club member Mike Staskus lived on the edge in Wednedsay's Round of 16 and quarterfinals of this week's NCGA Senior Amateur Match Play Championship.
In the morning Round of 16, the No.6 seeded Staskus held on to defeat No.11 Daniel Young, 1-up. The difference there was a Staskus birdie on the 14th hole which gave him a 1-up lead. The two would go on to tie the final four holes of the match.
Later in the afternoon, Staskus again got tested. Facing No.3 Mark Morgan, the NCGA's two-time defending Senior Player of the Year, Staskus built what looked to be a comfy 3-up lead through 13 holes. Morgan, however, didn't budge, winning holes 14 and 15 to drop the deficit to 1-up. This time, Staskus came back, winning the 16th with a par to go back to 2-up. But Morgan again didn't give in, winning the 17th with a birdie to make it 1-up. On the 18th, the two tied with pars, sending Staskus on to Thursday's semifinals.
In the semifinals, Staskus will take on No.31 seed Jeff Thomas. Thomas, who knocked out No.2 Chris Miller on Tuesday at Poppy Hills, got to the semis by eliminating No.10 William Corey West, 5 and 4. Thomas' win over West was well earned. West had been a buzzsaw, winning his first two matches by the score of 6 and 5.
Also moving on to the semifinals were No.13 seed Paul Rice and No.16 seed Scott Anderson. Rice moved on after knocking out former NCGA champion Mike Rowley, 3 and 2. Rowley is the CEO of Straight Down Clothing.
Anderson, meanwhile, began his day by eliminating No.1 seed Randy Haag, 3 and 1. Haag had been looking to become the first player to win the event in different decades.
August 16, 2022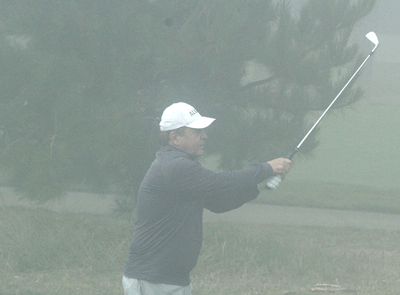 The Olympic Club member Randy Haag already has a lengthy list of accomplishments. Enough, in fact, that he's a member of the NCGA Hall of Fame.
This week, Haag could put yet another feather in his hat. With a win at this week's NCGA Senior Amateur, Haag would become the first player to win the event in two different decades.
The winner of the championship in 2016 and 2017, the No.1 seeded Haag lived up to the billing on an often fog-shrouded Tuesday, winning his Round of 32 match, 3 and 2.
On the other side of the match play bracket, so too advancing was No.3 seed Mark Morgan. The two-time defending NCGA Senior Player of the Year, Morgan moved on with a 4 and 2 win over Lawrence O'Neill.
No.2 seed Chris Miller and No.4 seed Tony Ralph weren't as fortunate. Miller lost his opening match 2-up to No.31 Jeff Thomas, while Ralph fell 1-up to Robert Pereira.
Others picking up Round of 32 wins included 2020 champion Rich Petit (1-up), No.12 seed Mike Rowley (1-up) and No.10 seed William Corey West. Rowley, the CEO of Straight Down Clothing, won the NCGA Senior Stroke Play Championship in 2019. West, meanwhile, won the Senior Championship last year, so a win this week would mean he holds both titles at the same time.
Wednesday's action will consist of the Round of 16 and quarterfinals, both to be held at Spyglass HIll. The semifinals will be Thursday, with the 18-hole final set for Friday.
August 15, 2022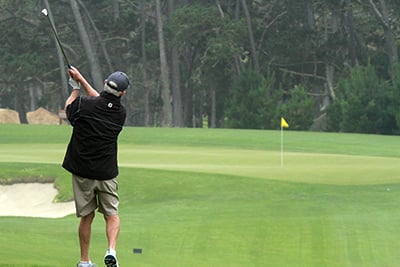 Straight Down Clothing CEO Mike Rowley is a step closer to earning an NCGA Senior double-double.
Rowley, winner of the 2019 NCGA Senior Championship, was one of three co-medalists in Monday's 18-hole qualifier for this week's NCGA Senior Amateur Match Play Championship after posting a round of even-par 71 at Poppy Hills.
Also coming in with scores of 71 were Paul Rice and Dennis Martin.
Along with sharing medalist honors, the trio, along with 11 other players, earned spots into the match play bracket.
Tuesday's action will consist of the Round of 32 of match play, again to be held at Poppy Hills. Wednesday's action will consist of the Round of 16 and quarterfinals, to be held at Spyglass Hill. Thursday's semifinals and Friday's final will also be held at Spyglass Hill.
The No. 1 seed for match play is two-time champion Randy Haag. Haag, the leader in the race for NCGA Senior Player of the Year honors, won back-to-back titles in 2016-17.
Rich Petit, who won the title in 2020, also reached match play after coming in at 76. The cut for match play came at 7-over 78.
The NCGA Senior Match Play Championship was historically an invite-only event in which the top 16 players on the NCGA Senior points list were invited to participate in the Senior Match Play Championship, held concurrently with the NCGA Amateur Match Play at Spyglass Hill, over a three-day period. However, beginning in 2012 the event was modified to a 32-player match play field, still allotting 16 spots to the top 16 of the NCGA Senior points list, while allowing the other half of the field to qualify.
This change made the championship into a week-long event with the 18-hole stroke-play qualifying and the opening round of 32 taking place at a designated Monterey-area course Monday and Tuesday. Wednesday the tournament moves over to its traditional spot at Spyglass Hill with rounds of 16 and quarterfinals taking place that day. The semifinal round takes place Thursday morning with the 18-hole final concluding the event on Friday.