Asterisk Talley, Jaden Dumdumaya of JTNC Headed to Augusta
September 28, 2021 / by Jerry Stewart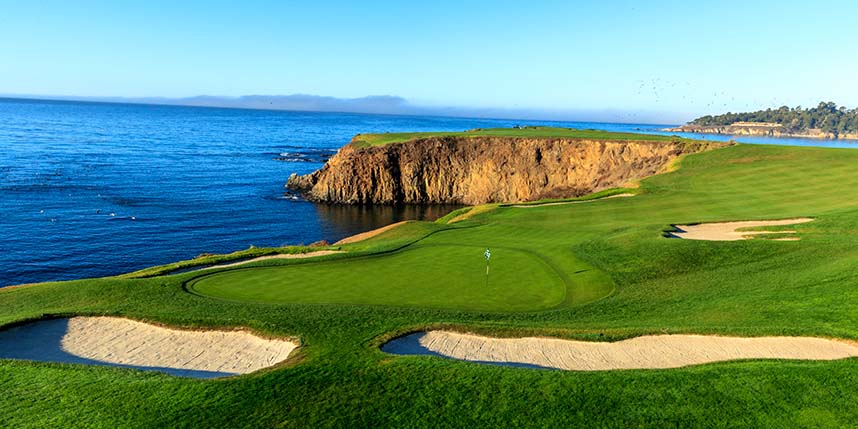 Eight area golfers, including Junior Tour of Northern California regulars Asterisk Talley and Jaden Dumdumaya, were crowned as National Finalists and earned an invitation to compete in the eighth Drive, Chip and Putt National Finals on Sunday, April 3, 2022, prior to the start of the Masters Tournament at Augusta National Golf Club.
Conducted in partnership with the USGA, Masters Tournament and PGA of America, Drive, Chip and Putt is a free, nationwide youth golf development program open to boys and girls, ages 7-15, in four age divisions. The three-pronged competition tests the skills essential to playing the game – accuracy in driving, chipping and putting.
The regional competition held at Pebble Beach Golf Links – site of 13 USGA championships, including six U.S. Opens; the future site of the 2023 U.S. Women's Open and 2027 U.S. Open; and host of the 1977 PGA Championship – on Sunday, Sept. 26, was one of 10 qualifying events across the United States to determine the field of 80 young golfers who will advance to the National Finals.
Tens of thousands seized the opportunity to participate in Drive, Chip and Putt this year, which began with local qualifying at hundreds of courses throughout the country this summer. These qualifiers are open each year to young golfers of all skill and experience levels. The top finishers from each local qualifier advanced to subregionals in August followed by regional competitions in September and October.
The four girl National Finalists from the Pebble Beach Golf Links regional qualifier are:
Kaylie Bae, 8, Happy Valley, Ore. (ages 7-9)

Although Kaylie Bae took up golf just 18 months ago, she won her age division by a 20-point margin on Sunday to become a Drive, Chip and Putt National Finalist for the first time. Bae, who scored 117 total points, said she wants to be a professional golfer when she grows up.

Juno Taino, 10, Studio City, Calif. (ages 10-11)

Solid in all three disciplines on Sunday – fourth in driving, first in chipping and third in putting – Juno Taino claimed victory in the Girls 10-11 age division with 143 points overall. Adding to the thrill of competing at Augusta National is her excitement for her gray toy poodle, Artful Dodger. Her mother, Diana, said Taino researched the breed and named him after the character in Oliver Twist.

Asterisk Talley, 12, Chowchilla, Calif. (ages 12-13)

According to her mom, Asterisk Talley's eye-catching first name "basically means little star in Greek." The 2018 Drive, Chip and Putt National Finalist certainly shined on Sunday with strong performances in driving (51 points), chipping (50) and putting (50). With a total of 151, Talley dominated the Girls 12-13 age division, winning by 27 points overall and earning her second trip to compete at Augusta National.

Chloe Singpraseuth, 14, Meridian, Idaho (ages 14-15)

Chloe Singpraseuth started out strong, posting 48 points to win the driving discipline. She followed up with third place in chipping (50) and tied for fourth in putting (36) for a total score of 134. The ninth-grader, whose dad said their last name roughly translates to "King of the Jungle" in Thai, looks forward to competing at Augusta National for the first time and aspires to be a veterinarian someday.
The four boy National Finalists from the Pebble Beach Golf Links regional qualifier are:
Carter Macy, 8, Meridian, Idaho (ages 7-9)

Sunday's Pebble Beach qualifier was a birthday trip to remember for Carter Macy, who turns 8 years old today. His family flew with him from Idaho to Northern California for the regional competition, where he edged out the second-place finisher by one point to earn his invitation to Augusta National this April.

Jace Benson, 11, Morgan, Utah (ages 10-11)

On Sunday, Jace Benson was the only player to sink all three putts on The Hay's new putting green, scoring 75 total points in the discipline. He said that paying attention to other competitors enabled him to understand the speed and break to make his putts. Benson, who also took first in the driving discipline, rounded out the day with 164 points overall to become a National Finalist.

Owen Greenough, 12, Bend, Ore. (ages 12-13)

After winning the chipping discipline with 55 points and finishing second in driving, Owen Greenough stayed steady to win his age division with 147 total points. Looking ahead to competing at Augusta National, he said he's most excited for "just looking around Augusta. It is, arguably, the most famous course in the world."

Jaden Dumdumaya, 15, Fairfield, Calif. (ages 14-15)

Jaden Dumdumaya's nickname is "Lil Dragon." The moniker is stamped on his golf bag and wedge, which he carried with him as he scored 160 total points to secure first place in his age division on Sunday. Dumdumaya, who finished first in both the driving and putting disciplines, said Collin Morikawa is his favorite golfer, because "he just seems to have great composure playing golf, and him going to Cal adds to it."
Click here for final results