NCGA
2023 NCGA Hall of Fame Ceremony
September 21, 2023 / by Jerry Stewart
Golf in the Northern California region was celebrated Thursday, Sept. 21 at Poppy Hills Golf Course as the NCGA inducted its 12th Hall of Fame Class with a ceremony at Porter's in the Forest.
Joining Distinguished Service Award honoree KC Cote were Hall of Fame inductees Jack Fleming (represented by daughter Maureen Woods), Karen Swanson (represented by her brother Roger Swanson) and John Brodie, who was represented by his daughter Cammie Brodie and son Bill Brodie.
Distinguished Service Award--KC Cote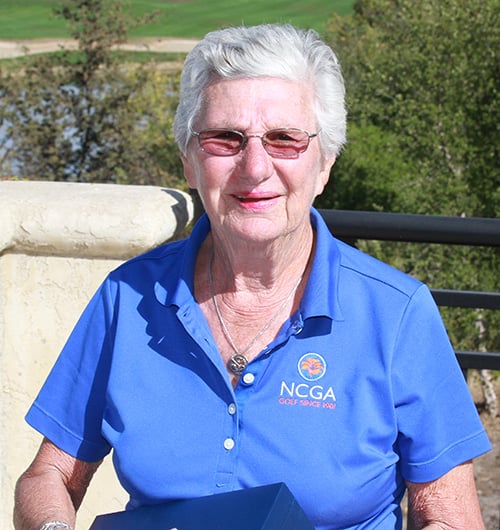 There's an expression that life is what happens when we are making other plans.
For Klarika Cote, who's affectionately known simply as KC, golf was one of the furthest things on her mind back in the 1960's. Having joined the Air Force in 1955, the New Jersey native instead had been preparing for what would become two tours of duty as a flight nurse during the Vietnam War.
During one point stationed in Turkey, however, KC found herself looking for a way to spend some RandR nearby. Other than camels, there was nothing really there except a golf course. So off she went.
Turned out, KC and golf would be a perfect match.
Upon later returning to the States—having since moved to California to complete her Bachelor of Science degree in Nursing—she continued to play. It was following her retirement from the Air Force in 1979 though, that her relationship with golf really heated up.
KC for the first time became a golf administrator, joining the Board of Directors for the Women's Golf Association of Northern California. In yet another moment of fate, KC happened to meet Rules of Golf guru Gail Rogers. KC asked Gail a question about the Rules, and the rest is history.
During her time with the WGANC, KC, along with sitting four years on the Board, would serve on its Rules committee for over a decade. She's also gone on to serve as a tournament official for the NCGA for nearly 25 years, receiving the honor of Tournament Official of the Year in 2015. There too has been the countless times of officiating USGA qualifiers, California Women's Amateur Championships and other events such as the 2004 U.S. Senior Women's Amateur at Pasatiempo.
Over the years, there too has been KC's contributions in helping the late Karen Swanson with Sacramento Area Youth golf and her beloved Afghan Hounds—KC once proudly showed at the Westminster Kennel Show.
Even today, at age 88, KC has no plans to slow down. That's a good thing for the rest of us. As she'll tell you, there's still things to do.
The NCGA is proud and honored to recognize KC Cote with its 2023 Distinguished Service Award.
Architect Jack Fleming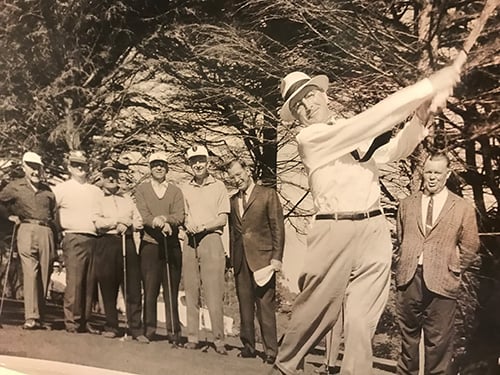 Golf course designer Jack Fleming's name isn't in bright lights like Tom Fazio or Jack Nicklaus, but there's no questioning his legacy in the Golden State and Northern California region.
During his time, Jack, who passed away in 1987, designed, remodeled or restored around 60 courses in California. All the result of what some would call fate.
Born in County Galway, Ireland, Jack had migrated to England to study landscaping and civil engineering. In 1918, he was working on a project in Manchester that included a golf course when, while relaxing at a pub he happened to meet Dr. Alister MacKenzie over a game of darts. The two hit it off, so much so that Jack became a clerical worker for MacKenzie.
Not much later, Jack transitioned to golf. When MacKenzie left for California, Jack came with him. The two would work together until MacKenzie's death in 1934.
"Dr. MacKenzie and I both believed that golf courses should be designed with two things in mind," Fleming once said. "First, that every shot should be laid out so that the golfer must use his head and think. Second, the architect should make use of the terrain upon which the course is built."
One of the duo's first projects in California was a place called Cypress Point. Fleming also assisted MacKenzie at Pasatiempo and the Valley Club of Montecito and while Fleming did not go to Augusta National to help MacKenzie there, he did collaborate on plans.
The good doctor MacKenzie, with an eye on the upcoming Great Depression, wanted to help Fleming so much that he suggested Fleming work for the City and County of San Francisco. Fleming accepted, becoming the steward for Sharp Park, Lincoln Park and Harding Park, where a 9-hole course is named for him.
Despite working for the city, Jack, often donned in a dress shirt and his trademark white Panama hat, continued designing other courses in the NorCal region. Between 1950 and 1967, he drew up plans for 36 courses in Northern California including Sharon Heights, The Club at Crazy Horse Ranch, Sierra View, Swenson Park, Dry Creek and Spring Creek.
Later, Jack's influence extended to his son, John, who worked alongside his father for eight years and later became the superintendent at The Olympic Club.
The relationship between Jack and MacKenzie, who was inducted into the NCGA Hall of Fame in 2017, was so special that Jack served as a pallbearer at MacKenzie's funeral. And it all began over a game of darts.
While MacKenzie left his own marks, Fleming also left a legacy in Northern California golf. One we all can be thankful for.
Karen Swanson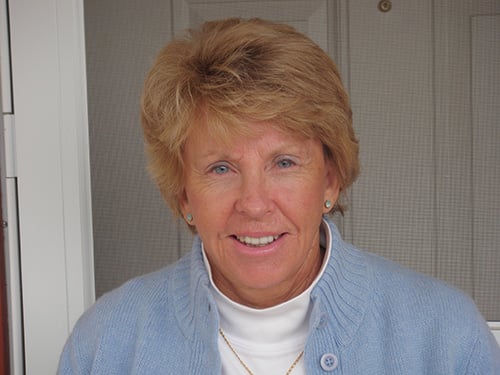 Some have said that there is no greater gift you can give or receive than to honor your life's calling.
For Karen Swanson, that pursuit was always golf.
Born and raised in the Land Park neighborhood of Sacramento, Karen began swinging a club nearly as soon as she began riding a bike. As a youth, she was a regular—and the lone female—in the summer evening putting contests at Land Park.
Her experience there would come in handy, as she'd go on to become the Sacramento Junior Girls' champion four times.
Later, when Karen became 16, she moved up to the Sacramento City Women's Championship, winning the title twice. During the same timeframe, she twice qualified for the U.S. Girls' Junior and U.S. Women's Amateur Championship and also competed in a number of nine-hole exhibition matches versus some of the best touring women of the day—names like Barbara Romack, Mickey Wright and U.S. Women's Open champ Pat Bradley.
When it was time for college, Karen opted to focus on her studies, earning two Master's degrees at the University of Virginia before eventually moving to a career in real estate management.
But her love for the game never stopped. If anything, the relationship only grew.
Her strong community service ethic led Karen to Sacramento Area Youth Golf, which would end up becoming First Tee of Greater Sacramento. Working with co-founder Ken Morton Sr., Karen spent several years on the First Tee Board of Directors, and also served a two-year term as president.
Along with her service to First Tee, Karen also worked with a program helping to introduce young blind boys and girls to the game and served as a USGA volunteer for over 25 years on six different USGA committees, including 13 on the Women's Committee.
Her USGA service would lead to her receiving the prestigious Ike Grainger Award.
All the while, Karen's own game remained sharp as ever. Between 1971 and 2006, Karen, who was sadly lost to Alzheimer's disease in 2022, won the Ladies' Club title at Del Paso Country Club 16 times.
Always known for her grace and humility on the course, Karen was a champion in life as well.
John Brodie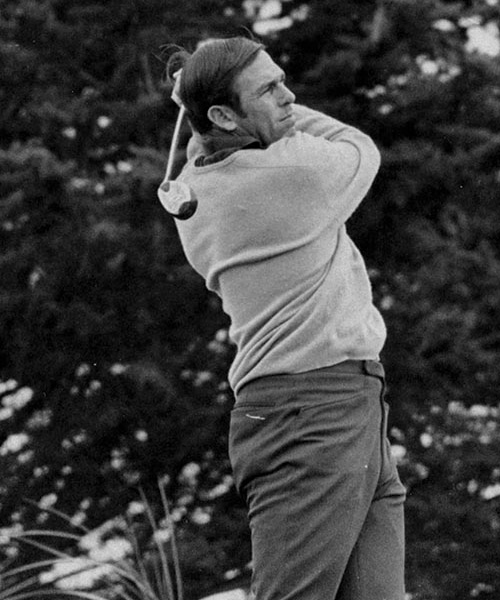 Mention the name John Brodie to a Northern California sports fan, and they'll most likely instantly picture the San Francisco Forty-Niner's quarterback tossing a touchdown pass.
From 1957 to 1973, John was the heartbeat of the Forty Niners. He'd win the NFL Most Valuable Player award in 1970 and at the time of his retirement had the third most passing yards in the league all-time, eclipsed only by Johnny Unitas and Fran Tarkenton.
Football, however, isn't the only sport where John excelled. Growing up in Oakland, and later starring at Oakland Tech High School, John spent hours playing everything he could with a ball, including golf.
He'd been introduced to the game by his father, Aloysius Brodie, and learned the game by caddying at Lake Chabot and Claremont Country Club, along with participating in youth events at local links such as Lincoln Park in San Francisco.
Turned out, John's golf swing was as blessed as his throwing arm, so much so that Bing Crosby took notice. As a teen, the Crosby and Brodie boys spent summers playing golf at Hayden Lake Country Club. "If you play like that, I'll invite you to my tournament," Crosby had told him. Bing followed up on his promise and at the age of 21, John started in his first Crosby Invitational in Pebble Beach, while also a member of the Stanford Golf Team.
At Stanford, John competed in two NCAA Championships for the Cardinal. And while after graduation, he was drafted in the first round of the NFL draft, John continued to follow his passion for competitive golf. During the NFL offseason, John took his athleticism to the PGA Tour, where he played from 1959 to 1961. At times, his traveling roommate was NCGA Hall of Famer and fellow Bay Area native Tony Lema, who won the 1964 British Open.
In 1970, John won the Crosby Pro-Am title playing with partner Bob Rosburg, shooting 1-under on his own ball over the 72-hole tournament. At the AT&T Tournament many years later, the California Golf Writers Association honored Brodie with the "Jack Lemmon" Ambassador of Golf Award.
Following his retirement from football in 1973, John was a leading sports commentator for twelve years at NBC Sports where he not only called football, but was one of the earliest color commentators for televised golf.
John prefers to be the one playing - as soon as Brodie turned 50 he retired from his lucrative position at NBC Sports with his eyes set on joining the newly formed PGA Senior Golf Tour (now Champions Tour). From 1985 to 1998, he'd notch a dozen top 10 finishes and win the 1991 Security Pacific Senior Classic, defeating 1969 Masters champion George Archer and eight-time PGA Tour winner Chi Chi Rodriguez in a playoff. John became the first athlete from another sport to win a PGA Tour sanctioned event.
John Brodie is an exemplary leader on the grass and off. In 2010, John was recognized for his character as he was the first Caucasian to be inducted into the African-American Ethnic Sports Hall of Fame.