NCGA
2023 NCGA Four-Ball Championship
May 5, 2023 / by Jerry Stewart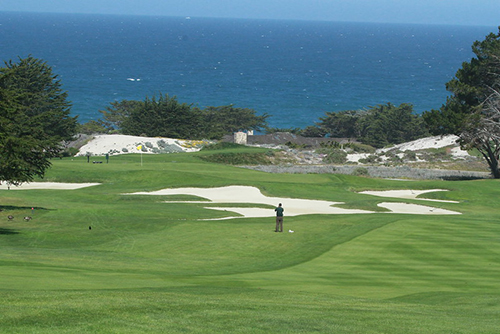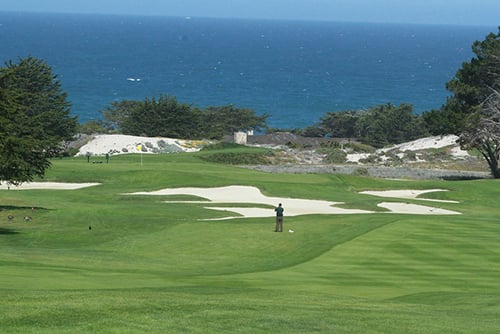 May 14, 2023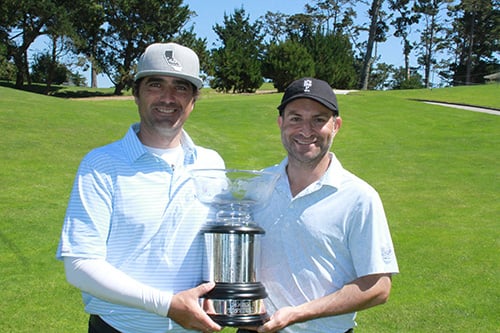 Nick Moore and Matt Cohn had knocked on the door before at the NCGA Four-Ball Championship, finishing in the top 3 three times.
This time, the two finally broke through.
Moore and Cohn, who first met back in 2012 when they played each other in a match at the NCGA Amateur, carded a final round 5-under 67 to come in at 12-under 204, good enough for a one-stroke win over the runner-up tandem of Mike Perchak and Mikey Burkland.
"It feels amazing," said Moore, who recently changed his last name to Randazzo, in honor of his late maternal grandfather, Vincent Randazzo. "We wanted it, and it came to fruition. We willed our way to this one."
The duo had previously won as a team at the 2020 NCGA Mid-Amateur Four-Ball Championship. For Moore, 40, the win marked his 11th career NCGA title. The 42-year-old Cohn, meanwhile, moved up to six career NCGA wins.
"This one was 75% Nick," Cohn said. "Nick played some incredible golf. And he motivated me when I wasn't my best."
While he gave his partner a hat-tip, it was Cohn who delivered in a critical spot. Coming off a bogey on the par-5 14th that saw their lead trimmed to one, Cohn responded on the ensuing 15th hole by draining a 30-foot birdie putt.
Until the bogey on No.14, neither Cohn nor Moore had snuck a peek at what still a crowded leaderboard.
"We had no idea where we stood. We knew we had played well on the front-nine (they carded a 4-under 32) so we figured we'd be near the top. Only when we looked did we find out we were the leaders," Moore said. "We just got hot a few times, that's how Four-Ball is. And when we got cold, we tried to minimize the mistakes."
It was on the front-nine that Moore and Cohn won the tournament. Over the three days, they went 9-under on the front, best in the field.
Perchak and Burkland certainly put the pressure on. The two, who grew up together at Round Hill CC and later re-connected when Perchak coached Burkland at San Ramon Valley High, played their final 12 holes at 5-under thanks in part to an eagle on the par-5 7th.
They would play the back-nine at 8-under for the 54 holes, which was best in the field.
"We played great together," Perchak said. "There were some holes where one of us was off, but then the other guy would pick it up."
The teams of Reid Buzby and Daniel Connolly and Marc Engellenner and Domingo Jojola finished tied for third at 206 after final rounds of 70 and 69, respectively. Engellenner and Jojola were awarded third place in a card-off.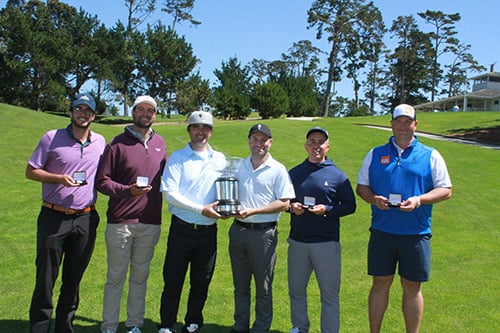 May 13, 2023
Two players on Sunday will walk away as champions. The rest of the field will be left out in the cold.
The team of Daniel Connolly and Reid Buzby, both of San Francisco, grabbed the lead at this weekend's NCGA Four-Ball Championship with a solid 5-under 67 on a cool Saturday at Spyglass Hill that got them to a 36-hole total of 8-under 136. But the two are being chased by a mob.
Just a shot behind the leaders are four teams. Just two shots behind are another three teams. And just another three shots behind is another pack of four teams. There too, is another nine teams only four shots back. You get the picture.
Connolly, a two-time winner of the NCGA Amateur Stroke Play Championship (2017, 2021) and Buzby, a former mini-tour player, jumped 11 spots up the leaderboard on a day where low scores were hard to find.
Starting on the back-nine, they'd post three birdies for a 33. On the front, they carded another 33 despite a team bogey on the par-3 5th.
The quartet that is a just a stroke back is the teams of: Taylor Daniels and Josh Missler (68), Arjun Aujla and Ben Friedman (68), Marc Engellenner and Domingo Jojola (69) and Matt Cohn and Nick Moore. Moore and Cohn, who have been in contention many times but have never won the event, made the biggest move, jumping 22 spots up the leaderboard after a 67.
The teams at 138 includes the tandem of Brett Viboch and Bobby Bucey. The two won the title in 2016 with a record score of 21-under 195.
The cutline to advance to Sunday's final round came at even-par 144. Among those making the cut was the team of seniors Casey Boyns and Joey Ferrari (143). The pair won the title in 1994 and 1996.
May 12, 2023
The weather for the most part cooperated, which meant there were a number of teams in red figures after opening day of this weekend's annual NCGA Four-Ball Championship at Spyglass Hill.
At the end of the day, the teams of Ian and Austin Fisher and Mike Perchak and Mikey Burkland were tied for the lead with identical scores of 6-under 66.
The Fisher duo got three birdies on both the front and back nines. Perchak and Burkland made their move on the back-nine, where they went 5-under par.
Two teams are just a stroke back of the co-leaders at 67---the tandems of Michael Vera and Kevin Bodlovich and Scotland Schmidt and Elijah Poppers.
Seven teams came in at 68 including the tandem of Bobby Bucey and Brett Viboch, Garett Wagner and Rick Reinsberg and Jeffrey Yamaguchi and Michael Jura. Bucey and Viboch won the title in 2016 with a still-standing 54-hole event record score of 21-under 195. Yamaguchi and Jura won the title in 2018. Wagner is the defending NCGA Player of the Year, while Reinsberg is a former winner, having won in 2005 with Scott Hardy.
Each of the last five title-winning duos has had a collegiate connection, be it teammates or player/coach. Last year, Alex Chin of University of San Francisco and Dons assistant Jalen Griffin won the championship. The two are not back to defend their title. The event was not held in 2020 due to COVID-19.
Following Saturday's second round, a cut will be made with the low 40 and ties advancing to Sunday's finale.
First Round Photo Gallery