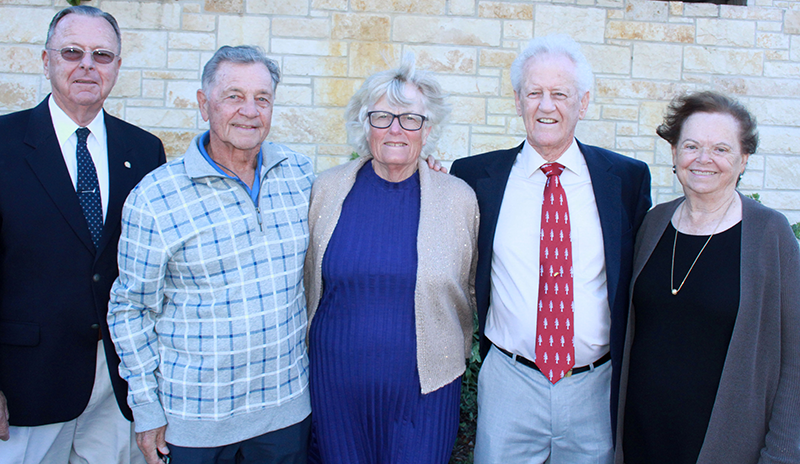 Golf in the Northern California region was celebrated Thursday, Sept. 22 at Poppy Hills Golf Course as the NCGA inducted its 11th Hall of Fame Class with a ceremony at Porter's in the Forest.
Joining Distinguished Service Award honoree Gail Rogers were Hall of Fame inductees Pat Cornett, Jim McMurtrey and Lucious Bateman, who was represented by Gary Plato and Dick Lotz.
Gail Rogers (Distinguished Service Award)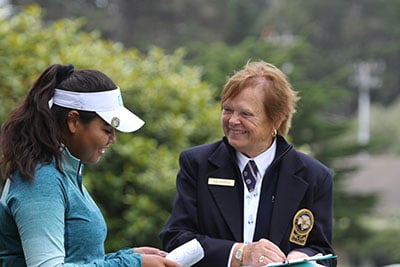 Mark Twain said the two most important days in our lives are the day we were born and the day we find out why.
For Gail Rogers, her calling came a bit later than others. Even perhaps unexpectedly. But it certainly happened.
Following graduation from Lesley College, Gail, a native of Connecticut, had become an elementary school teacher. It wasn't until later, in her late 30's and coming off a divorce, that Gail decided she wanted to try something new. Thankfully, that new choice was golf.
She'd soon after meet her current husband, Ken, at De Laveaga Golf Course in Santa Cruz. Through Ken, Gail met Pat Schultz, a board member for the Women's Golf Association of Northern California. Following Pat's suggestion, Gail, a self-described bookworm, joined the WGANC Tournament committee.
Another chance occurrence happened shortly after when Gail and some of the WGANC members were visited by then USGA West Region Director Ron Read, who brought along copies of the Decisions on the Rules of Golf. As Gail will tell you, it was then that it all clicked.
She'd become the WGANC Rules chair, and eventually the association's president. Her rapid rise didn't go unnoticed either. In 1995, Bill Paulson, then executive director of the NCGA, hired Gail to be the NCGA's Assistant Director of Rules and Competitions. She became the first female to hold the position and went on to be the Director of Education combining her teaching skills with her love of the rules of golf..
From there, Gail just continued to blossom. She'd end up serving for the USGA for nearly 20 years, becoming one of the first female Rules officials at a U.S. Open. As a USGA Women's Committee member, she'd officiate at the Curtis Cup and among other things serve as chairperson of the U.S. Women's Amateur Public Links presenting the trophy to the champion, NorCal's own Mina Harigae.
Following her retirement from the NCGA, but wanting to stay involved, in 2011 she joined the NCGA Board of Directors. In 2019, Gail would become the NCGA's first female president. She too would serve as the honorary chair of the 2018 U.S. Girls' Junior at Poppy Hills.
Count it all up, and Gail has served the game for over 30 years. And while she says she's retired, she's still involved. The calling hasn't really stopped yet.
Jim McMurtrey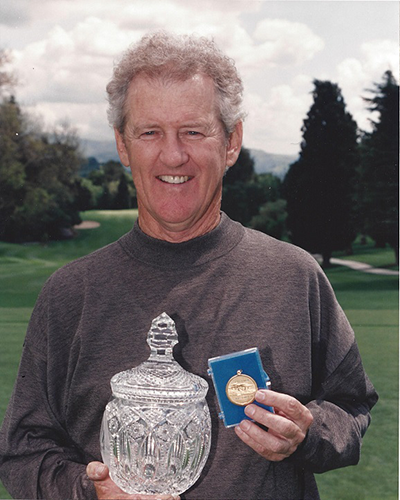 Sometimes, life happens when we're making other plans.
In the summer of 1950, on his 18th birthday, then San Leandro resident Jim McMurtrey had plans to celebrate by going bowling. The lanes were full, however, so Jim and his pals instead crossed the street to a driving range.
His life would never be the same.
Having had his interest piqued, Jim, after serving in the U.S. Army, later decided to try and give golf another try. He was self-taught, but also got a few tips-----from someone he could beat. Fueling his interest was day trips to the San Francisco City, where among others he'd watch matches between Harvie Ward and Ken Venturi. At what became his home course Lake Chabot, meanwhile, he studied the swing of major champion Tony Lema.
It was time for Jim to make his own swings. In the late 1950's he entered his first event, a club tournament at Lake Chabot. He'd win with a score of 85, despite never having previously broken 90. He'd caught the competition bug, and while there were some downs, including losing to Tal Smith at the S.F. City, Jim would later become the guy to beat.
As a senior, Jim racked up a still-standing record of five NCGA Senior Championships, the last coming in 2000 at the age of 68. During a six-year period, Jim never finished worse than third in five NCGA Seniors. Tacking on three California Senior Amateur wins, and a Senior Four-Ball victory, he'd eventually set an NCGA record for total NCGA Senior wins and was the inaugural NCGA Senior Player of the Year in 1995.
Other accolades include three wins at the Alameda Commuters, a win at the S.F. City, four wins at the Santa Clara County Senior and low amateur honors at the 1989 U.S. Senior Open. Jim's also got three wins at the Bill Penn Cup Senior, an Oakland City Amateur win and six wins on the Senior Golf Association of Northern California. He too has competed in the Senior British Amateur and Senior Australian Amateur and is a 27-time club champion at courses including Lake Chabot, Spyglass Hill, Diablo Country Club, North Ridge Country Club and Hayward Golf Club.
All of it set in motion because the bowling lanes were full that fateful day.
Patricia Cornett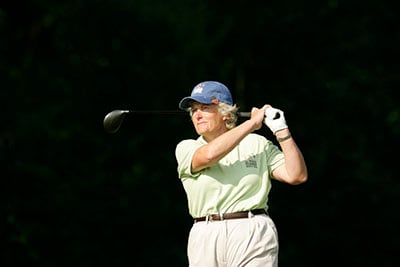 For Patricia Cornett, all it took was a little bit of influence and some help from some friendly faces.
While growing up in her hometown of Salinas, Pat was always active. Her parents, Barbara and Jack, took notice, and one fateful day brought her to Salinas Golf and Country Club. Little did her mom and dad probably know where that first visit would take her.
Pat, a huge Arnold Palmer fan, began working on her own game thanks to some free lessons from then-Salinas Golf and Country Club pro Ben King. By the time she was 12, she'd enter, and win, her first event at Salinas Fairways.
Later, Pat would take her ever-blossoming skills to Stanford. As a walk-on, she'd become an All-American first team selection, helping lead the Cardinal to conference titles in 1975 and 1976.
After graduating from Stanford, Pat enrolled at medical school in Philadelphia, where she received her MD degree. Following completion of her internal medicine residency and fellowship at Letterman Army Medical Center, she also began juggling her role as a mother to her two daughters-- Annemarie and Theresa.
All the while, Pat still kept her game sharp. In both 1978 and 1988, she played for the U.S. Curtis Cup squad against Great Britain and Ireland.
She'd go on to compete in 26 U.S. Women's Mid-Amateurs, finishing as runner-up in 1987 and earning two medals as a semi-finalist in the US Women's Amateur and one semi-finalist medal in the US Women's Mid-Amateur. In all, Pat has played in 66 USGA Championships. She's qualified for eight U.S. Women's Opens and 21 U.S. Women's Amateurs, reaching the semifinals of the Am in 1976 and 1982. In 2012, meanwhile, she'd reverse roles and captain the U.S. Curtis Cup squad.
Other accolades include being a three-time San Francisco City champion and two-time winner of the California Women's Amateur.
More recently, Pat has played in 10 U.S. Senior Women Amateurs, advancing to the quarterfinals in 2009. And, of course, there's her three NCGA Senior Women's Championship crowns. All while today still practicing as a Board-certified physician of internal medicine and medical oncology and hematology at University of California-San Francisco.
From that first trip to the course and those first lessons, one can say Pat's gone quite a way.
Lucious Bateman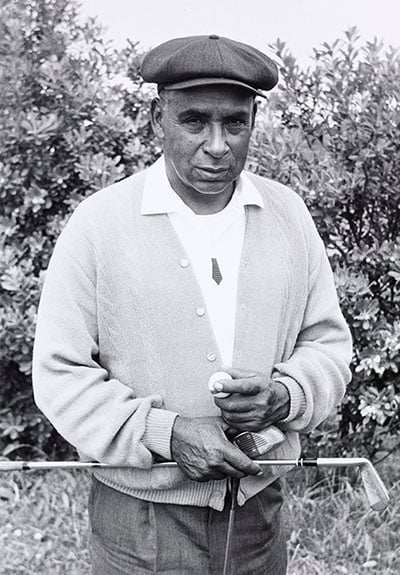 There's an expression that says a good teacher is like a candle. It consumes itself to light the way for others.
For Lucious Bateman, it all could've been different. It's possible that he could've joined Lee Elder and Charlie Sifford as some of the black players paving the way for Tiger Woods.
But it didn't unfold that way for Lucious. Instead, circumstances took him in another direction.
Born in 1906 in Louisiana and raised in Biloxi on the Mississippi Gulf Coast, Bateman started his golf career caddying at the Edgewater Hotel and Golf Club in Biloxi, where he tied the course record as a teenager.
Unfortunately, he'd never get the chance to really show his skills as a player. That was because black players weren't allowed on tour, let alone sometimes the course. And by the time the tour did finally open its doors to black players in 1961, Lucious was already past his prime.
So Lucious, following service in World War II, opted to make an impact and leave a legacy another way---by teaching. Working primarily at Airway Fairways near the Oakland Airport, Lucious ended up teaching hundreds of youth. Known as Bateman's Boys, among his many pupils are some greats---John Lotz and Dick Lotz, Al Braga, Don Baucom, Gary Plato and the late major champion Tony Lema, who went on to win the 1964 British Open and 12 tour events.
Not once did Lucious ever charge one his Bate's Boys for a lesson, or for a bucket of range balls.
While teaching, Lucious still occasionally showed off his own game. He'd set numerous records at Peninsula golf courses such as Alameda, Crystal Springs, San Mateo, Tilden, Hayward and the former Hillview in San Jose.
Prior to his passing in 1972 at the age of 66, Lucious was asked by Golf Digest if he'd lamented the chance to show his skills as a player. Replied Lucious, "My mother taught me that everything happens for the best. What may seem like a tough break often works out the other way. I have no complaints."
To the day, his many lessons still resonate.