November 17, 2022
2022 CIF Girls' State Championship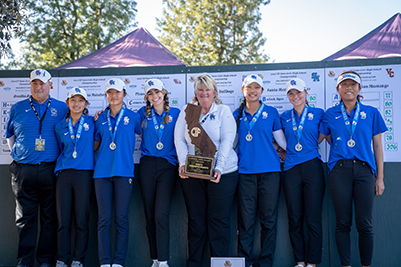 SoCal's Santa Margarita High made it a sweep at the 2022 CIF Girls' State Championship at San Gabriel CC.
Santa Margarita posted a team score of 18-over 378 to defeat runner-up Arcadia by five shots. Third place went to NorCal's Valley Christian High at 396. Other NorCal representatives Pleasant Grove (402) and Monte Vista of Danville (421) placed fourth and sixth, respectively.
The Santa Margarita team was led by medalist and individual champion Angela Liu, who carded a 5-under 67 that featured an eagle and four birdies to go against just one bogey. Michelle Woo of San Jose was second at 70.
Valley Christian was paced by a 77 from Varnika Achanta and a 78 by Joyce Zhang.