Golf History
2021 NCGA Hall of Fame
November 8, 2022 / by NCGA Staff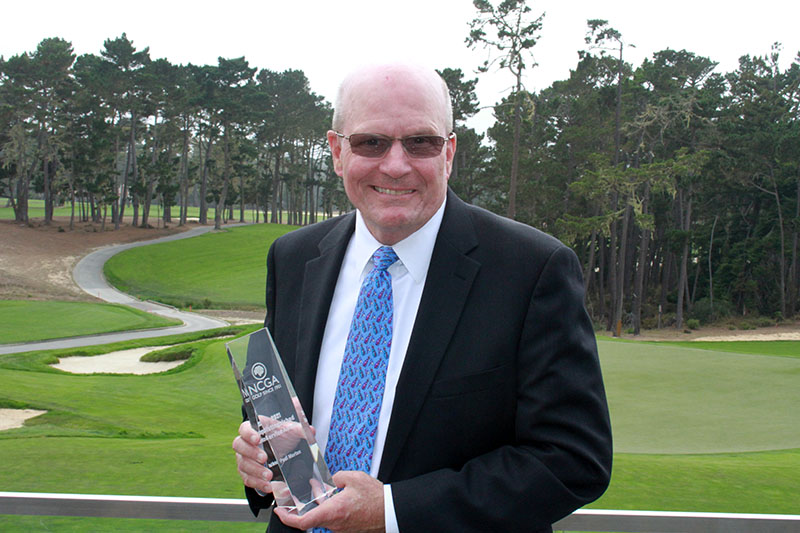 After a year off due to the COVID-19 pandemic, golf in the Northern California region was celebrated Thursday, Sept. 23 at Poppy Hills Golf Course as the NCGA inducted its 10th Hall of Fame Class with a ceremony at Porter's in the Forest.
Joining Distinguished Service Award honoree Paul Morton were Hall of Fame inductees Gary Vanier, Marianne Towersey and Lawson Little (left to right, above), who was represented by his grandson, Chris Little.
Paul Morton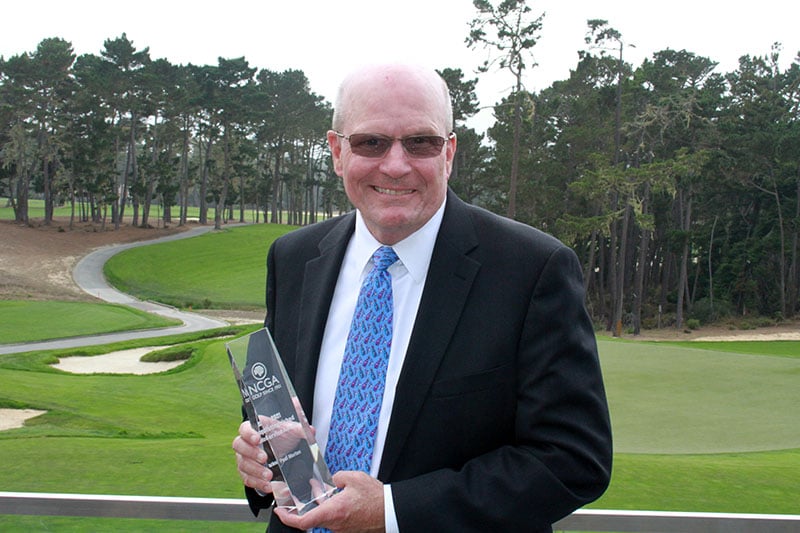 There's an expression that the power to change lives lies in the simplest of steps.
One of those who's no doubt followed that credo is Paul Morton. For Paul, what has become a lifelong passion began back in his youth, when he first started caddying for his father, Tom, at Green Hills Country Club near their home in San Mateo.
Later, after attending Cal State University Chico, where he'd go on to study Journalism, Paul's love of golf only grew as he returned to the Bay Area.
So much so that after founding his own consulting firm, Morton Management in 2002, Paul was committed to focus some efforts on sharing the game. By nice coincidence, the NCGA was contemplating a program that would assist underprivileged youth with access to the game.
From that original seed, and with full support from his family and the Morton Foundation, Paul would become a huge factor in the creation of what is known today as Youth on Course. Originally known as Tom's Kids, when Youth on Course was officially founded in 2006 by the NCGA, the program consisted of 75 kids and three courses. Today, it serves over 125,000 kids at 1,500 courses in the U.S. and Canada. This year, the program is on track to subsidize 400,000 rounds of golf. Since its inception, nearly 1.7 million rounds of golf for youth have been subsidized.
And that doesn't include other YOC services, including its scholarship and caddie programs.
As Paul, who's been on the YOC Board since 2006 will tell you, the formula for all of the magic is actually simple. Provide access for young men and women who wouldn't otherwise have opportunities. Then watch the beauty of lives being changed unfold. Youth on Course simply changes lives.
Thanks to Paul Morton and the Morton Foundation, which also benefits Guide Dogs of America and The Bridge School in the Bay Area for special needs children, those changes have been possible.
The NCGA is proud and honored to recognize Paul Morton with its 2021 Distinguished Service Award.
Gary Vanier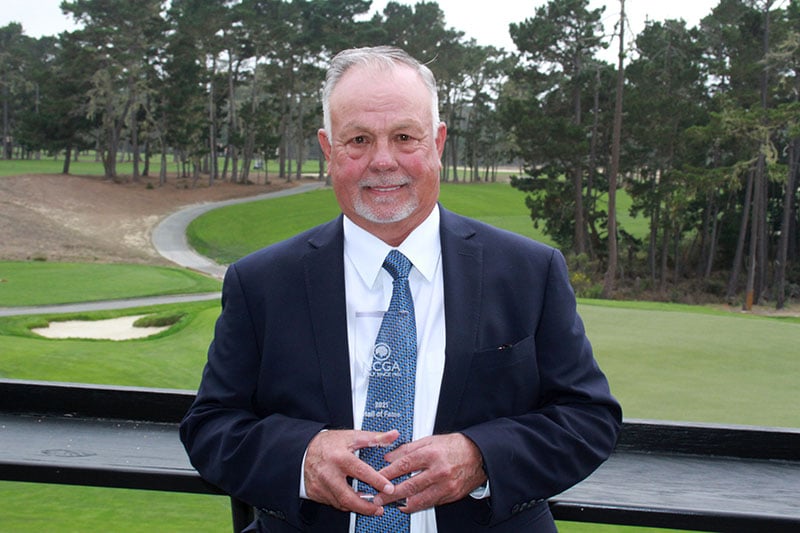 For Gary Vanier, it hasn't always been so much about the destination. It's instead about the journey of getting there.
Now 70, Gary first got exposed to golf when, around the age of 10, he began caddying for his father, Vince, at Alameda Golf Course.
Eventually, Gary began developing his own game. Along with being self-taught, he'd receive instruction from Dick Fry at what became his home course, Lake Chabot Golf Course. He even received a few pointers from Lucius Bateman, whose pupils included Tony Lema and Dick Lotz.
Gary's first big moment came during a San Francisco City Junior Championship in the mid-1960s. Still just around 14 years of age, Gary would find himself going head-to-head in a match against local great Ray Leach. He'd fall five holes down to Leach through the first nine, but eventually came back to win the match, 1-up.
Following a stellar prep career at Skyline High, Gary went on to play at Stanford. From 1969-1972, he and teammate and fraternity roommate Tom Watson helped lead the Cardinal to among other things a conference title in 1970. That same year, Gary won the Goodwin Invitational.
Later, following a brief stint as a professional after college, Gary, who would become a stock broker, returned to amateur golf and began carving out his legacy.
Ten San Francisco City and City Senior titles combined. Nine Alameda Commuters and Senior titles. Numerous Southern California Golf Association wins. A 1982 California Amateur win paired with a 2007 California Senior Amateur.
And of course his NCGA crowns, which include a 1997 NCGA Amateur title, 10 senior titles, a Senior Player of the Year crown and two Super Senior Player of the Year wins.
Count them all up, and Gary, a member at The Olympic Club who also has three Idaho Senior titles under his belt, has been winning tournaments for 60 years. It's something he's proud of. And something we're in awe of.
Gary Vanier, welcome to the NCGA Hall of Fame.
Marianne Towersey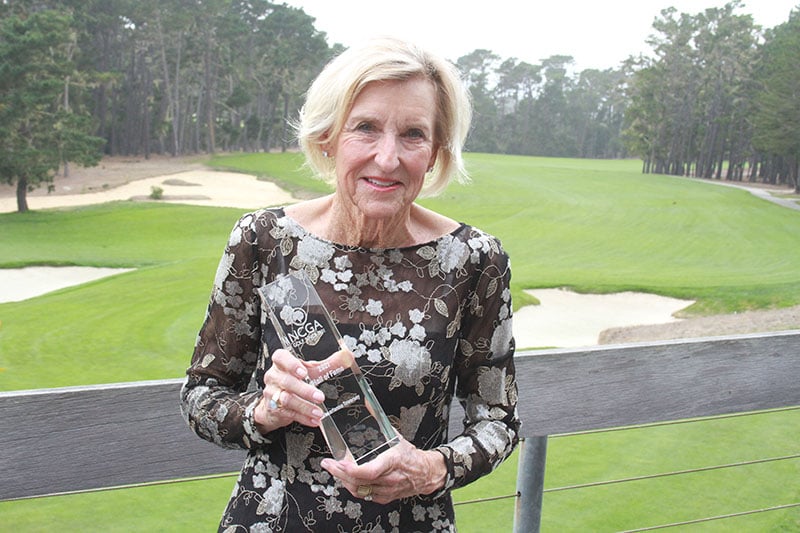 One could say that Pebble Beach resident Marianne Towersey grew into golf. Or that the game grew into her.
Raised on a small farm in Newport Beach, Marianne, now 70, was as a child consistently exposed to golf by her grandparents and parents, Patricia and Alvin, who were members at Santa Ana Country Club.
Of course, Marianne eventually began swinging her own clubs. And from an early age, there were signs of greatness.
A star junior player, Marianne's big breakthrough came at the 1967 U.S. Women's Amateur when she defeated future World Golf Hall of Famer JoAnne Gunderson Carner in the first round of match play. Just a year later, Marianne was the No.1 ranked junior female in the nation.
From there, she'd later play on the golf team at Stanford, where she studied history. Following college, her attention turned to a career in professional and international sports management. In 1977, she'd marry her husband, Brian, and had two children, Chad and Patrick. She'd foster her love of the game into them.
Around age 30, she'd return to competitive golf and picked up right where she'd left off, winning the Women's Golf Association of California State Championship.
Overall, as of today she's competed in over 30 USGA championships. Accomplishments include reaching the semifinals of the U.S. Girls' Junior and U.S. Senior Women's Am, the quarterfinals of the U.S. Women's Am and participating on three California U.S. State Teams. At the age of 50, Marianne was also medalist at the U.S. Senior Women's Amateur.
And of course, there's her victories. Marianne has won a record seven California Senior Women's Amateur titles, including a record six straight from 2004 to 2009. She's also got a California Women's Amateur title, and her NCGA crowns, which include three Senior Women's Amateur titles.
There's also her roots. At Santa Ana Country Club, where it all started, Marianne has been the club champion over 20 times. She's also shared her love of the game, coaching at both the prep and collegiate levels.
Once a junior star. Now a Hall of Famer.
Marianne Towersey, welcome to the NCGA Hall of Fame.
Lawson Little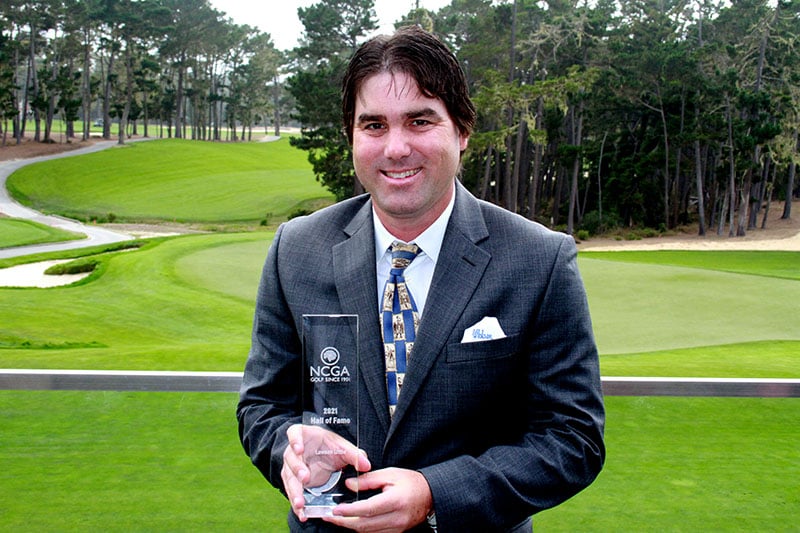 He was the greatest match player in the history of golf. He's also been called the greatest amateur ever.
The first time that former Pebble Beach resident Lawson Little II, who was born in Rhode Island in 1910, made headlines was at the 1929 U.S. Amateur at Pebble Beach Golf Links.
In what was the first USGA championship held at Pebble Beach, Lawson became a name when in the second round he defeated Johnny Goodman, who in the first round had shocked the gallery by defeating legend Bobby Jones.
In an instant, Lawson, who played at Stanford, was known as the man who beat the man who beat the man.
Turned out, he was only warming up.
From 1930 to 1940, Lawson, who was nicknamed "Cannonball" due to his surprising power despite his average stature, would become one of golf's biggest names.
In 1934, he won the British Amateur after walloping Scottish favorite Jimmy Wallace by a record score of 14 and 13 in the finals. Only a few months later, he made it a double, winning the U.S. Amateur final 8 and 7.
A year later, he again wrapped up what became known as the "Little Slam"— never scoring higher than a 5 while competing over 156 holes in the U.S. Amateur.
Most amazingly during the span Lawson, who went on to win the 1940 U.S. Open, won a record 32 straight international matches.
Due to his success, Lawson, also two-time winner of the NCGA Amateur, earned the 1935 James E. Sullivan Award, which annually goes to the best amateur athlete in the U.S. He remains the last golfer to receive the award, which was also given to Jones in 1930.
In a 1935 article, legendary golf writer Grantland Rice talked with Walter Hagen and Bobby Jones about Lawson, who was enshrined into the World Golf Hall of Fame in 1980.
"There, in my opinion," said Hagen as he pointed to Lawson, "goes one of the great all-time champions of golf."
"Lawson is the hardest worker I ever saw," added Jones.
The NCGA is proud and honored to induct Lawson Little into its Hall of Fame.