Golf History
2018 NCGA Hall of Fame
November 2, 2022 / by NCGA Staff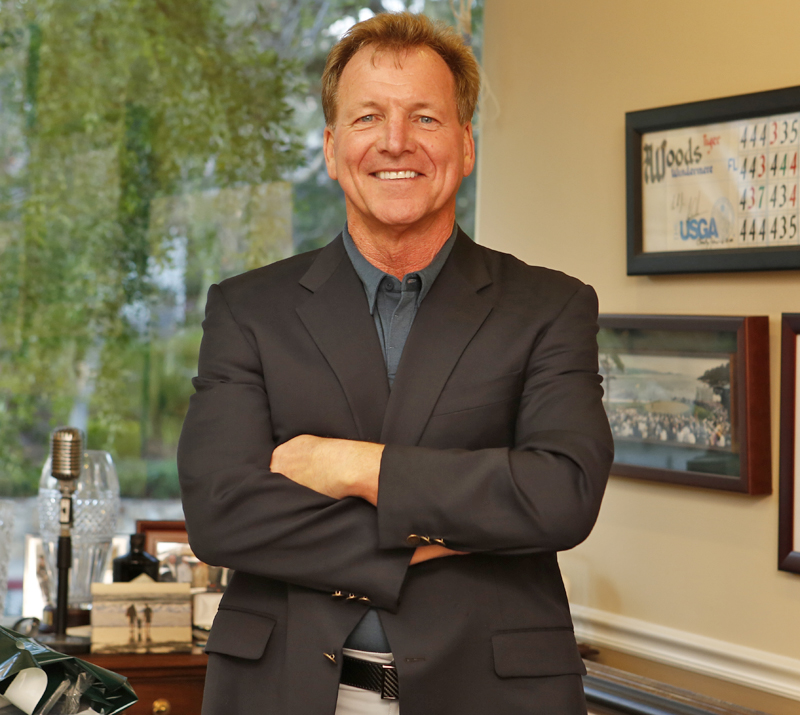 Golf in the Northern California region was celebrated Thursday, Sept. 27 at Poppy Hills Golf Course as the NCGA inducted its 2018 Hall of Fame Class with a ceremony at Porter's in the Forest.
Joining Distinguished Service Award honoree RJ Harper were Hall of Fame inductees Sally Voss Krueger, Randy Haag, Tony Lema (who was represented by his nephews Marc Mattozza and Ryan Lema) and Pat Hurst. The night's proceedings were emceed by The Golf Channel's Matt Ginella. Proceeds benefited Youth on Course
RJ Harper (Distinguished Service Award)
Accepting for Mr. Harper was his longtime assistant, Margo Daniels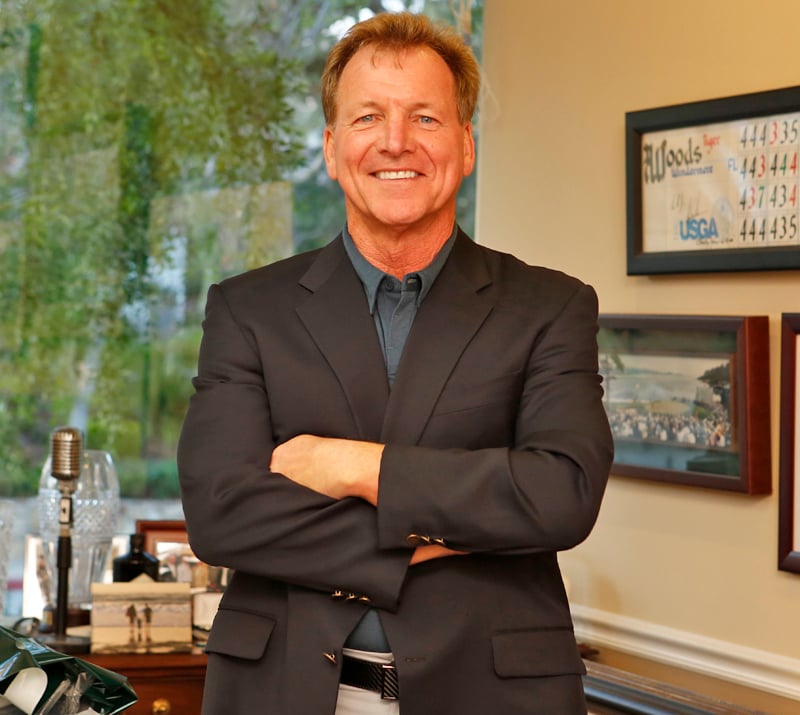 They say that golf is a gentleman's game. If anyone personified that, it was RJ Harper.
For 32 years, Harper, who was born Robert Thomas but came to be known as RJ after a hometown newspaper misidentified him, wasn't just the key guy at Pebble Beach Golf Links. He was as beloved as any figure in the game, a symbol of the power of friendship.
A classic American success story, having grown up in modest means in Tennessee, RJ began his career at Pebble Beach as a $5 an hour marshal before working his way up to head pro and eventually Executive Vice President of Golf and Retail.
His charismatic personality, one of a kind smile, and outgoing nature endeared him to countless Pebble Beach employees and guests. That persona would lead him to be known as "Mr. Pebble Beach."
Among his many accomplishments were serving as Championship Director of the 2000 U.S. Open and General Chairman of the 2010 and 2019 U.S. Opens. He was also instrumental in Pebble Beach securing the 2023 U.S. Women's Open and 2027 U.S. Open and was involved with the annual AT&T Pebble Beach National Pro-Am and PGA Tour Champions PURE Insurance Open.
Always giving back, he'd also help found the AT&T Pebble Beach Junior Golf Association.
Growing up, RJ was drawn to the game by watching Arnold Palmer on television. It wasn't just the bravado that riveted RJ, it was also Palmer's grace and class.
When Palmer became part of the Pebble Beach Company's ownership group in 1999, Palmer and RJ were quick to forge a bond. Any changes to the course had to be approved by Palmer, and RJ became his eyes on the ground.
But all that's just a glimpse of RJ's legacy.
For RJ, who was lost to pancreatic cancer in 2017 at the age of 61, Pebble Beach was a special place. For golf, RJ was a special person.
Sally Voss Krueger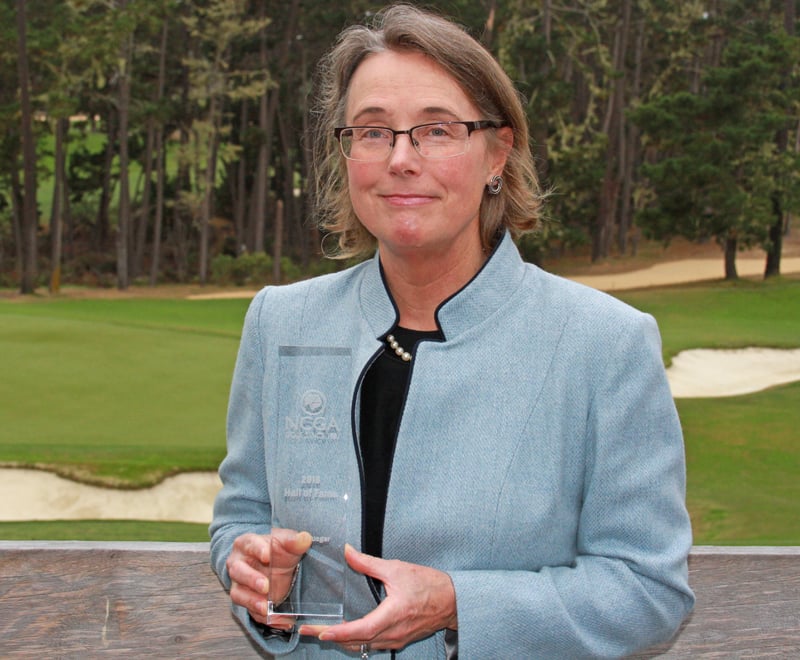 When Sally Voss Krueger was invited to play in the 1996 AT&T Pebble Beach Pro-Am, she downplayed the significance of a woman competing in the event.
Those who got to see her play certainly thought the moment was special. She'd help her pro 10 shots and the two were just five shots off the lead when the event was canceled.
It wasn't the first time that Sally had made heads turn.
A Northern California amateur legend, Sally was first exposed to golf as a youth growing up in Bethesda, Maryland. Her father was a Navy doctor and Sally got involved with junior golf in nearby Washington D.C.
She'd become so proficient that, upon her arrival at Stanford– where she had enrolled to become a doctor herself–she was able to walk-on the Cardinal women's golf team.
In both 1978 and 1979, she'd earn First Team All-American honors. Among her non-collegiate victories over that two-year span were the San Francisco City Women's Championship, the Maryland State Amateur, the Washington D.C. Am and the California Women's Amateur Championship.
The San Francisco City would become Sally's playground. Overall, she's won the event a record 10 times, with her victories spanning four decades. She'd capture three straight titles from 1982 to 1984, and closed out her run with back-to-back titles in 2004 and 2005.
Due to her prowess, she would make her first appearance in the AT&T Pro-Am in 1981. Joined by Juli Inkster, the two were the first women to compete in the event since Nancy Lopez and Beth Daniel in the 70's.
While she easily could have, Sally never considered going on to a pro career. Instead, she followed in her father's footsteps, becoming an anesthesiologist in the City by the Bay.
Still, the competitive fire burns. In both 2012 and 2014, she was runner-up at the California Senior Women's Amateur Championship. Sally was also runner-up at this year's NCGA Senior Women's Amateur.
Randy Haag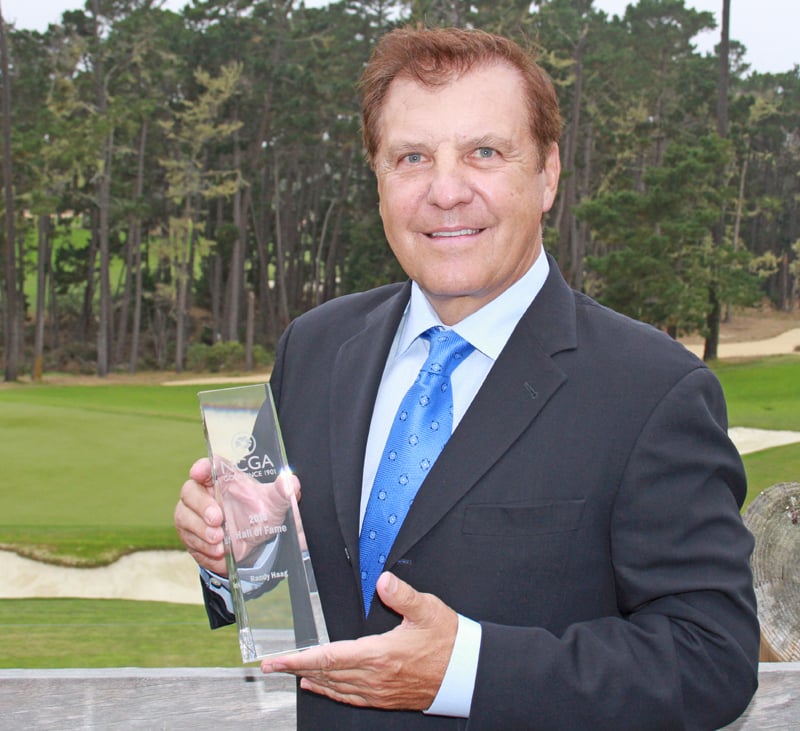 American poet Ralph Waldo Emerson once noted that we're constantly invited to be who we are.
In the case of Northern California amateur legend Randy Haag, it was an invitation that started it all. At the age of 10, while visiting his Aunt Lorrie in Green Bay, she asked the young Randy if he wanted to play golf with her.
He did, and became so hooked that, upon returning to his home in Orinda, Randy began caddying at Orinda Country Club.
Years later, after having competed collegiately at San Diego State, Haag further got bit by the bug when he finished as runner-up at the San Francisco City.
He'd go on to leave an indelible footprint on Northern California amateur golf.
Among Randy's NCGA list of accomplishments: a record six Player of the Year awards, spanning three decades. When he won his first Senior title in 2017, Randy became the first player in NCGA history to have won both a Player of the Year and Senior Player of the Year title.
On the course, Randy has won 15 NCGA titles: a record four Mid-Amateur titles, a record four Four-Ball crowns, two Amateur Match Plays, two San Joaquin Valleys and three Mid-Amateur Four-Balls. He's represented the NCGA in six Seaver Cups.
Now a senior, Randy has not slowed down. He's already won the NCGA Senior Four-Ball twice and is a multiple winner of the Senior Match Play.
And the lists go on.
In USGA events, Randy's resume' includes the third most match play victories in the 1990's– behind only Jerry Courville and a guy named Tiger Woods. He's advanced through 15 U.S. Open Sectional qualifiers and has been medalist in eight USGA qualifiers.
He's played in eight professional majors: three U.S. Senior Opens and five Senior Opens.
And the beat goes on.
Other amateur achievements include being a three-time Stocker Cup winner and an eight-time Olympic Club champion. Overall, Randy has won over 200 NorCal tournaments, including the San Francisco City and Alameda Commuters.
And he's still going at it, with the side-saddle putting still there too, of course.
Tony Lema
Mr. Lema was represented by his nephews Marc Matoza and Ryan Lema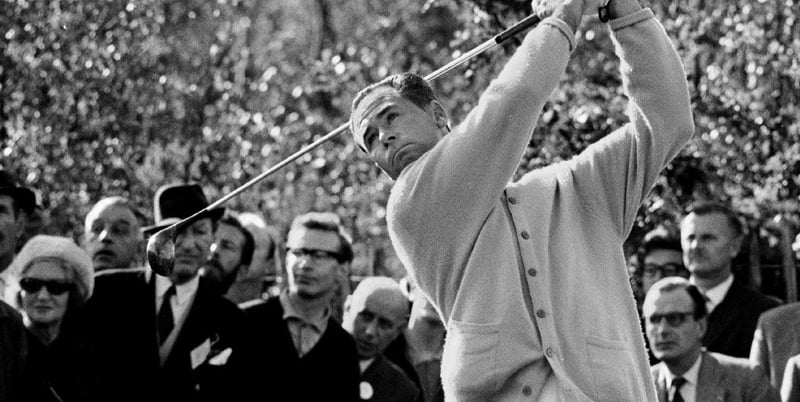 The ancient Chinese philosopher Lao Tzu once said that the flame that burns twice as bright burns half as long.
Oakland native Tony Lema certainly shined bright.
Having lost his father to pneumonia at the age of three, a young Tony, one of four children, turned to golf as an outlet. He'd receive instruction and mentorship from among others Lucius Bateman, Oakland policeman Ralph Hall and Lake Chabot pros Dick Fry and Bill Burch.
In 1951, still just 17, Tony enlisted in the Marine Corps, serving in Korea. Four years later, still just 21, Tony returned to San Francisco where he found work as a golf assistant. Among those that Lema, who was developing into a solid player, garnered attention from was entrepreneur Eddie Lowery.
Lowery, who'd gained fame as the 10-year-old caddie for 1913 U.S. Open champ Francis Ouimet, eventually sponsored Tony, giving him $200 per week to be repaid—Tony keeping two-thirds of his winnings and Lowery getting a third.
Things were starting to happen. In 1957, a win at the Imperial Valley Open helped him earn his PGA Tour card. A year later, Tony had 11 top-15 finishes, earning over $10,000 for the season. But then life struck again. In both 1959 and 1960 combined, he earned less than $10,000. And Lowery came to have his debts repaid.
Tony would again rise to the occasion. In 1962, he got his first PGA Tour win at the Sahara Invitational. A day prior to the victory, Tony joked that he'd serve champagne to the media if he won. For the rest of his career, he'd be known as Champagne Tony.
Over the next four years, Tony kept rising. He'd win two Northern California PGA crowns, 12 official PGA tour events with 11 runner-ups and played on two Ryder Cup squads, going 9-1-1—today still the best record for any player who has competed in two or more.
In 1964, following a win at the Bing Crosby National Pro-Am, Tony rang off three more wins in the next four months. Just a few weeks later, he'd win his first major, capturing the Open Championship on the Old Course at Saint Andrews. Tony had only played nine practice holes, winning by five over friend Jack Nicklaus.
Sadly, his last victory would come in May 1966, ironically in his wife Betty's hometown at the Oklahoma City Open. On the heels of that year's PGA Championship, Tony and Betty chartered a flight to an exhibition outside Chicago. Their plane would run out of fuel, with the resulting crash killing the Lemas and seven others.
Lema, then just 32, and Betty, 30, would be buried at a cemetery in Hayward following services in Oakland.
Pat Hurst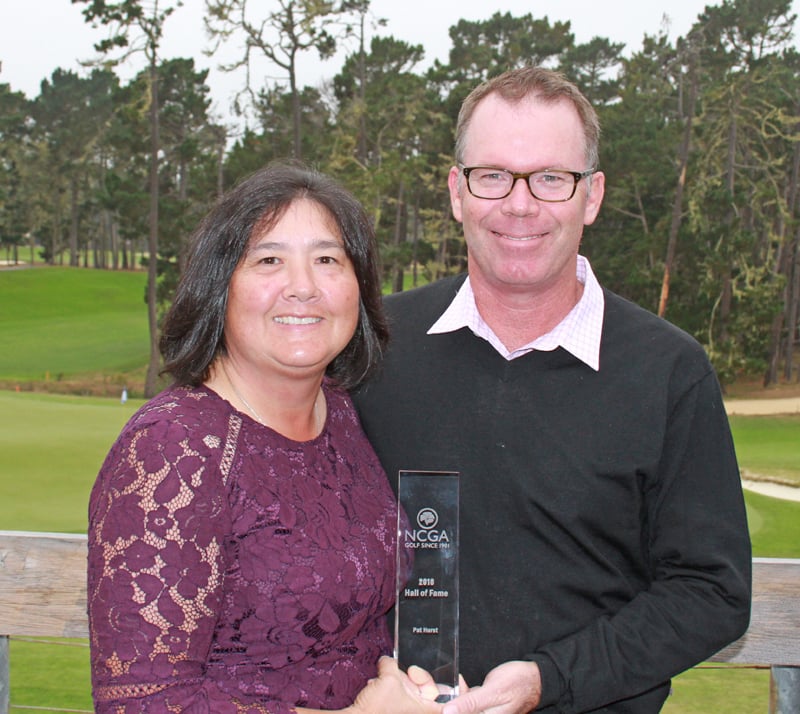 Pat Hurst has been described as detail oriented. So much so, that she was known to pace off even short shots around the green.
Knowing exactly where she is helped Pat become one of golf's greatest.
The San Leandro native, who picked up the game at 11, first garnered national attention when she won the 1986 U.S. Girls' Junior Championship at the age of 17.
It was just the start of bigger things. During a four-year span from 1987 to 1991, Pat, playing at San Jose State, twice earned First Team All-American honors and helped the Spartans win an NCAA title. She'd also win the individual title. Pat later was elected to the San Jose State Sports Hall of Fame. Outside of school, she'd earn medalist honors at the 1989 U.S. Women's Amateur medalist, won her second USGA crown at the 1990 U.S. Women's Amateur champion and was named to the 1990 U.S. World Amateur Team.
She'd leave San Jose State in 1991 and turned pro, but failed to advance through LPGA Tour Qualifying School two straight years, the second by just a stroke. For a few years, Pat took a break, working as a teaching pro and competing on the Players West Tour, where she won five times. She'd even stop competing, taking a job at a Nevada Bob's store in her hometown.
But she never gave up. In 1994, Pat returned to the LPGA Qualifying tournament, finishing tied for 20th to earn her card for the 1995 season.
And what a season it was. Pat would earn Louise Suggs Rolex Rookie of the Year honors on the strength of four top-10 finishes, including a tie for fourth at both the Friendly's Classic and the GHP Heartland Classic.
From there, her career just kept blossoming to the tune of six LPGA Tour victories, including one major: 1997 Oldsmobile Classic, 1998 Nabisco Dinah Shore, 2000 Electrolux USA Championship, 2005 State Farm Classic, 2006 Safeway Classic and 2009 MasterCard Classic.
In 2001, Pat posted seven top-10 finishes, including a season-best third place at The Office Depot Hosted by Amy Alcott. Five years later, she finished runner-up to Annika Sorenstam at the U.S. Women's Open after an 18-hole playoff.
Pat's a teammate too, having played on five Solheim Cup teams. In both 2015 and 2017, friend and captain Juli Inkster named her as a Solheim Cup assistant. Pat will also be an assistant in 2019.
In August, she became an assistant coach for her alma mater San Jose State.