Golf History
2017 NCGA Hall of Fame
November 2, 2022 / by NCGA Staff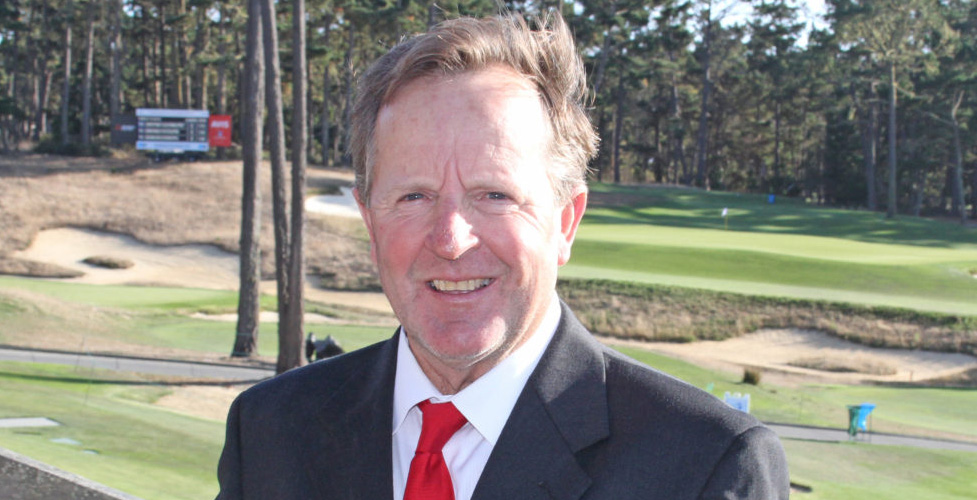 Golf in Northern California was celebrated Thursday, Sept. 21 at Poppy Hills Golf Course as the NCGA celebrated its 2017 Hall of Fame Class with a ceremony at Porter's in the Forest.
Proceeds benefited Youth on Course. Joining Distinguished Service Award winner Sheri Erskine were Hall of Fame inductees Loren Roberts, Casey Boyns, Juli Inkster and Dr. Alister MacKenzie, who was represented by Alister MacKenzie Society president Dr. Gary Nelson. The night's proceedings were emceed by The Golf Channel's Matt Ginella.
Sheri Erskine (Distinguished Service Award)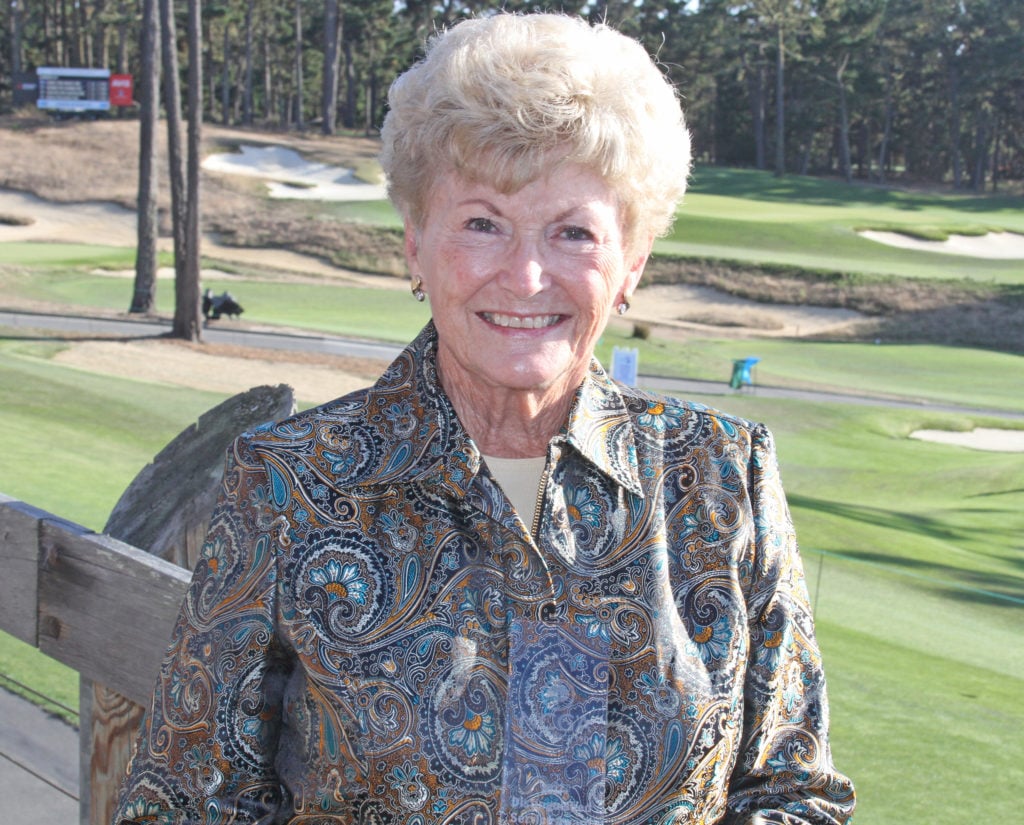 When Sheri Erskine first met her husband-to-be, John Erskine, on the ski slopes of Colorado, she didn't know much about golf. That all changed.
Introduced to the game by John, Erskine has been a USGA volunteer since 1994, when she first joined the Women's Handicap Procedure Committee. Karen Dedman, a friend from Sacramento and a past USGA Women's Committee member, had approached Erskine after seeing her efforts at her home club, Castlewood Country Club in Pleasanton.
In 1995, Erskine went to Rules School. On her first try at the difficult Rules test, she'd score an impressive 92. Soon after, she'd work the first of what would become numerous U.S. Women's Opens as a walking Rules official.
Eventually Erskine became a member of three USGA committees—Course Rating, Handicap and Handicap Procedure. She was also among those responsible for re-rating NorCal courses upon the institution of Slope Rating. She later also became co-chairman of the WGANC's Handicap committee and still serves as the WGANC's Course Rating chairman.
Erskine is a regular speaker and instructor for the WGANC and the USGA, sharing her years of knowledge through presentations at local, regional and national course-rating seminars.
In 2010, the California Women's Amateur Championship honored her with the Helen Lengfeld Award for her impact on women's amateur golf in NorCal.
She's still on the USGA Handicap Procedure and Course Rating Committees and still does course ratings for the NCGA. She's also now spent 50 years with John— a fellow Rules official and former NCGA Board member.
Career Highlights
-USGA volunteer since 1994
-Served on USGA Course Rating, Handicap and Handicap Procedure committees
-Awarded Helen Lengfeld Award by CWAC in 2010
-Longtime course rater for the NCGA
Dr. Alister MacKenzie (award posthumously accepted by Dr. Gary Nelson, president of Alister MacKenzie Society)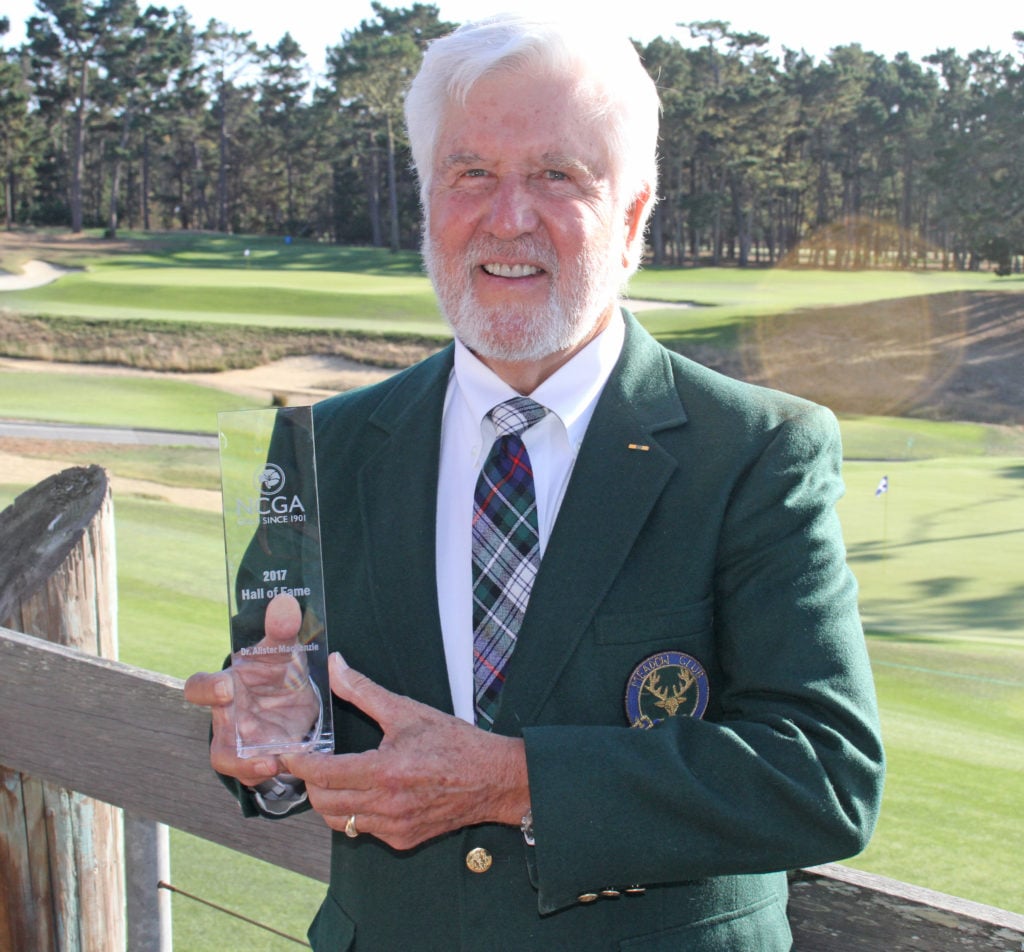 It was war that gave golf the man who'd become known as the 'Course Doctor.'
Born in 1870 in England, it was during the Boer War in South Africa that Alister MacKenzie, a trained surgeon, became fascinated by the enemy's camouflage techniques.
His interest was so piqued that later, during World War I, Alister surrendered his medical practice and became a camofleur, specializing in natural cover.
He'd return to medicine after World War I, but again abandoned his practice—this time to focus on golf course architecture. Why golf? A player himself, MacKenzie believed at the time the game was beneficial for his patients.
His own foray into golf would leave an enduring impression.
Many of his works are now known as cathedrals of the game—Augusta National, Cypress Point and Royal Melbourne in Australia.
Along with Cypress Point, his Northern California designs include Pasatiempo Golf Club in Santa Cruz, Haggin Oaks in Sacramento, the Meadow Club in Fairfax, Pacifica's Sharp Park Golf Course and the 9-hole Northwoods course in Monte Rio.
Inducted into the World Golf Hall of Fame in 2005, MacKenzie's 1920 book, simply titled 'Golf Architecture', was the first to present and explain the fundamentals of golf course design.
The good doctor died in 1934, at the age of 63, in his modest home adjacent to the 6th fairway of Pasatiempo.
Career Highlights
-Architect of famed courses Cypress Point, Augusta National and Royal Melbourne
-Designer of more than 50 courses
-Inducted into the World Golf Hall of Fame in 2005
-Authored first book to explain the fundamentals of golf course design
Loren Roberts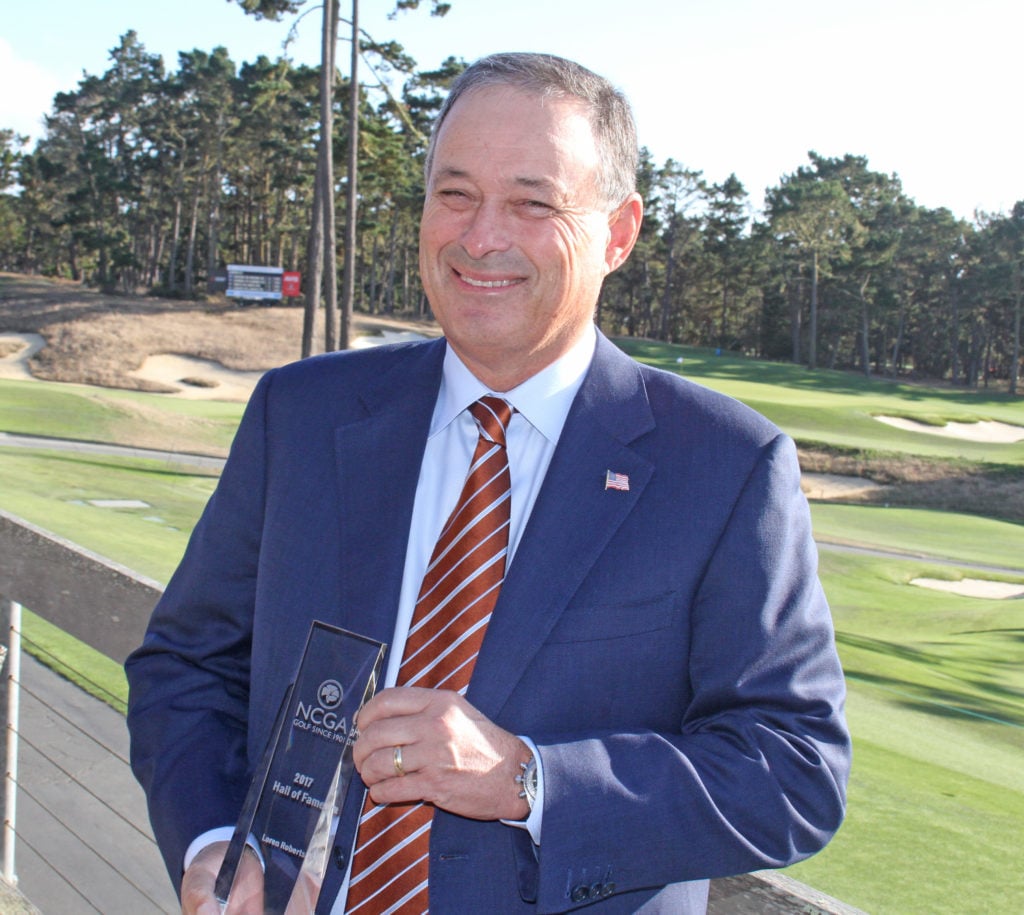 For Loren Roberts, there was perhaps no bigger turning point than when his alma mater, Cal Poly-San Luis Obispo, dropped golf from its sports programs in 1975.
It was then that Roberts, a native of San Luis Obispo, opted to turn professional, landing jobs at San Luis Obispo Country Club and Morro Bay Golf Course.
In 1979, Roberts won the Foot-Joy PGA Assistant Professional Championship. Just a year later, Roberts earned his PGA Tour card. In 1994 his persistence paid off, as he'd claim his first tour victory at the Nestle' Invitational. The same year, Roberts finished tied for second at the U.S. Open at Oakmont after losing a playoff to Colin Montgomerie and Ernie Els.
Nicknamed the 'Boss of the Moss' due to his putting prowess, Roberts would win seven PGA Tour titles in the next eight years. He'd also collect a pair of wins at the Pebble Beach Invitational.
In 2005, Roberts joined the Champions Tour, where he quickly made his presence felt.
Within his first two seasons on the senior circuit, he'd win five times, including two majors at the Jeld-Wen Tradition and Senior British Open.
Since then, Roberts has won another eight Champions Tour titles, including two more majors—the 2007 Senior Players Championship and the 2009 Senior British Open.
In between it all, he'd represent the United States at the 1995 Ryder Cup and 1994 and 2000 Presidents Cups.
Still competing, Roberts remains heavily involved with the annual Straight Down Classic, a charity tournament held at San Luis Obispo Country Club in his hometown.
Career Highlights
-Eight-time PGA Tour champion
-13-time Champions Tour winner
-Four-time Champions Tour major champion
-Nicknamed 'Boss of the Moss' due to his putting proficiency
Casey Boyns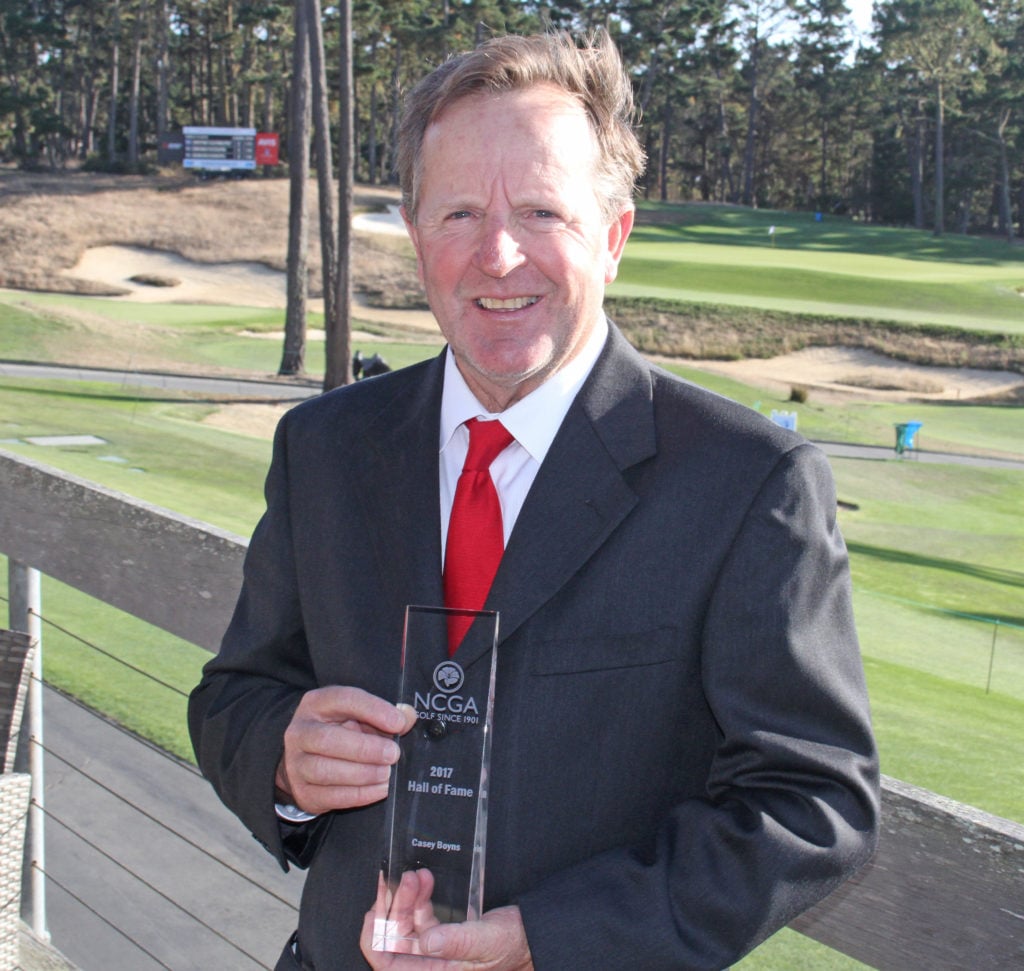 A longtime caddie at Pebble Beach Golf Links, Casey Boyns doesn't just know his way around the course. He's won there.
In both 1989 and 1993, Boyns, who picked up the game from his father, Leonard, as a child, won the prestigious California Amateur on his home course.
As for his NCGA resume', Boyns is literally in a league of his own.
The all-time leader in NCGA wins, Boyns has won a record 16 titles. The list includes a record four Public Links crowns, two Four-Ball titles and two Amateur Match Play titles.
He also holds the NCGA record for most wins in a season with four. In a dazzling display in 1996, Boyns won the Amateur Match Play, Four-Ball, Sacramento Valley and Public Links championships. That year, he'd also capture his third NCGA Player of the Year title.
He wasn't done. Over a decade later in 2007—at the age of 51 nonetheless– Boyns won his fourth NCGA Player of the Year title.
Today one of the top players among the NCGA senior ranks, Boyns continues to impress.
In his NCGA senior career, Boyns has already won seven times—the third most of any player. His victories include a pair of Senior Amateur Match Play titles, two NCGA Senior Championship titles, a California Senior Amateur crown and two NCGA Senior Four-Ball titles.
Inducted into the California Golf Hall of Fame in 2009, Boyns has also competed in numerous USGA championships and founded the Christmas Classic, an intimate holiday tournament held at historic Del Monte Golf Course.
Career Highlights
-Two-time California Amateur champion
-All-time leader in NCGA Championship wins with 16
-Seven-time winner of NCGA Senior Championships
-Inducted into the California Golf Hall of Fame in 2009
Juli Inkster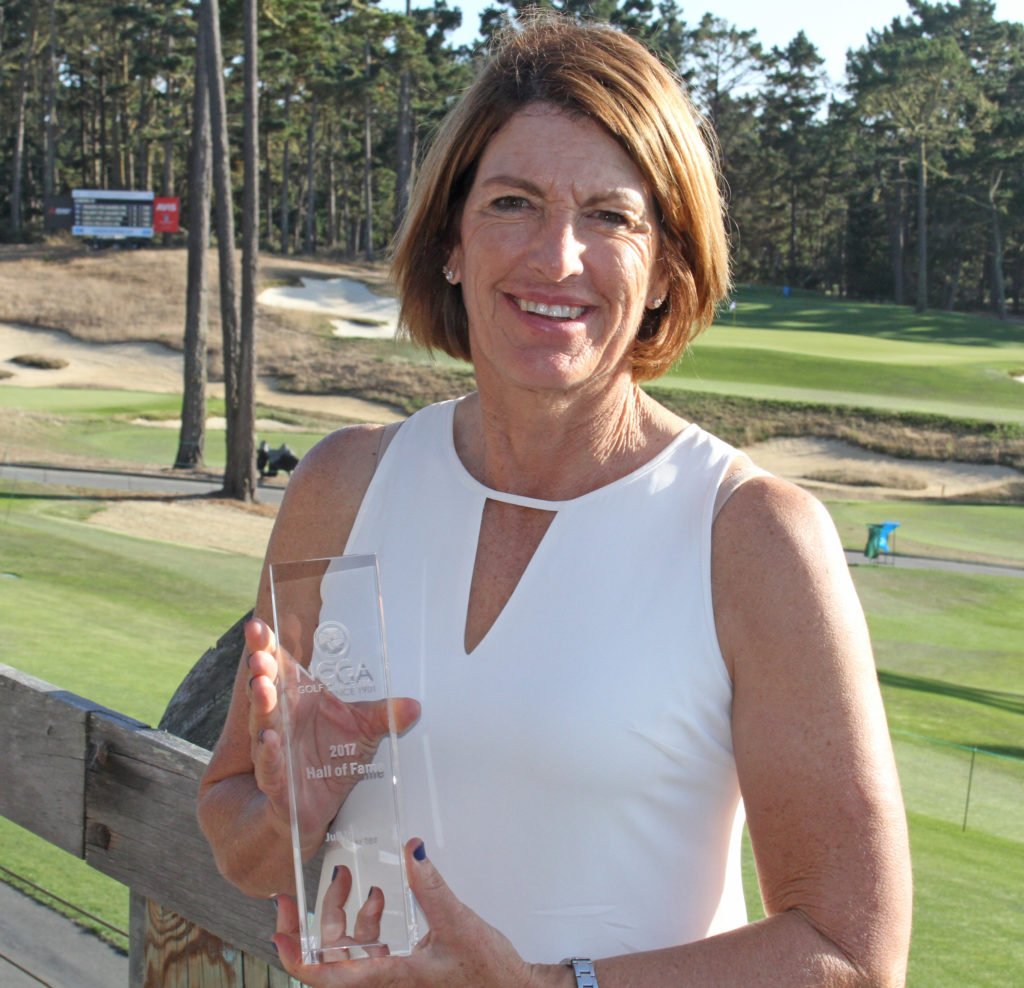 The greatest Northern California female player ever, Juli has been a force from tee to green for decades.
From 1979 through 1982, Inkster, who learned the game at Pasatiempo Golf Club, wasn't just a three-time All-American at San Jose State. She'd also claim three straight U.S. Women's Amateur crowns and was a member of a winning U.S. Curtis Cup team. She also won the California Women's Amateur Championship and two San Francisco City titles.
In just her second season on the LPGA Tour, Inkster won two majors—the Nabisco Dinah Shore and the du Maurier Classic.
From 1986 to 2002, Juli went on to win 24 more times, including five more majors. In 1990 she won the Pebble Beach Invitational—She remains the only female player to win the event.
All along, she worked hard to juggle her family life, at one point even considering dropping golf. Instead, the fierce competitor found ways to balance both.
In 1999, Inkster had one of the most memorable seasons in LPGA history, winning five times including the U.S. Women's Open.
Just three weeks later, she'd win the LPGA Championship to become only the fourth woman to ever win the Grand Slam.
During her career, she'd play on nine U.S. Solheim Cup teams. Just two years ago, she'd captain the winning U.S. Solheim Cup squad.
In 2000, Inkster was inducted into the World Golf Hall of Fame. Today, with a professional career spanning 29 years to date, Inkster's 31 wins rank her second in wins among all active players on the LPGA Tour.
Career Highlights
– 31 wins rank her second in wins among all active players on the LPGA Tour
-Seven-time LPGA Tour major championship winner
-More wins in Solheim Cup matches than any other American
-Inducted into World Golf Hall of Fame in 2000
Video