Golf History
2015 NCGA Hall of Fame
November 8, 2022 / by NCGA Staff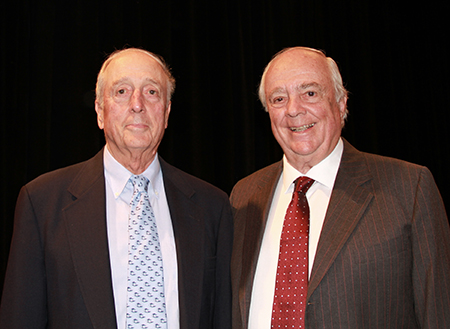 In a wonderful celebration of the contributions of the Jones family to Northern California, Robert Trent Jones Sr., Robert Trent Jones Jr. and Rees Jones were inducted into the fifth class of the NCGA Hall of Fame on Tuesday night of star-studded AT&T week at Spanish Bay.
"I wish Dad was here. Bobby, mom, dad and I were given the Golf Family of the Year award in 1979 by the Metropolitan Golf Assocation, and this feels a lot like that," Rees Jones said. "My dad would be thanking my mom, and saying, 'Good job, boys.'"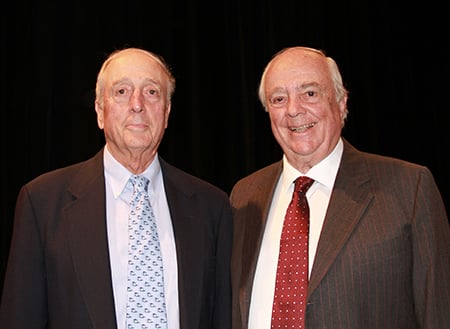 The NCGA also presented its Distinguished Service award to Rudy Staedler, owner and operator of Santa Teresa Golf Club in San Jose.
The California Golf Writers and Broadcasters Association inducted golf pro Ken Morton Sr. into the California Golf Hall of Fame. Morton is the visionary of a Sacramento youth program that decades later became The First Tee.
Other CGWBA honorees included retired Fresno State coach Mike Watney (Golden State award); wine grower and course owner Phil Wente (Good Guy award); and Randy Youngman (Media Distinguished Service award).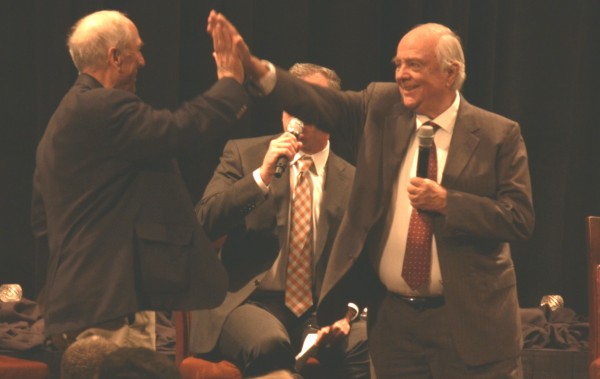 Video Interview
Robert Trent Jones Sr.
It's been joked that, "the sun never sets on a Robert Trent Jones golf course." In Jones' illustrious golf architecture career, he designed more than 350 courses in at least 40 states and 35 countries. When he died in 2000, 44 different Jones courses had been ranked in Golf Digest's 100 Greatest Golf Course listing, the most of any architect. Born in Ince, England in 1906, Jones designed his own course of studies at Cornell to prepare for a career in golf course architecture. Jones went on to design or re-design courses that have hosted 79 national championships, including 20 U.S. Opens and 12 PGA Championships, as well as Ryder and Presidents Cups. Jones earned the nickname, "The U.S. Open Doctor," as the USGA religiously relied on him to strengthen courses for the world's best players. Jones is widely considered the father of modern-day golf course architecture, as he predicted that golf would evolve with livelier balls and clubs, and built challenging courses to reflect that. One of Jones' most revered courses is Spyglass Hill, the original tournament home of the NCGA in Pebble Beach, and a layout Sport Illustrated dubbed, "Pine Valley by the Sea." Jones' other timeless works include Congressional, Mauna Kea and his revolutionary renovation of Oakland Hills. Jones was inducted into the World Golf Gall of Fame in 1987, and is the father of architects Robert Trent Jones Jr. and Rees Jones.
Robert Trent Jones Jr.
Robert Trent Jones Jr. learned the craft of golf course architecture while working alongside his father in the building of Spyglass, before eventually branching off and becoming his own successful designer. Much like his father, Bobby became a globetrotting architect, and has created more than 270 courses in 40 countries. Bobby has built Golf Digest's No. 1 course in 10 different countries, as well as nine courses in Golf Magazine's U.S. Top 100. He has designed five world cup championship courses in 5 different countries, as well as a Ryder Cup course. Bobby competed in many competitive championships first as a member of the US Junior team, which was victorious over the Great Britain, and then as a member of the Yale Varsity team, which won the eastern collegiate championship. Bobby launched Robert Trent Jones II Golf Course Architects in 1972, and became an early advocate and internationally celebrated proponent of environmentally friendly golf course design. Bobby returned to Pebble Beach to build the NCGA's new home at Poppy Hills, as well as neighboring Spanish Bay. His renovation of Poppy Hills in 2014 was named best in the U.S. by four major publications. This summer, Bobby will be the first architect to watch the U.S. Open contested on one of his original creations since his father designed Hazeltine National Golf Club in 1971. The U.S. Open will be played at Bobby's links layout and county-owned Chambers Bay, which opened in 2007 just south of Seattle.
Rees Jones
Following his father's legacy, Rees Jones has been trusted to redesign seven U.S. Open venues, eight PGA Championship courses, five Ryder Cup and two Walker Cup sites, as well as the Presidents Cup's Royal Montreal Club, and the Tour Championship's East Lake Golf Club. Rees has designed or redesigned courses in China, Japan, Canada, Mexico, Spain, England and Africa. He has completed more than 170 courses, including Bethpage Black and the South Course at Torrey Pines. Rees grew up playing golf, competed for the Yale golf team, and continued to play in the army. He founded his own design firm in 1974, and has also been environmentally conscious in his design work, building more than 20 courses that have achieved Audubon International Certifications. Rees was tapped to build Poppy Ridge in Livermore, which made the NCGA the only regional golf association in the country to own two courses. Poppy Ridge also gave the NCGA a unique course from each Jones architect: Spyglass by Robert Trent Jones Sr.; Poppy Hills by Robert Trent Jones Jr.; and Poppy Ridge by Rees Jones. And the Jones family will continue to give us great courses. Thirty-three of the 182 active members of the American Society of Golf Course Architects are decedents of the Jones architecture tree, or nearly 20%.
Rudy Staedler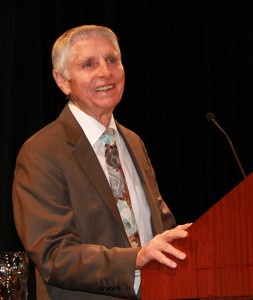 As a recent graduate of San Jose State, Rudy Staedler learned and fell in love with the game of golf at the newly opened Santa Teresa Golf Club in San Jose. Today he owns and operates Santa Teresa with PGA professional Mike Rawitser, a scenario Rudy admits he couldn't have scripted any better. Rudy has given back to the game throughout Northern California in every way imaginable. Since Rudy didn't have the chance to play golf as a kid, he's been an enthusiastic supporter and sponsor of junior golf, the Junior Tour of Northern California and Youth on Course. Rudy's introduction to the NCGA came as a course rater, before he rose the ranks of the board of directors in the 1980s and served as coordinator for the construction of the original Poppy Hills and NCGA clubhouses. As president of Poppy Holding, Rudy was instrumental in bringing Poppy Hills into the AT&T Pebble Beach National Pro-Am rotation, and founded the annual Senior matches between the NCGA and NCPGA with his close friend, PGA Professional Rick Jetter. The competition is now called the Staedler-Jetter Cup. An avid player in a group of eight traveling friends who have been everywhere from Bandon to Scotland, Rudy is also a part-owner of the San Jose Sharks. Rudy has two kids – his daughter Kelly and son Chris – and four grandkids – Cristo, Nicole, Mitchell and Jake. Today, Rudy celebrates 653 months of marriage to his wife Bev.