Golf History
2013 NCGA Hall of Fame
December 5, 2022 / by NCGA Staff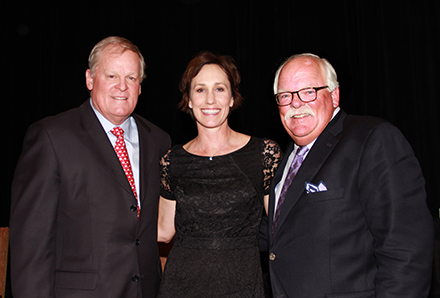 Johnny Miller, Roger Maltbie and Kay Cockerill all forged battle-tested games by playing amateur golf in Northern California.
After sharpening their games at courses such as The Olympic Club, San Jose Country Club and Pasatiempo, they each ascended to the professional ranks, playing and winning on golf's biggest stages.
They are still a part of golf's biggest stages, although now it is through their distinct and ongoing broadcast careers. For their accomplishments on and off the course, Miller, Maltbie and Cockerill were inducted into the NCGA Hall of Fame in early February during AT&T week.
It was with their unique perspective as elite players who continue to have close ties to today's greats that they were able to share fascinating insights about the game they love during the Hall of Fame inductions.
Miller, Maltbie and Cockerill join the first class of Ken Venturi, Frank "Sandy" Tatum, C. Grant Spaeth and Jack Bariteau, and the second class of the Pebble Beach Company's Clint Eastwood, Arnold Palmer, Dick Ferris and Peter Ueberroth, and Marion Hollins as NCGA Hall of Famers.

Johnny Miller
The World Golf Hall of Famer won 25 times on the PGA Tour and captured two majors. He shot a record 63 in the final round of the 1973 U.S. Open to roar back from six strokes down and capture his first major, and the following three years he enjoyed a run that few in the game have ever touched. From 1974-76, Miller won 14 times, including the 1976 British Open. He was the 1974 Player of the Year and money leader, notching eight victories, a feat that wouldn't be topped until Tiger Woods won nine times in 2000.
"My trouble was by the time the U.S. Open was over, I was ready to go fishing," admitted Miller.
But that run was truly remarkable, as Maltbie can attest. The first two weeks Maltbie played on the PGA Tour during his rookie year, he was proud to boast that he made the cut both times. Miller won both those tournaments in 1975, beating Maltbie by a combined 45 strokes.
"What I think is good, and what is, are two different things," Maltbie remembers thinking after watching Miller in his prime.
Miller's career began in San Francisco, where he was a junior Olympic Club member. He won the San Francisco City Junior Title at age 16 in 1963, the U.S. Amateur in 1964 and the California State Amateur in 1968. The BYU All-American's playing career fittingly came full circle and back to Northern California when he stepped out of the announcers booth to win for the final time on the PGA Tour at the 1994 Pebble Beach Pro-Am at the age of 46.
To golf's younger generations, Miller is known as the game's leading television analyst. Miller joined NBC Sports in 1990, and watching a U.S. Open or Ryder Cup without his tremendous insight and refreshing candor just wouldn't feel the same.
"I've tried to be a lot softer the last three years," admitted Miller, before conceding, "but for a while there, I guess I was looking for a fight.
"I do say stuff that I had no idea I was going to say. I don't play it safe."
Miller is still influencing Northern California golf as a course designer. He has worked on more than 30 courses, including his acclaimed renovation of Silverado in Napa.
"The bond you get from playing golf with anyone is pretty special," Miller said.
Roger Maltbie
Maltbie had a stellar golf career growing up in Northern California before breaking out on the PGA Tour, winning back-to-back tournaments in 1975 to claim Rookie of the Year honors. Maltbie went on to win five times on the PGA Tour, including the inaugural Memorial, where he memorably survived a four-hole playoff. Maltbie won twice on Tour in 1985 to finish eighth on the money list, and nearly captured that elusive major in 1987, tying for fourth at the Masters. Maltbie finished with 56 career top 10s on the PGA Tour.
"It's wonderful we get recognized on a night like this, but it gives us a public forum to thank everyone who helped us," Maltbie said.
Maltbie was born in Modesto and grew up in San Jose, where he learned the game at San Jose Country Club from pro Eddie Duino. Maltbie went to James Lick High School, where he was teammates with fellow PGA Tour pro Forrest Fezzler, and played his collegiate golf at San Jose City College and San Jose State.
"Johnny learned by beating all these guys," Maltbie said. "I learned by getting beaten. Forest Fezzler – I couldn't beat the guy. He was two years older than me, and his scoring average at James Lick High School was 68.6. But it made me work hard."
Maltbie soon began winning, claiming the San Jose Country Club championships at ages 18 and 19 before going after bigger fish, winning the 1972 NCGA Amateur, the 1973 Northern California Open and the 1974 California State Open.
Maltbie joined the NBC Sports broadcasting team in 1992, and is its lead on-course reporter.
Kay Cockerill
Decorated and ground breaking, Cockerill had an amateur career that can be measured against the very best women who ever came out of Northern California.
The Los Gatos native didn't start taking lessons until she was 14 from De Laveaga's Rick Walker in Santa Cruz. But by the time she was 22, Cockerill had walked-on UCLA, won six individual collegiate titles, been selected to a pair of All-American and Academic All-American teams and won back-to-back US. Women's Amateur Championships.
Cockerill won her first U.S. Amateur at Pasatiempo in 1986, running away to a 9-and-7 victory in the championship match. As if that showing wasn't convincing enough, Cockerill defended her title at the 1987 U.S. Amateur.
"My only goal was to make match play," said Cockerill about the 1986 U.S. Amateur. "Winning the Women's Am at Pasatiempo is my finest moment in golf. I couldn't wait to get up every morning and play."
While Cockerill enrolled at UCLA relatively unknown, she left an indelible mark, becoming the first female golfer to be inducted into the university's Hall of Fame.
A 10-year LPGA Tour veteran, Cockerill joined the Golf Channel's broadcast team at its inception in 1995. She has been the voice for women's golf ever since, working as an on-course reporter for the network's PGA Tour, LPGA Tour and Web.com coverage.
"The Web.com Tour is really live and die by the moment," Cockerill said. "It's like what the PGA Tour used to be like."
The Olympic Club member has always been an outstanding leader in her community, earning the LPGA's Budget Service Award in 1992, and the Jack Lemmon Ambassador of Golf Award in 2008.
"We're all deeply involved in this game, we love it and we're happy to be here," Cockerill said.
NCGA Distinguished Service Award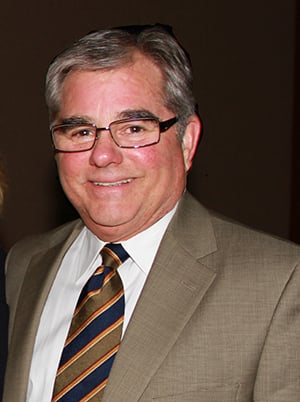 The NCGA's former director of rules and competitions Roger Val was presented the Distinguished Service Award for his 30 years of dedicated work in Northern California's golf community.
"It is so special to be included in this elite group of past honorees," Val said. "This is an incredible game, I've had an incredible career, and I am so honored for this game tonight."