Golf History
2011 NCGA Hall of Fame
November 1, 2022 / by NCGA Staff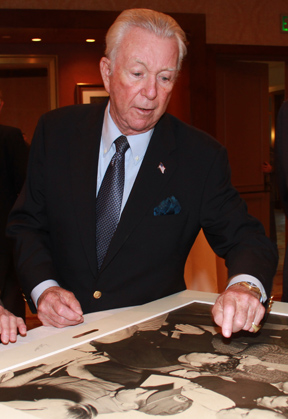 The Northern California Golf Association inaugurated its Hall of Fame at the annual California Golf Writers & Broadcasters Association awards banquet February 8 at The Inn At Spanish Bay with the NCGA Foundation as the charitable beneficiary.
The NCGA inducted Ken Venturi, Frank "Sandy" Tatum, C. Grant Spaeth and Jack Bariteau into the Association's inaugural hall of fame class at the 52nd CGWBA gala.
With more than 160,000 individual members the NCGA is one of the largest regional golf associations in the country. Among other services, the NCGA provides official handicap indexes, owns and operates two golf courses, Poppy Hills and Poppy Ridge, conducts more than 50 championships annually, publishes NCGA Golf magazine and operates a Foundation to support deserving youth. Proceeds from the hall of fame event will benefit NCGA Foundation scholarships.
Those also honored by the California Golf Writers & Broadcasters Association are rising tour star Rickie Fowler (Player Achievement Award); former San Francisco Giants owner Bob Lurie (John Swanson Good Guy Award); and longtime Southern California Golf Association director of communications Bob Thomas (Media Service Award). Also, popular Giants broadcasters Mike Krukow and Duane Kuiper were co-recipients of the Jack Lemmon Ambassador of Golf Award.
Ken Venturi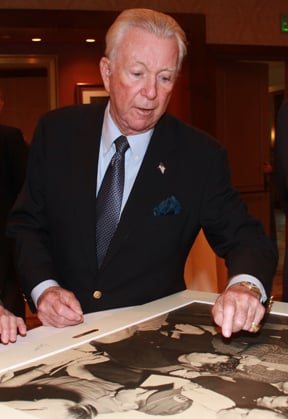 The initial class of the NCGA Hall of Fame would not be complete without one of the finest players in the region's history.
Ken Venturi was born in San Francisco in 1931 and developed his game at Harding Park, Lincoln Park and other local courses. The Abraham Lincoln High School alumnus first captured the nation's attention in 1956 when as a 25-year-old amateur, he finished runner-up at the Masters after leading from the first round.
But NCGA golfers were already well aware of Mr. Venturi, as the San Jose State golfer had captured the 1949 NCGA Junior, three San Francisco City titles, the 1951 and 1952 NCGA Stroke Play Championships and the 1951 and 1956 California State Amateur as well as played on the 1953 Walker Cup, one of four Northern Californians to ever earn that distinction. Turning professional in 1957, Venturi proved his stellar amateur record was no fluke, winning 10 times in his first four years on tour, including four times in 1958 to lead the Tour as well as the 1960 Bing Crosby Pro-Am.
After recovering from minor injuries suffered in a car accident in 1961, Venturi provided the highlight of his professional career in 1964 when he won the U.S. Open at Congressional after nearly collapsing in the scorching heat. "My God, I've won the Open," he famously said after sinking the winning putt capping a final 36-hole day in an inspiring performance that earned him Sports Illustrated's "Sportsman of the Year" honors. He would add earning a spot on the Ryder Cup team in 1965, where he played for longtime mentor Byron Nelson and one more victory before retiring in 1967 with 14 total wins.
Venturi would spend the next 35 years with CBS Sports as its popular lead golf analyst pairing with Pat Summerall and later, Jim Nantz. His career is somewhat of a record for longevity in that field.
Before his retirement from television work in 2002, Venturi led the 2000 U.S. President's Cup Team to victory and earned the PGA of America's "Lifetime Achievement" award in journalism for his work with CBS. A cancer survivor, for many years Venturi ran the Guiding Eyes Golf Classic, a fundraiser for providing guide dogs to the blind.
Sandy Tatum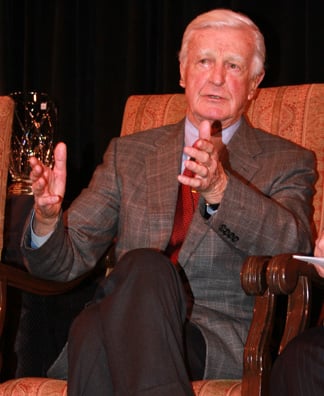 The rich golf legacy of Frank "Sandy" Tatum is crystalized by his now-famous defense of the punishing setup of Winged Foot for the 1974 U.S. Open. When he said, "Our objective is not to humiliate the best players in the world. It's to identify them," Tatum spoke with the passion, eloquence, clarity and vision of a man who regarded golf as more than just a sport. To him, it veered close to a spiritual experience, and he attached that kind of love to every golf endeavor, whether it was striking a 5-iron to a tightly-guarded green or serving as the president of the United States Golf Association from 1978 to 1980.
Tatum, raised in Los Angeles on the fairways of Wilshire and Bel Air country clubs, became a Stanford man, a Phi Beta Kappa graduate and a Rhodes scholar at Oxford. Raised by a father who took the game seriously, Tatum could golf his ball. He was a member of Stanford's back-to-back NCAA golf championships in 1941 and '42, and during the latter year he also captured the individual title. For that, he is a member of the Stanford Athletic Hall of Fame. Sandy also was the first American to play golf for Oxford, where he was conditioned to understand that playing in bad weather was a fundamental part of the game.
From there, the longtime attorney dedicated his life to the betterment of of golf. Few men, with the possible exception of Bobby Jones and Bill Campbell, have done more for amateur golf than Tatum. His accomplishments ring like churchbells over the decades. From his service on the USGA executive committee during the 1970s, to his bringing his beloved Pebble Beach onto the U.S. Open rotation, to his collaboration with Tom Watson and Robert Trent Jones Jr. in the creation of Spanish Bay in 1987, and to his tireless push toward the restoration of Harding Park in San Francisco, Sandy has attacked each project with the energy of a teenager.
Today, at 90 years old, he remains one of golf's most influential purists. His life, like that signature pause at the top of his swing, has been unforgettable. More than 36 years after his memorable words at Winged Foot, we identify Frank "Sandy" Tatum as an inductee to the Northern California Golf Association Hall of Fame.
Grant Spaeth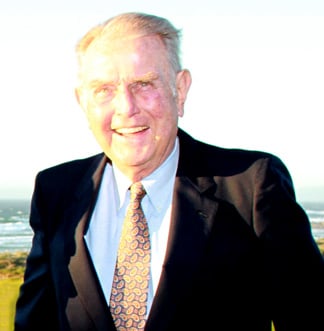 Grant Spaeth's lifelong impact on golf actually is the reverse–the game impacted him and never let go.
From his NCAA team title at Stanford in 1953 to his eventful years from 1990 to '92 as president of the United States Golf Association, Spaeth's contribution to the game continues to this day. Simply, Spaeth was born to serve the game. He was a graduate of Palo Alto High and the son of the Dean of the Stanford Law School. While his father was stationed in Montevideo, Uruguay, Spaeth was introduced to golf on a course across the street from his home. Later as a teenager, he caddied for the Stanford golf team, and it wasn't too long before he and his Stanford teammates became national champions.
Spaeth graduated from the Harvard Law School and served in the U.S. Army followed by the Reserves. His law practice in Palo Alto was the foundation to years of public service. Spaeth was the Deputy Secretary for the Department of Health, Education and Welfare from 1978 to '80 and also served as a Palo Alto city councilman. Then came years of work on various USGA committees, leading to his USGA presidency and a list of accomplishments to remember. He may have been the best reach-out-to-people person who ever filled the USGA president's chair. Spaeth was instrumental in bringing the British Open back to Carnoustie, Scotland. He founded the U.S. Men's Mid-Amateur and Women's Mid-Amateur Championships. He created the USGA's regional affairs departments.
Through it all, Spaeth's affection for the game remained rich. On Sunday mornings before the final round of the Masters, he often walked Augusta National's back nine alone, savoring the memories and the promise of what was ahead. Closer to home, he has entertained TV viewers on "Hooked on Golf" with his articulate, entertaining and informative essays on the game and its rules. "I want more people exposed to the game," he said recently. "Those who take to it will be lucky and should be thankful." The Northern California Golf Association is proud and honored to induct Grant Spaeth to its Hall of Fame.
Jack Bariteau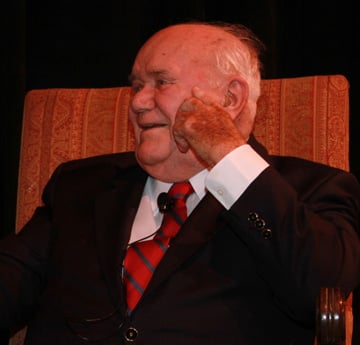 Jack Bariteau, "Gentleman Jack" to his fellow San Jose Country Club members for graciousness on and off the golf course, compiled an extensive competitive record of 33 individual and best-ball championships during his nearly half century amateur career, establishing Bariteau as one of the preeminent amateurs golfers in Northern California history.
Bariteau's career is highlighted by five Santa Clara County titles, the 1954 NCGA Stroke Play, numerous club championships at San Jose, Pasatiempo, Orinda and Spyglass Hill as well as membership on several Morse Cup and North-South Teams. He qualified and played at Pebble Beach in the U.S .Amateur Championship in 1947 advancing to the quarterfinals where he lost to eventual champion Skee Riegel.
He played in the prestigious California State Amateur Championship from 1939 to 1941 and after returning from World War II, played from 1946 through 1975, a streak of 30 consecutive years and 33 years overall at Pebble Beach. He reached the quarterfinals five times and was co-medalist in 1966.
Bariteau was introduced to the game by his father, Eli Bariteau Sr., and was half of perhaps the greatest brother duo ever to play competitively in the region. Eli Jr. won two California State Amateur titles, among other achievements.
Jack recorded his first win at age 14 with his victory at the Monterey Bay Club Championship in 1937 and had his finest year with five tournament wins at the age of 60, in 1983. In a span of less than five months that year he notched his fifth Spyglass Hill Golf Club medal championship, won his ninth San Jose Country Club championship, bested the field to win both the NCGA Senior and California State Senior championships and claimed victory in the annual Seniors of Northern California tournament.
He also played in the Crosby Clambake for nine years and in 1970 was paired with Mac Hunter. Their team finished tied for 3rd at 33 under par besting both Johnny Miller and Jack Nicklaus' formidable teams.
Bariteau served as president of San Jose Country Club and on the NCGA Board of Directors from 1962 to 1971. During his tenure on the NCGA Board Bariteau became one of the initial founding members of the NCGA's original home course, Spyglass Hill.
Always known for his competitive spirit, Jack Bariteau's record of achievement is exemplified by the events he won and by his enthusiasm and love of the game of golf.